Sort By Date
Sort By Rating
Customer Reviews
Versatile Bag
I own several of these, used for a Line6 floorboard , being able to pack several small to medium sized effects in a very portable and sturdy padded bag. I would definately purchase kore of these if needed.
this was for my younger brother and he thought it rock
Gator GK-2110 Bag
Great bag and value for my M-Audio Axiom 25 keys midi controller!
Great bag for Boss RC-300
I did a fair amount of searching for a bag for my RC-300 loop station, and this one works perfectly and is considerably less expensive than most of the alternatives.
GK 2110 one tough bag
I was looking for a bag for my Zoom G5 Pedal and found this one that I thought would work. I knew it would be a little deeper by the dimensions but that hasn't been a problem. The width and height is just right and the storage for cables and power supplies is ideal. Overall construction is good along with the handiness of a shoulder strap. Zippers are heavy duty, so i think this will last a long time. I'm surprised that a lot of the multi- effects manufacturers don't supply bags for their pedals. Just reading some of these reviews it looks like this bag will work on a lot of them!
Gator GK-3220 for use with my POD HD500
This Gator Bag works great for my new POD HD500 pedal. I highly recommend it. It's a snug fit so don't plan to store anything else in the main compartment, but the outside zipper pouch provides ample room for my EX-1 expression pedal, power cord, and two or three additional XLR cables and my guitar cord. Thanks Sweetwater!
Gator Pedal Bag
Great bag. 1st bag was damaged and Sweetwater sent me a replacement asap, no questions asked. Outstanding service as always! The bag fit my pedal board perfectly and has been a blessing when my band goes out to play.
One Great Gear Bag!
I needed a good, padded bag to carry and protect my Line 6 POD HD500 guitar effects unit. The fit is perfect, the construction top-notch, and there is plenty of room in the front pocket for accessories. I am very pleased with the Gator GK-2110.
Great Bag for FBV Shortboard MK II
Fits perfectly and the storage pocket is nice size for acc. also.
Glad I shopped around and found this. The price is right too.
RP500 Gig Bag
I have a Digitech RP500, and after much research I bought this.
At $29 W/ free shipping its a steal.
Fit is nice, with enough room for the power adapter in the main compartment.
The front pouch is roomy, and the bag is TOUGH Ballistic Nylon.
I am glad I bought it, and would buy another one in a heartbeat.
As a side note, the shipping was FAST.
Better than expected!
I purchased this for a Digitech BNX3 bass workstation. Fits perfectly. I like that there is also room for the power adapter and the optional foot controller in the roomy front pocket. There is also nice padding around the main compartment.
Great construction, and quality materials used throughout. There are large zippers with attached zipper extensions that aid in zipping. The stitching is high quality - I don't ever expect a failure in the seams. The handles are well formed. The strap hardware is high quality. And the plastic "feet" keep the bag from sliding (at least on carpet). All around a quality bag.
This is my second Gator brand bag (first was a gig-bag for guitar) and I am not disappointed. If it were stolen, I'd buy another in a heartbeat.
Well Built Gig Bag For Vox Tonelab LE
I got my Tonelab LE prior to the free gig bag offer. After doing some checking on the net I got this Gator bag. The Vox Tonelab LE fits nicely and to me it was a ral good buy.
Excellent Bag
This is pretty much perfect for me... I am a keyboardist and needed a bag for all my extras. I use it as a gig bag for cables, pedals and other accessories. Easy to carry and durable for the road. When this one does wear out I will definately order another if not before hand :) Gator did very well with the construction of this bag. The side pocket is perfect for me to put folded up set lists, lyric sheets, or what ever else I need a small pocket for :)
great Bag!
This is a well made and sturdy bag. I have used it for several different pieces of equipment while gigging. It protects and keeps my equipment organized, too!
Great bag
Gator bag was purchased for my son's korg mini key board. He loved it. Everything fits great.
Perfect Bag for microKorg XL
Got this to carry my little synth and it is a perfect size and weight for it.
No extraneous compartments-- just the exterior zippered one for the vocoder, power cord, and cables. It's just right.
Gator GK-2110 Bag
It works. The keyboard fits in the bag, the bag is padded, it's inexpensive. Bob's your uncle.
Gator GK-2110 Keyboard Bag
this is my second bag, use the first for small mixer and accessories. this bag will perfectly fit an M-Audio Axiom 25.
Nice Protective Bag - Use with Line6 KB37 Toneport
Very nice gear bag, well constructed. I'd say at least as good as Line6's version which I bought for my Pod XT Live and for about half the price. Probably the only thing I would have liked different would be a little larger accessory pocket and a smaller or removable Gator logo. I mean I paid for it why do I need to advertise for the company too. Otherwise great product.
very happy with it
this has made my gig/rehearsal travel so much easier. excellent quality. wouldn't mind a couple more internal or external pockets.
Used with Fender Mustang Floor
Width and height fit the Fender Mustang Floor well. There are about 3-4 inches of gap in the depth. This extra interior space could probably be used for cables, but you may not want to do that due to interference with the knobs and connectors on the back of the pedal. The outside pocket and strap work fine. The Gator logo is too large and bright colored for my taste. Overall, the quality of the bag is decent. It fits the pedal, has some external storage for cables and is moderately padded. It does what I need it to do (protect the pedal and let me carry it easily) and seems to be reasonably durable.
Perfect!
I bought this bag for my POD HD500...it fits perfectly....couldn't ask for better, other then a hard case....but the price of this is half of what a POD bag would cost!
Perfect Fit!
I was looking for a padded bag to protect our Magic DMX board and the Gator GK-2110 was exactly what I had in mind.
Works great with a Vox Tonelab LE
I use this bag twice a week to carry my Vox Tonelab LE to/from practice and performances for the praise and worship band I play in at church. The bag works great for this purpose with just enough extra room for a tuner, compressor, and cables. While the bag is padded, I wouldn't want to drop the bag while loaded.
For more than just keyboards
I put this on my wish list for Christmas to use with my Digitech RP-500 pedal and couldn't be happier with it. Have owned other large multi-effect boards in the past and have no doubt it would have fit them also. If you were going to be rough with the bag (shipping or packing with other items) you might want to pad it up but will work great for taking your stuff from gig to gig, house to house or wherever.....
Great value for the money!!
Doubles as GNX3 Gig Bag!
Fits a digitech GNX3 floor peddal with the room for the plug, extra cords, and my Korg tuner! It's hard to go wrong with Gator products as they make excellent gear.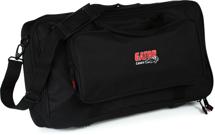 Padded Micro Keyboard Bag with Heavy Duty Zippers, Shoulder Strap and Carrying Handle