Sort By Date
Sort By Rating
Customer Reviews
mesa boogie express 5:50 plus
By far the best amp I have owned. The tone on this baby is what you would expect from a mesa. I play in a band and have gigged with it once already (plenty of clean head room). The different modes are awesome. Although I use a pedal I find myself playing straight amp with channel one on clean and channel two on blues for my dirt and use the solo boost for lead work. If reverb is your thing this amp has the best of any amp I have played. The 5, 25, 50 watt settings are awesome not to mention the on board eq. I have been a tone chaser for years and I have finally found it in this amp. I could go on and on. Nate with sweetwater is always a pleasure to deal with. This will be an amp I keep for a long time
Great Amp
I have owned the two twelve version of this amp for six months. Like most Mesa amps it's a good idea to play around with the tone settings especially in unexpected ways. My current set up is channel one on Crunch and channel two on Blues but with the gain set low for a clean sound. Channel one seems to have a fatter bottom which fills out the overdrive nicely but seems boomy on clean especially when playing with a bass. Channel two has a very different tone. When set to clean (blues) I find it sounds great but not to boomy. Then there is the Contour control. There's a lot of tonal variation on this beautiful amp and I couldn't recommend it more. It's surprising how often I can use it in the 5 watt mode. Fifty watts is plenty just about anywhere. Best for blues and classic rock. Mesa makes plenty of other amps for metal.
Excellent Amp
This amp is perfect if you want Fender and Marshall sounds in the same amp. Because the crunch is on channel one, I use the blues mode on channel two as my clean. I set channel two so it sounds like a clean tweed amp with the contour off and it sounds more like a blackface amp with the contour on. I don't care for the 5 watt mode, but the volume controls in 50 watt mode are good enough that I can play quietly with the 50 watts switched on. Overall, this is hands-down the best amp I've ever owned.
Tone King
The Mesa 5:50 EXP is perfect for my needs. It's a studio amp and gig amp all-in-one and the tone is so pure. Portable yet "big" enough to fill a large venue and accepts pedals well but has some great fx right out of the box. Looks good. Sounds great. Very satisfied with the Mesa.
Clean and mean machine
This is a great amp. I was looking to downgrade a head and 4x12 setting I ran for 14 years (back pain anyone?:) I tried a Fender Deluxe reverb RI (too piercing for my tastes), a used Rectoverb (did not cut it fot me) and some Line 6 stuff (good but not to settle with). Then I decided to buy a new Express based on my testing a couple at some brick and mortar stores. I called Ryan at Sweetwater and ordered the 5:50 Plus but with a Vintage 39 speaker and wow- clean tones were sweet and readily available right out of the box. this amp took my pedals set-up and ate it up! It loves pedals. Maybe is just me but I ended up running all my pedals in front of it after trying the loop for delays and chorus. They sounded good but seemed more alive running in front of it at least to my ears.

Now to the 5 slider EQ. This really transforms the sound when engaged. If you are wondering if it is worth it, it is. I run the sliders for enhance the trebles to go from a round clean setting to funky trbly on channel 1. Then I run channel 2 usually with the EQ set to knb preset since it provides the V setting anyway. Running distortion pedals thru the 2nd channel on Blues with gain at 8 or 9 o'clock is a dream!

The reverb is top notch, period.

I play a strat with an 85 EMG on the bridge and it rocks with this amp when needed as well. This amp is versatile with a capital V- but will never give you the tight distortion of a recto if that is what you are after. BUT, it can do metal with the right pedals for sure.

Nothing is perfect, and this amp will make poping sounds when:

- Switching from a channel set on 50 watts to one set on 5 watts.- Does not seem to happen if the switch os 50 to 25 or remaining on the same wattage level between channels.

- engaging the EQ (sporadically)- every now and then it will pop when footswitching the EQ on. I need to play more to see if I can discover a pattern (or if it is a warranty issue).

I recommend this amp wiith a Vintage 30- It will help round up the tone and control the trebles. Sweetwater can order it that way for you and it costs the same but you will have to wait for it to be built.

Portable, excellent clean tones, great blues and distorted tones, loves pedals and sounds much bigger thab
it is. Occassional pops are the trade off...

I'm glad I got mine!
Awesome two channel combo - great with pedals
I've owned this amp for over a year now, and it is simply fantastic. The clean channel is the best of any amp I've owned. Takes OD and distortion pedals fantastically. Crunch mode on this channel is very Marshall-y, which is surprising for a Mesa. Burn mode on channel 2 is also quite good. I've also used external preamps into the effects return. Outstanding.

Spring reverb unit, tube buffered, and with individual controls per channel...AND foot-switchable? Very nice. I like it and I generally don't like reverb.

I consider this amp the "foundation" of my rig. So much so, that I am ordering the 212 version and an extension cab to replace my Fryette half stack, although I must say the volume on even the 112 on 50 watts can be LOUD if need be. I use the 112 in church mostly on a larger stage. It takes whatever I've thrown at it and loves it,. whether it be pedals, preamps, modelers, etc.

My only complaint is that crunch mode is on the clean channel. I think it should be on channel 2 so both could be had via the footswitch. I don't use the Blues mode, just not my cup of tea.

Still, as another reviewer says, play this amp with OD pedals into the clean channel and you'll forget all about that little limitation. And that's why I plan on keeping this amp for good. Mesa quality construction, and all-tube, made in the USA. Very hard to beat by any other 112 all-tube combo out there.
The Gigger
I have owned and played this amp now for about thee weeks. The clean channel is among the best I have ever played. Very black face with a nice bounce and without the ice pick harshness I hear in so many newer Fender amps.
Sweet lush reverb. The contour control on each channel is a welcome addition that allows for added and frankly necessary tonal shaping. Put a mild OD pedal in front of this clean channel and you may never even get curious as to what the other channels can do.
Read the manual. Boogies can be a little "tweaky" The tone stacks are very good if you know how to use them. If used properly allow you to finely tailor your amp for the room and the volume you are playing at.
The Crunch mode is pure Marshall 70's rock. Great sound that cleans up well with lowering you volume knob. A little mid-rangy but that's what the 70's sounded like. I was there.
The Blues mode is a little darker version of Crunch. It can be set up to be clean or pushed or with some nice gain. This cleans up well with the volume knob on your guitar.
The Burn mode is classic boogie. Although I hear a bit more articulation in the midrange.It has a very nice attack but still is fluid.
Switchable from 5 to 50 watts. This feature yields some nice tonal variations and is great to push the clean channel at lower volumes.
The build quality on this rig is excellent. Quality potentiometers, dove tail solid ply very solid cabinet. This amp should become a classic.
I currently own a Marshall 18 watt, a Vox AC30, and several other boutique rigs. This amp is my current favorite.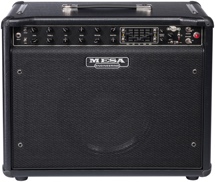 2-channel, All-tube 5/25/50-watt 1 x 12" Combo Guitar Amplifier with Duo-Class Operation, 5-band Graphic EQ, and 4-button Footswitch - Black