Sort By Date
Sort By Rating
Customer Reviews
Eleven Rack + Expansion Pack
Very good! Eleven Rack + Expansion Pack is a complete tool for recording guitar, bass and vocals. I recommend to everyone!
bad ***
i run through a peavy bass amp and it sounds killer. i have had members from many touring bands asking how do i have such a great sound. our whole band has elevens, if you want to blow away a main act this is the route to go.
eleven rack
i like it right now i'm using it live on stage in beijing china playing bass and guitar i have a double neck bass and guitar and i will be using it to complete my solo rock instrumental. i hope avid will create swr, aquilar, harke bass, peavey 5150, peavey xxx, carvin legacy. to compete with fractal axe rack systems
11Rack Expansion pack
Ex pack has Bogner extacy that sounds really close to the real thing.
New chorus sounds good.
It is not so much $, if u own 11r might as well get ex pack.
Highly recommended.
More goodies
I picked up the expansion pack primarily for the bass amp, since I was already happy with the guitar amps I had. The bass amp sounds great, even when i play my cheap bass. I can't wait to try a real nice bass through it. The stereo delay, new chorus and new amps are awesome. In general, eleven rack has been totally awesome. Yes, there are some amps/tones that I would never ever use, but you can really dial in some sweetness.
My Eleven Rack now goes to 12
I have had a few days to mess with the Eleven Rack Expansion Pack & I am having a blast. MANY AWESOME additions.
First off the download process was EASY. I had to get it for a SW Tower LE that is not on line & my online computer is an Imac. USB drive worked like a charm. Follow the directions

So what under the new hood? Fans of modern or heavy rock will be real happy the 3 different Bogners are great from blues to heavy you can really feel this amp. The Custom Digi models are also great. The Modern one has an awesome modern rock sound. Tune down for a real monster. I'm very impressed by the new custom Distortion. Put that in front of a clean amp & wow you have a great roaring sound. For those like me that need a clean boost the RC booster does just that. Come solo time just hit that & add a little gain only if you want to. The new Plexis are great too they are a little more agressive than the first ER Plexi. I also love the Ampeg bass amp. It records awesome w/ lots of thump. It also sounds kind of cool with a guitar. The Fender & Matchless amps are also outstanding.They add a very cool flavor. Check the demos on Avids site to hear what i mean.

Using the new true stereo delay & Multi chorus effects you can really get the creative juices going & record some HUGE sound. I had fun channeling Neal Schon from the Escape era. Swap out the Plexi, 800 Custom & Bogners for all sorts of different feels. I was amazed at how much the parametric EQ can shape your guitar tone. Can't wait to record some vocals with it & the new Compressor rather than use a plugin.

Lastly I had a lot of fun mixing in & out different new & old cabs. I never really bothered with that before & it really can change your sound. The mics too. I have a lot of new rigs now. I'm so glad Pro Tools will remember the rigs I came up with if I don't save them.

I gave this 4.5 stars because as much as the ERXP is great addition the eleven rack is still effects limited. We now get more of THE BEST FLAVORS of traditional guitar effects & a few treats. However, todays guitarist /recordist has a need for more toys. We could use a harmonizer, Pitch shifting, octave pedal, acoustic sim, Synth sims, whammy. 2 different rigs at once would be real sweet Basically the stuff I that requires me to keep my Boss GT10.

AVID did a great job on this & their custom amps & distortion really stand out.
If you own an eleven rack you will be thrilled with the new expansion pack it really gives you a lot for 99 bucks & opens up a bunch of new doors. If you are buying one you should also get this as it is well worth the price for the quality. It was a long wait from Jan to 3-22 to get the new stuff even so I'm looking forward to ERXP2.
Eleven Rack Expansion Pack - A Must Have!
The expansion pack opens up a plethora of tones unacheivable with the stock amp, effects when purchased. Extremely versatile. What I have used so far is amazing. I have created patches with a tonal quality that I am 100% confident will meet or beat a $3000 - $4000 amp. The tube sound in the Bogner and the DC Modern SOD alone are enough, not to mention the Plexi 50 head. In addition, Bass and effects patches/pedals well worth getting this package. I have been able to find the solo/lead tones I have been searching for all these years.
11R expansion Pack - Don't Leave Home Without It.
IMO, this is a must-have product to include with your 11R setup. If anything, the one criticism with the 11R is the model inventory ... a bit on the sparse side. Now, the 11R obviously wasn't designed to just "throw" a bunch of emulations at you. What's included in the 11R is very useful, and can be tailored to a high degree. But regardless, the 11R does need some 'breathing room', and the expansion pack helps. The models are of the same high quality as the primary ones. Also, there's this "speaker breakup" feature that's added to the cabinet model component, that's interesting. It's a subtle feature sonically, but useful nonetheless. Now, you cynics out there will say that the expansion pack is just a marketing gimmick, as all these features COULD have been included in the original product. In principle, i agree. But, what the hey .... in the end, all us enthusiastic players end up paying for it through the nose anyway, yes? So, why not go broke sounding the best we can ..... rgds
Eleven Rack Upgrade
Had some issues like you can only load this onto one computer but my studio has multiple computers such as ipads laptops and a rack mount computer.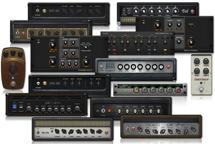 Expanded Tone Library for Eleven Rack with New Emulations, Studio Effects, and Speaker Breakup Feature