Sort By Date
Sort By Rating
Customer Reviews
This Is The One
As soon as I plugged in, it was apparent. Very slick and well designed product. It gives you seamless compression, and its very quiet. I would recommend this to a friend.
Blows Other Compressors Out Of The Water!
I have a Keeley compressor, which I loved, and I thought was the best compressor out there...until I got the Ego Compressor on a whim just to try it. WOW! For country spanky twang, there is no comparison. The audio quality is amazing and the tweakability of the compression and attack make the Ego Compressor a far superior compressor to all others. The blend knob actually makes the attack spankier. I thought it would make the attack more subtle, but it has the opposite effect, if you use it correctly. If you play country, just stop looking and order this pedal. Wampler pedals are just phenomenal in terms of quality and versatility.
great compressor
This compressor does it all , Very easy to use , and always produces always sounds so natural . Other compressors just made my tone sound muffled . If you want a natural sounding compressor that will not muffle your tone this is it .
The EGO Compressor one of the Finest Soundmachines
I have had some priceworthy compressor before,
like the Boss customcomp, the Diamond CPR xellow,
the Mad Professor Forest Green, and the Keeley 3knob!

With all respect to a lot of Compressors the EGO Comp is
the one never left my board and is always in line!!

Its by far one of the best versatile Machines for Guitar etc.
Noiseless, not too much pots, best features, and after a
short time to see how it works - it is a WAMPLER!!!

Some of these pedals have reference status! Take it and PLay.
A compressor for your rig thatf
I have had 3 versions of this pedal by Brian Wampler. It is based on his design ,building a compressor for himself years ago, though he has tweaked the design. Very versatile,this compressor has 5 knobs to adjust your compression from full blown chicken pickin' to a much more subtle compression or to a separate clean boost channel.
It is not parallel compression ,like The Barber Tone Press, It is more like 2 pedals in one, a clean boost and a Ross like compressor. Wampler uses only top grade parts in his compressor, and it is a very well built pedal. The blend knob gives you the choice of how much of each channel you want to use, boost or compression. The attack knob goes into action when the pedal has the blend knob on compression only, Honestly I have not found a setting of this compressor that I do not like. There is included in the compressor box, a very complete set of instructions.
Finally, Wampler has a tone knob which can give you some bass to treble changes, going to clockwise. This was a request of customers, not the tone knob, it has been there, some customers wanted it's action to change in how it interacts with tone and presence and it is a little different than just a plain tone knob. All in all, it is a very good product at a fair price. I truly love it myself ,recently I turned on one of Philly's best guitarists, Jim Fogarty to it and He said it took his Pedalworx Squeeze Factor off his pedal board for the Wampler.
Finally...
I've really never been a big fan of compressors. I bought Boss's compressor, the MXR Dyna Comp and Keeleys 4 knob compressor. None of them cut it for me.

I absolutely love Wampler's compressor however. It allows you enough versatility to preserver your attack and increase your sustain. Or you can get the full on squash. Whatever you want really. It does it all.

Top quality company designing the pedal. I'd recommend it to any body needing a compressor.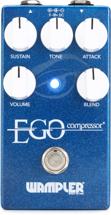 Compressor/Sustain Pedal with True Bypass, Blend Control, and Tone Control