Sweetwater Advice
The first time I recorded with an Ecstasy, I fell in love with the Red Channel. Thick and crunchy, but detailed with great note definition. I have searched all over for a pedal that can do that kind of tone, but now that search is over. The Bogner Ecstasy Red Overdrive Pedal gets so close to the real tone that it's unreal!
Sort By Date
Sort By Rating
Customer Reviews
Great Pedal
I bought this one and the Ecstasy Blue as well - I actually use the blue pedal more often live and the red is kept on tap for the harder rockin stuff - anyway, these pedals sound great - such a nice CRUNCH - really cut through the mix nicely - highly recommend.
RED and BLUE - NICE TONE!
I was using an Ibanez TS-9 OD and was looking for something a little more gritty and crunchy. My SW salesperson recommended the Bogner Ecstacy Blue but I decided to go with the red thinking I could still use the TS-9 for the softer bluesy stuff...well after playing a gig with the red there was no going back to the TS-9 for anything...so why not add the blue pedal and call it a day? Well I did just that and goodness what a sonic palette I now have to choose from. From a clean plexi boost to huge SONIC hard rock crunch these pedals can do it all and do it well! Beautiful tone. Expensive? Yes, but as the old saying goes you get what you pay for and besides I cant imagine ever needing another distortion/OD - pedal and the quality of the sound is worth it for sure!
Ronnie
This pedal is great for the sound that I was looking for. It has a real amp like feel to it and responds very well to volume changes and picking styles. The only switch that I found didn't make much difference to my sound was the 3band EQ, but all the others do very much change the tone to your disires and able to dial in or out lows, miss, highs ect.

I love the distortion/overdrive this thing delivers! It can go from blues to all out hard rock and has great sustain. I feel like I can play any style of music with this pedal it is just that versatile. I'm running my Bogner through a Marshall JCM 2000 TSL 100 with a Les Paul and its the best sound I have had coming out of my Marshall for a long time! I use this thing at church playing contemporary Christian music with lots of compliments on the tone and then playing rock as well and it gives me all I need!

This is a great pedal with great sounds and if you want a pedal that will fit just about any style of music without swallowing up the tones of your guitar which lets each string be heard in your power chords and will soften up and react accordingly to how your playing.
I LOVE IT!!!!!!!!!
Bogner Ecstasy
I was looking for a way to create a great sound for my set up so I could play and enjoy without having to turn my amp up to mega volume. (and having a very unhappy wife!) My sales engineer at Sweetwater, Greg Savino, (many thanks again Greg).suggested the Bogner ecstasy combined with a Philosopher tone pedal. Absolutely worked out fantastic. This was after wasting a lot of time and money trying to do the same thing on my own. Sweetwater is a great place to get your gear. Their sales engineers really know about gear and will help you make the right choice the first time.
This one did the same as the blue one
This is an amazing pedal for those Marshall sounds. The elusive brown sound hide in here. It can get OD and crunch but also the clean semi-clean sounds. Potentiometers are very active and it takes some time to dial a sound that you like or need. It the most robust pedal I have ever played and tones for everyone. Now, if I could just settled and a tone and stop reaching down.
Sweet Sweet Tone
Can't say enough about this pedal. Pricey? Yes. Worth it? Totally. The versatility of this pedal is amazing. The tone is amazing. Very user friendly and I was able to dial it in quickly. The boost function allows additional gain to be fed into the mix and essentially turns a 1 channel amp into a 3 channel amp. I purchased this and a Keeley Luna Overdrive to put to the test. While the Keeley is a fantastic pedal in its own right, the Ecstasy is phenomenal. I love the sound of a Bogner Ecstasy amp and this pedal really lets you hone in on that sound. Notes are articulated and again the tonal options are huge. Definitely one of the best I have ever played.
This pedal is amazing!
It is like owning a Bogner amp at a fraction of the cost!
Great pedal!
Awesome brown sound machine! Great string definition, not fizzy sounding. Amazing with a clean Fender type amp. Incredible level service from Sweetwater as usual!!!
Bogner Ecstasy Red Pedal
I mostly just record in my home now, so I'm always looking for great sound at bedroom levels. The Bogner Ecstasy amp is my dream amp sound, but let's face it, it's meant for a big stage, not in your bedroom.
This is the first pedal I've purchased that actually sounds like the U-tube clips! It's killer! I'm driving it through one of my older tube heads into my 4-12 cabs, and it's hard to even put my guitar down, I love it! It prefers the tubes cranked on your clean channel with the master up, but you can keep it quieter with your channel volume. Once you dial the amp in, this pedal sounds incredible at any volume with the pedals volume control. Man, amp simulation technology is getting unbelievable!. The musical dynamics of this pedal are amazing. Man, with a couple of beers I sound just like Van Halen! HA! Great job Bogner!
Finally, a distortion pedal that sounds exactly like it's supposed to.
I've been searching (and searching) for a great distortion pedal for my %13 rsa 23, something for some AC/DC to Van Halen crunch, but nothing was getting me close. This pedal nails it, the bloom and urgency of the brown sound to the raw crunch of Angus, and it has real tone controls and many (actually useful) options. I never write reviews and usually wait a couple of weeks to let the product sink in, however, I've been playing this for three hours and only stopped to write this review. If your thinking you might want this pedal, stop thinking and buy it, you will not regret it.
Everything You Need In a Box
This has to be one of the best pedals out there!. Tried it accidentally at a guitar shop and fell in love with it directly. It could go from an ac dc tone to a beffy sound with ease. Love this pedal! It is like the Ecstasy 101 Head Cab but in a box! A bit pricy, but worth every penny! Bogner FTW!
The aptly-named Ecstacy
Just like in "The Matrix", you gotta "take the red pill". You can get plenty of bluesy, roots-rocky tones outta this baby when the gain is set low and/or you roll off the guitar's volume knob but it's strong suit is the boost function and it's screaming lead tone. It's tight and responsive and loose and saggy all at the same time somehow..and harmonics just jump off the finger board and bent or vibrato notes sing for days...and on the right harmonic relative to your note choice. Built like a tank (most impressive battery compartment hatch ever), and even though it has nobs a-plenty, It is very intuitive and quick to figure out. At higher gain settings, kiss your natural tone wood tone goodbye...this beast has a strong assertive sound to be sure. It's meant to be the entire preamp section not just a distortion box to goose the front end of a Marshall. Thank you Mr. Bogner for this jewel of a pedal. German engineers over-engineer the best! -Pete Arnold
A Big THANK YOU...
...to Mitch Gallagher or actually playing CHORDS on his demo rather than wanking like the guy in the other video. i can judge a pedal's sound much better off of chords than leads.
Overpriced and underwhelming
I was really excited to try this pedal, but I was so disappointed. The Ecstasy Red has WAY too much compression, totally squashing picking dynamics and expressiveness, like a cheap compression pedal. No excuse for that - there are so many great pedal makers out there these days (Wampler, Fryette, Alf Hermida, even Fulltone, lots more), with pedals that provide a playing feel and expressiveness almost as good as plugging directly into a fine tube amp, with glorious, raging tone that provide all the "ecstasy" you could want, for less money than these Bogners, some a lot less. After gigging with it a couple of times. I found that lack of dynamics made it a challenge to cut through a live mix. Also, the YouTube demos are somewhat misleading about the adjustable boost - there is only a tiny range of adjustment available. I returned my Ecstasy Red after about 3 weeks. Reinhold, we love ya, but you should have spent less time photographing yourself for the ads and more time on the pedal!!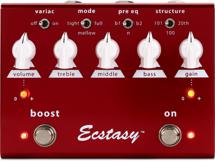 Overdrive/Distortion Pedal Based On the Bogner Ecstasy Amplifier's Red Channel with 3-band EQ, Footswitchable Boost, Variac Switch, Mode Switch, and Structure Switch