$30 Instant Savings on EZdrummer!
During the month of May, purchase Toontrack EZdrummer from Sweetwater and enjoy $30 Instant Savings! The price below reflects your Instant Savings.
Toontrack EZdrummer (Download)
Item ID: EZdrummer
Multi-microphone Virtual Drum Instrument with 1.5GB Sample Library, Over 8,000 MIDI Files. and an Internal Mixer - VST, AU, and RTAS
Delivered in Minutes!
This product is delivered by download. We have a unique partnership with Toontrack that allows you to receive your license code within a few minutes.
Get More Value From Sweetwater
Retail Price

$179.99

Sweetwater Savings

-$80.00

Sweetwater Price Drop

-$30.00

Electronic Delivery

Free!

Fast Electronic Delivery
Faster than waiting for a box to arrive! We'll send you the codes and instructions you need to download your order.

Tech Support

Free!

SweetCare FREE Tech Support
Trust Sweetwater's award-winning Tech Support department for FREE online and phone tech support, including our famous 20,000 article Knowledge Base. Learn more »

Sale Price:

$69.99
Many Payment Options Available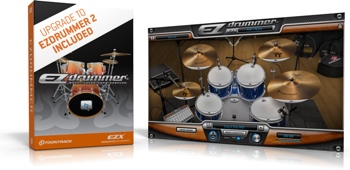 Click to enlarge
Free Shipping
Price Drop
This Drum Software Lets You Focus on Your Music
Want killer drum tracks? Toontrack's EZdrummer multi-microphone drum sampler software is the answer you've been looking for. Short of hiring a highly-experienced session drummer who's well versed in a broad range of musical styles, EZdrummer is simply the best, most economical way to get totally realistic drum tracks into your sessions. Best of all, you don't need to be a MIDI-programing guru to put EZdrummer to work. With a couple of mouse clicks, you can audition drums, drag and drop loops in to your DAW, and construct complete drum tracks. Keep reading to find out more reasons why Sweetwater Sales Engineers love Toontrack's EZdrummer rhythm software.
Toontrack EZdrummer Multi-microphone Drum Sampler Software at a Glance:
Freakishly easy-to-use software interface

Incredibly detailed drum sounds and MIDI grooves

Easily integrates into your system
Freakishly easy-to-use software interface
True to its name, Toontrack's EZdrummer is one of the easiest-to-use programs of its kind. EZdrummer's user interface is extremely visually oriented, with virtually all of the important functions available right on the surface. It's incredibly intuitive. That means you don't have to dig through menus to find the sounds you want. If you want to hear what a drum sounds like, just click on the drum in the graphic layout. Want to load a groove? EZdrummer's simple groove browser lets you quickly find the rhythm you're looking for, and you can drag and drop grooves right into your DAW for sequencing. There's nothing to it!
Incredibly detailed drum sounds and MIDI grooves
Under the hood, EZdrummer is anything but simple. Each drum sound is made of up hundreds of samples that automatically switch, change volume, and blend together to provide you with perfectly realistic results. What's more, the sounds that come with EZdrummer were recorded at Avatar Studios in New York by an amazing team that included producer Pat Thrall (Glenn Hughes, Black Crowes), engineer Neil Dorfsman (Kiss, Bruce Springsteen, Dire Straits, Sting), and drummer Nir Z, whose credits include Genesis and Joss Stone. In addition to recording the drum sounds, this team also laid down over 8,000 MIDI grooves - and that's just the basic EZdrummer content! There's a huge selection of EZX expansion packs to choose from, so no matter the style, finding the right drums for your music is easy.
Easily integrates into your system
Let's face it, not all music technology seems to get along. One of things we at Sweetwater love about EZdrummer is how incredibly stable and compatible it is. That may be because Toontrack didn't design EZdrummer to require loads and loads of RAM or the latest and greatest processors, but that's just part of it. What's also great about EZdrummer is how easy it is to play with MIDI controllers, including electronic drums that use advanced MIDI to regulate the hi-hat's open and closed position (e.g. Roland's V Drums). This makes EZdrummer an obvious choice, especially if you know you'll want to use it with any kind of advanced MIDI setup.
Toontrack EZdrummer Multi-microphone Drum Sampler Software Features:
Simple and easy-to-use plug-in that lets you add realistic drums to your projects

Great for all levels of skill, from entry-level users to professional drum programmers

Intuitive visual layout makes auditioning drum sounds and grooves easy

7000 sound files at 16-bit/44.1kHz equivalent to 5GB of uncompressed wav files

Drag-and-drop groove browser lets you easily arrange your drum tracks in your favorite DAW

Import your own MIDI rhythms into the library

Multiple-microphone mixer control lets you get the perfect balance for your track

Preset mix modes allow you to quickly change your sound

Velocity sweep allows you to change the overall intensity of your sounds

Humanizer function combines drum hit randomization and non-cycling sample triggering

Operates in General MIDI for maximum convenience

Included sounds feature 7,500 sound files at CD-quality 16-bit/44.1kHz (equivalent to 1.5Gb of uncompressed WAV files)

TPC II sample-expression system reduces system requirements, allowing you the get amazing results from a less-than-new computer

GMS drum kit recorded at Avatar Studios, New York by world-class drummers and producers including: producer Pat Thrall (Glenn Hughes, Black Crowes), engineer Neil Dorfsman (Kiss, Bruce Springsteen, Dire Straits, Sting), and drummer Nir Z (Genesis and Joss Stone)

Supports VST, Audio Unit, and RTAS formats
EZ Drummer is a great rhythm program for everyone!
| | |
| --- | --- |
| Specification | Detail |
| Software Type | Drums |
| Supported Computer Format | Mac, PC |
| Supported Plug-In Formats | RTAS, AU, VST |
| Supported Audio Formats | ASIO, Core Audio |
| Hardware Requirements - Mac | G5 or Intel processor with 512 MB RAM |
| Hardware Requirements - PC | Pentium 4 or Athlon processor with 512 MB RAM |
| OS Requirements - Mac | Mac OS X 10.5 or higher |
| OS Requirements - PC | Windows XP SP3 or newer |
| Manufacturer Part Number | TT106 |
Can We Help?
Sweetwater's friendly and knowledgeable Sales Engineers are regarded as the most experienced and educated professionals in the music industry, with extensive music backgrounds and intense training on the latest products and technologies. As your personal contact here at Sweetwater, they are available to provide personalized advice any time you need it.
Call toll-free

(800) 222-4700

or E-mail us
" My Sales Engineer helped me place the order and advised when the guitar would be shipped. Once Sweetwater received the guitar, it was quickly set up and I received it the next day. The guitar was in tune and set up properly. "

Phillip, Lynwood, IL
Awesome program!
by Chris Horton from Savannah, GA
April 17, 2013
Music Background: Pro musician
This thing is amazing. It loaded into my DAW easily, and I programmed a professional sounding song the next week. It takes some time to program a fully custom pattern/song, but once you get the hang o
... read more [+]
f it, its really easy.

The drum kit that comes as the default can be used for rock, metal or anything else. It has a really neutral sound. Theres plenty of options to change the sound, as well. It has its on mixer, mic bleed control, EVERYTHING!

If you are looking for an easy to use virtual drum machine, then this is it. close [-]
Yikes! THIS is Aptly-Named!
by Teejay Riedl from Washington DC
April 9, 2013
Music Background: Pro Musician, Multi-instrumentalist
100% fantastic!!
I play a lot of instruments, but not drums. Over the years, I've tried many - far too many - ways to get drums into my songs. That includes Battery, Guru, many drumbos (Rol
... read more [+]
and, Yamaha, Alesis, etc.), Ableton, and Sonar's Session Drummer... and with the sole exception of my old TR-707 with its grid programming, nothing worked for me. The drumbo boxes were too time-rigid, took a long time to program, and weren't terribly inspiring. The software was too fussy and clinical, and sucked up even more of my life - hours and hours squinting at a frigging Piano Roll. My Kronos has great sounds, but no easy way to program them (I've configured BGP in Cisco routers that were easier to navigate!).

I spoke with my SE, Delvin Wolf, who suggested EZdrummer, and for a hundred backs, I figured it was worth a try.

All I can say is "Wow!". :)

Of course it sounds great, and all the good stuff every reviewer says is true... but to me, the greatest thing this software does, is that IT GIVES ME MY LIFE BACK. In less than 3 hours (including the time spent to load the software!) I had fully-realized drum tracks for two songs, of such Quality and humanity that my musician friends thought I had contracted a drummer.

I could go on, but why bother? EZdrummer is GREAT. It reduces the time spent getting credible drum tracks from cira 20-40 hours per-song to ABOUT AN HOUR. A product that does what it is advertised to do, with expandability, flexibility, killer sound, superb ease-of-use, and a very reasonable price. I love it - I just LOVE it! close [-]
awesome
by Chris K from Denver, CO
March 25, 2013
Music Background: pro musician
Easy to use, sounds great. It's exactly what I was looking for - i can work on making music, not screwing around with the software.
Excellent
by Scott Law from NILES, MI
March 15, 2013
Music Background: Pro Musician, Recording Engineer, Song Writer
I have used "drum machines" before and they are hard to program and cheesy fake sounding. However EZ Drummer is as real as I have ever heard. On a recent recording I had a seasoned musician friend a
... read more [+]
sk me who the drummer was, he is really good! I said they guys name is EZ D. LOL Then told him it was a "drum machine". He couldn't believe it.

Super easy to use and edit. I have bought expansion packs that give me a plethora of beats and sounds for all kinds of music. I am impressed. close [-]
Sweetwater Advice
Carson McClain
Inexpensive, excellent sound quality, and expandable. This is a great addition to any DAW production station. If you want something simple to use then EZdrummer is it.
Read more reviews
See Also: Drum Samples , Toontrack , Toontrack Virtual Instruments: Drum & Rhythm