Sort By Date
Sort By Rating
Customer Reviews
This thing ROCKS
This is one awesome sounding kit. Great variety of grooves, tremendous sound quality, lots of good fills, etc. For $39, a steal. And EZ Drummer is so ridiculously easy to use, too. I used to HATE building rhythm tracks, but with this thing, they come easy, and I can then focus on the stuff I like to do, like guitars and vocals. Buy this. Now.
Excellent Vintage Sound
Great drum sequences. I like to use it as an enhancement to EZDrummer, particularly the Fills, which are a little sparse in EZDrummer. Lots of good stuff that won't disappoint!
YES!
Didn't know exactly what to expect, but I was extremely impressed! Don't let the simplicity fool you...this kit is awesome. Love the "in your face" sound, especially the snares. Also, great cybals. Get this!!
EZ Drummer Vintage Rock - Get those great 60's and 70's drum sounds
Ok, this is now my go to kit to use with EZ Drummer. Although it looks really simple, this kit produces sounds very close to Ward, Bonham, Starr, and other 60's and 70's rock drummers.

The included MIDI files are really nice as well and you can kind of guess by the titles as to what song or group that it is based on and it really shines when I use it with Toontrack's songwriter's MIDI pack that I purchase previously.
Cant do without this...
Ok I bought the Vintage rock, latin percussion, funkmasters and the nashville add-on packs. I have to say my goto drums I use are the Vintage Rock and Latin Percuission. They work great if you make music with kind of a vintage vibe like I do. What really sounds great together are the drums and the percussion instruments like congas, tambourine, and cowbell etc in unison. Gives you that full sound.

I would definitely recommend buying the add-on packs cause they do give you alot to work with. They give you alot of odd meters to suit those that want to play some math riff.

Buy it now...
A must have
I love EZ Drummer but I'm not in love with the default drum samples that come with it. That's why this Vintage Rock pack is so important. It's got that dry room sound that allows me more flexibility when mixing my recordings in Pro Tools. Plus, the '70s vibe of the samples fits perfectly with the style of music I write.
Very good for what it is
1 drumkit, one sound, very well recorded.

We cannot, of course, wish to have the tonal subtilities and sample count of Superior Drummer's sounds, because it's only an EZ expansion.
But that's the deal, and this one is really good.

Unlike metal kits, this one sounds very natural, uncolored, and realistic. VERY usuable.
If you want his big brother, go fo Custom & Vintage SDX.
But if you don't have Superior Drummer or simply don't have the money, this one has a good vibe.

Conclusion:
Again;
1 drumkit, one sound, very well recorded.
Love The Tones
I think I'd give this 5 stars if you could build custom kits using other collections you own, but I think that's what Superior drummer is for. Anyway, the sounds in this EZX kit are very good, much more vintage sounding than Nashville (Which is still great) or the kit that comes with EZ drummer. A great addition to your list of expansion packs.
Very nice, but limited to certain genre's
Having owned pretty much all of the EZ drummer expansions, they all are great. I wasn't that excited to get this one, but needed to for a certain project where I needed a more retro vibe. I was delightfully surprised at the quality of the sound on this one, I don't think the demos did it justice. A great sounding kit for sure, tighter then the others in room. The only drawback is that it is more focused for retro and vinatage vibe obviously, so it fills a great sound and niche, but won't really work for that modern sound as well.
Another Home Run for EZ Drummer
I have been impressed with EZ Drummer since I purchased it and each new pack gives me more and more flixibility. This program is a great addition with a beautiful vintage sound. I highly recommend this pack to any EZ owner.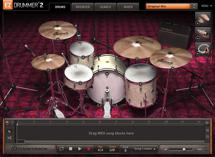 Expansion Pack for EZdrummer with Ludwig Keystone Kit Sounds - Electronic Delivery