Sort By Date
Sort By Rating
Customer Reviews
Best Product Ever
If I could give it 10 stars, I would. I was blown away by the sound improvement I was hearing from my demo recordings. It really opens up when you add some additional packs to it (I added Metal Essentials and Guitar Gods), but as a stand alone product, this is as good as it gets. MUST OWN
Indispensable!!!!
I've been a musician for over 20 years (bassist), and this is easily one of the best, most revolutionary tools for musicians in songwriters in years! For one thing, it does exactly what is advertised.

I use it in my Pro Tools MP 9 rig, but I mostly use it as a stand-alone tool for practice. Whether I want to play guitar or bass, I can call up one of my favorite tones, and play for hours. I highly recommend this product! The expansion packs are equally impressive.
Toontrack EZmix2
I bought this after being frustrated with trying to mix and master a CD I was producing in my home studio. Now, I use EZmix2 on everything I record. It just makes everything sound better!
its the bomb
it getis every thing i need to be done in secs saves a bunch of time
:D AWESOME
Just wanted to say Toontraz EZmix2 is outstanding
good stuff
this is a great product especially for new home studio users. makes mixing simple with a fantastic sound.
ezmix
great for quick mixing. I don't have to work as hard.
It's a No-Brainer
I'm sure I'm simply repeating what others have said about this product - If your a producer, or a producer wanna-be - then you don't want this software... BUT, if you are musician who records your own stuff and you want professional tones and mixes a the touch of a button (or a few mouses clicks) it's simple - BUY THIS... BECAUSE IT ROCKS!
This is very COOL
Ok, ToonTracks again is doing a great thing here - this EZ Mix is fast simple and so easy to navigate. I takes a lot of thinking out of the process that you might spend thinking out effects and setups for processing tracks. Easy to integrate in Pro Tools and the sounds are really good. Being a Guitar first and foremost - had to check out the flat out guitar tracks setups - and I was very pleased with a fast plugin that gave me a sound that was not brittle or over processed. Great Job ToonTracks - EZ Keys is next!!!
EZMIX 2
My Sweetwater rep recommended this for my home studio mixes and I couldn't be happier. Drums and bass tracks in particular are vastly better and out front. Only reason it lacked 5 star is that guitar settings for metal are just average, even with the metal expansion kit. But it's just so easy to quickly dial up a sound and so easy on the CPU. I haven't tweaked one preset yet.
It's easy!
I love how EZ Mix 2 simplifies the mixing process. It isn't the same as a million dollar studio but the end result is very clean. What I like most about it is when it comes to mixing the bass. For me, the bass is the most difficult thing to record, mix, and master. EZ Mix lets me get a very good bass mix. I would definitely recommend EZ Mix to anyone with a home studio who wants to create good mixes without spending lots of money and taking up lots of time.
EZmix 2 use may cause feelings of guilt
Yes, this plug-in is almost too good: it's the closest thing I've seen yet to a "create sonic awesomeness" preset. For someone who respects the science and art of audio engineering, it feels like cheating. But the presets are in general quite good, modestly tweakable and definitely made for a fast workflow. So I recommend giving it a try; just don't tell your audio engineer friends.
Great production tool!
I originally bought EZmix 2 to be used mainly a guitar/bass amp simulator. What I ended up getting was a great tool for experimenting with different sounds and signal chains that I would not necessarily have tried. Essentially, it makes your Pro Tools session feel somewhat like GarageBand, in that you can cue up a bunch of presets and see a virtual rack with the signal chain.

I love this as a supplementary tool, but am not using it as my primary mixing tool.
Good
For quick mixes and more...
A time saver...
I'm a songwriter who makes work recordings, in which I rough-in the kind of arrangement I'm looking for on the demos. So my mixes don't need to be broadcast ready...they just need to convey my ideas to the demo producer. Still, they I want them to sound good, quickly, and this software achieves that. If I was producing broadcast-ready recordings, I'd use this to rough-in the mix quickly, and tweak from there. It's would save a ton of time. I'd give it five stars, but I feel they skimped on the presets that come with the software, in order to sell more expansion packs.
Toontrack and Sweetwater a winning combo!!!!
This product is great and all the added EZ packs that go along with this are all very very useful and are well thought through!!! The people here at Sweetwater are always very helpful and Toontracks please keep putting forth these great products!!!!
Excellent
I am stoked snout this plug in. it is super easy to get tracks to sit in a mix with EZ Mix . I am a huge fan of toontrack. The only drawback is you have to buy a lot of extra packs at 50 bucks apiece.
Ezmix
EZmix is a really easy product to use. I found just putting it on any given track automatically makes it sit in the mix space better. This product is great for those who don't want to spend 20 hrs per song to get it in the write place. How ever it has its limits with the fine tuning. Since there is only two effects adjustments you may still find your self adding multiple instances of the effect to get more than two things done. Say you want delay, reverb, eq, and compression. Well that right there means you have to have two instances of the insert effect. The advertisement certainly didn't tell me that. In summation, good for those who just want the project done so they can get to doing more music, bad for those who want the music they did to have an extra unique sound to there mix.
Fantastic!!!
I can tell right out that this is what I've been needing all along. Too bad it doesn't have a setting for sax. Maybe the guys at Toontrack will come up with an EZmix 3 where we can fine tune the settings. Thanks for a great product.
Excellent Tool For Songwriters!
I owned the original Ez Mix, and I thought it was ok, but I didn't really use the program because it never really had what I was looking for. I upgraded to EZ Mix 2 because I saw a few demonstrations online of it and it seemed pretty cool with the new guitar amps and everything inside, I was still a little disappointed with the selection of things inside once i upgraded. I decided to purchase a few expansion packs and see if that would do anything. Once I did, WOW, this plugin rules! The Core expansion pack made the difference, and I also purchased the metal and songwriters tool pack. Excellent Tools. I'm a working songwriter and I own a good majority of the Toontrack Products. But this has saved me a few headaches mixing and especially mastering. I'll admit, though this does work wonders for your mix it isn't the be all/end all. When mastering I still do need to use some stock and waves plugins on top of this to really give it that commercial sound, But the presets in here definitely put you in the ball park. What I wish toontrack would add in the future with Ez Mix is the ability to adjust the presets further. Yes, they give you two knobs to adjust a little bit, ..but what if i want to take a few components out of the preset to make it just right. Otherwise, great product, will continue to buy toontrack products in the future, hopefully the price of the expansions will drop too =)
EZmix 2
This Plugin makes mastering your songs quick and EZ. It comes with some pretty cool presets. When time matters, EZmix gets the job done.
It Does The Job
It would be great if it gave more control over the presets, but all in all, this got me out of a bind, and I find myself using it more than i thought I would.

Expect to buy some of the add-ons. But word to the wise: I find the "rock" one to be utterly useless.
Nice idea, but not worth the money.
Its a great idea, and it can come in useful at times. Unfortunately, I find that I still have to do the majority of the mix with other plug-ins. Its not a terrible product, I just dont think its worth the money. It saves me very little time at all.

Although, I've heard it is substantially better with the add on presets which I dont have...
Loyal Toontrack customer
I was hoping to love this, I own the original EZ Mix with the rock expansion pack and also most of the EZ drummer packs and up until this, I loved all their products. They just came out with an expansion pack for this so I'm hoping that will improve this product but for me this is their first miss. It's very limited and if you don't already own the first EZ mix this would be a total bust. I guess they can't all be winners.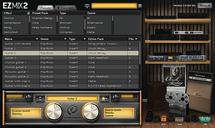 Native Mixing Plug-in with Presets for Drums, Vocals, Guitars, Basses, and Keyboard - Mac/PC RTAS, VST, AU