Sort By Date
Sort By Rating
Customer Reviews
My New Strings
For years, I've been playing Ernie Ball and really loved them aside from the all-too-frequent breakage issues and the oxidation within days of use.

I've now been playing D'Addarios for about month at a handful of gigs and these strings ar great! All the tone you expect out of an Ernie Ball but without the breakage and oxidation -- and I bend strings quite heavily and sweat a good bit onstage. I was actually able to use one set of strings over two weeks and two gigs and they still have plenty of life in them and look in great shape.
d'addario strings
very pleased, thank you.
D'Addario EXL110 electric guitar strings
D'Addario strings have always been a favorite of mine and the cost of the 10-pak makes it super affordable. Not to mention the free shipping, how easy is that?
Howie reviews the D'Addario EXL110 light electric guitar strings.
I've been playing guitar since the mid 70s and was introduced to D'Addario strings for electric guitar early on. I had a music store in upstate NY for a time and we always did well with D'Addario strings for the electric instruments. I've always had great success with them. They are consistently good, wear well, hold their ring even under the grueling conditions of sweaty live shows. I have never found a flaw that would cause me to have to replace them immediately, which gives me the confidence I need to keep using them. I've tried other strings, just to see if there is a reason for me to switch and, while there are plenty of good strings out there, there is no point in my switching now. With a thirty plus year track record of great success, why would I want to, right? Yep I'm very happy with these excellent strings. The icing on the cake: Sweetwater's Gearfest pricing. Again, thank you to my friends at Sweetwater for helping make my summer touring more pleasant. I always appreciate folks looking out for the working pros.
Great Strings
Good strings, responsible packaging. And save those colorful ball ends to make some cool jewelry!
Great Strings
While these aren't the coolest strings out there that are made of God only knows what, these are certainly my ol' faithfuls. I rarely break a string, they last a good amount of time, and they sound great.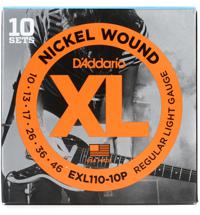 .010-.046 Regular Light Gauge Electric Guitar Strings, Nickel Wound, 10-pack