Sort By Date
Sort By Rating
Customer Reviews
Les Paul style case
A great case for the money. Solid, well built and fits the Epiphone Les Paul like a glove. As usual, Sweetwater provided superfast shipping and great customer service! Matt Kreager rocks!
Very nice, excellent quality.
This is an excellent product. Very nice design, perfect fit for my Les Paul and not big and bulky like my previous case. Highly recommend.
Sweet Case
This case fit my LP like a glove....very well made too. I'm very happy with it, and the price I paid for it
Great product, great price, great service.
I puirchased this case for my grandson, who recently purchased a Les Paul guitar, and needed a quality case for it. Of course, he wanted a genuine Epiphone Les Paul case. I researched and explored many websites and retailers before stumbling onto Sweetwater. I'd never heard of them, but the reviews and ratings seemed to indicate this was a good place to do business. I found the case I thought my grandson wanted, and in addition to having the best price I found, Sweetwater was one of two sites offering free shipping; the other one was going to take weeks to get here, and Sweetwater promised about 3 days. Since it was to be a birthday gift, I didn't want to wait. I placed the order, and the very next day I received a phone call from Delvin at Sweetwater, confirming my order and assuring me that it would be delivered in 3-4 days. It arrived as promised, and my grandson was thrilled to recieve it. He was also pleased that the name Epiphone was on the case, and not just the letter E, which apparently appears on some cases. Kudos to Sweetwater, and thanks for a great product and great customer service.
LES PAUL CASE------EXCELENT!
THIS CASE FOR THE MONEY IS THE BEST OUT THERE, QUALITY BUILT INSIDE AND OUT!! OF COURSE SWEETWATER AND THE PEOPLE THERE ARE EXCELLENT QUALITY TOO!
Perfect Case
Fits my Les Paul Goth with a floyd rose perfectly. Super fast shipping and arrived safe. Love dealing with Sweetwater. Now get some of those Epiphone Tributes in stock, I'm dieing to get my hands on one.
great service!
Highly recommended company!! I love my case, the price was great---Blown away by the customer service! I haven't seen customer service like this in years!!
Great case!!!
I have bought 2 of these cases for my Epi Les Pauls, simply put, they fit PERFECT!! If I ever need another case for a LP I will buy another one. The fit is very snug and the inside of the case is thick lined and plush. You cannot beat this case for the cost, no way. Great product at a great price, and the shipping was very fast too !!!
The Epiphone Guitar Case for Les Paul
The item was delivered fast, and packaged like a PRO. Highly Recommended.
epiphone guitar case for les paul
this is a christmas gift for our grandson.im very impressed the way it was made and looks.im sure he will be very happy with it.
Epi Les Paul Case
This is a lot of case for the money. Well made, not too heavy, and fits my guitar (Epi Les Paul Standard) perfectly. I've seen the same case on E-Bay for $20 more. Great value.
Les Paul Case
I have been looking for a case for my Epi Les Paul for a LONG time, and I came across this one. I could not believe the price, and I was very skeptical. I read all of the reviews, and decided to go for it. I can't believe the quality of this case. It fits my Les Paul perfectly, and the fit and finish is fantastic.
Very Nice Case
This case is a very rich looking, well built guitar case and fits the Epiphone Les Paul Standard guitar like a high quality glove. Sweetwater is one of the best businesses that I have ever dealt with online. Their communication is the best I've experienced and their shipping way faster than most. Oh yeah, their prices are tough to beat too.
Better fit than my Martin Case
I have a limited edition Martin and the case for that guitar is not as nice a fit as this one. Like everyone else says the fit is perfect like a fine glove. It could use a bigger compartment.

The price here is the best and shipping was included!
Awesome case
If this case was any snugger, the guitar wouldnt even fit, perfect price and perfect fit, just outstanding
Must Have for Epiphone Les Paul Owners
Spectacular quality, and the case fits my Epi Les Paul Standard like a glove. Every other case like SKB and Gator were hit or miss review wise. I could not seem to get a clear answer on whether those cases would fit my LP correctly. This case does! Perfectly! If you have an Epiphone Les Paul, buy this case, you will not be disappointed
Great Case! Steal of a price!
What a deal! This case is high quality and protects my gear perfectly. My Epi Les Paul Standard fits perfectly and the case itself is also very lightweight. Planning on buying a couple more!
Awesome Cheap Five Star Quality Case
This case is great! I love the green interior that came in mine. This is the best case for your money and Sweetwater has the lowest price i found.
Best hard shell case for the money
I have 9 of these cases and plan on getting a couple more when available. Other models like Ibanez will fit in this case. (always check fit before buying a case)
Guardian is good for wider guitars like the Schecter models. For a soft case (gig bag), the Fender is the best for padding and cost. You can't beat Sweetwater for the free ship, and cost is equal with most other suppliers so you come out ahead.
can't touch this!!
I got one of these cases for my epi les paul, and i got to hand it to epiphone. they make great stuff that is in my price range. my case that showed up here had "epihphone" spelled out on the case instead of the "big E", and the material of the case is almost identical to the $140 SKB case for les pauls. Muy to the bueno!!!
thanks
Awesome guitar case!
I bought this case for the guitar I bought for my daughters birthday. She said it is a perfect fit for her Les Paul Studio guitar. Great case, great price, great service from Sweetwater!
good case
This case has a lock on one of the four latches. Very sturdy. It has a scent to it that i can live without. Compartment inside about twice the size of a pack of strings and roughly 2.5 to 3 inches deep. I have an epiphone les paul and this case fits it perfectly.
Epiphone Les Paul Guitar Case
Appears to be very well made and solidly built. Comparable in quality to the cases used with higher-end Epiphones like the Joe Bonamassa Signature.
Epiphone LP case
Great case at a great price. Well made.
Great case
This case is very well made and really looks great. It fits my Les Paul like a glove. The hardware is very nicely attached and the handle is positioned for a well-balanced carry. The slightly rounded edges add to the case's compact footprint. I am very happy.
Great Deal
The case fits and works great. The indusrty standard hinges are all weak and cheesy. It is not just this case. I prefer the old hings types that closed from above and did not depend on pulling something. This should not prevent anyone from not buying the bst deal you will get for a LP Guitar. It was perfect for my Studio LP.
Great case for the $$$
Nice case for average useage...maybe not a heavy road case but great for just carting your guitar around
LP Case
Very nice case. I have Gibson Les Paul guitars and Les Paul wannabes by other makers and the same case doesn't always fit every brand. Someone told me the Epiphone case wouldn't fit my Washburn WMI, but it fit perfectly. It looks well built. I have Epiphone cases for other knockoffs as well and they always do the job, and the price was great.
Epiphone Guitar Case for Les Paul
The case is great, padding is fine and the locks are firm and secure. The only aspect that is not stelllar is there is one lock on the non handle side of the case that makes it a little awkward to open. Not a real problem though.
Outragiouly nice case
I'd have given it a 5 if it had a silk shroud in it but wow what a solid case. Great value, looks and I have to hand it to Sweetwater Music. Not only did I get free candy in my packing box but they followed through and checked all my questions on the case and shipped it lightening fast (with tracking emails). They ALSO sell this NEW case to you at the same price these other companies are charging for a 'blemished' one. The covering is very leatherlike, it's well padded and fits the Epiphone like a glove. Sweetwater ALSO tells you in their product info WHICH guitars the case fits properly. Others don't do that and I got one prior to this that ws supposed to fit and did not. FIVE stars go to Sweetwater. Thanks for the candy.
Great case! Even better service!
I bought this case with my son's Epi LP Standard Plus. It's plush lining and sturdy construction support and protect the guitar and the grey interior ads a touch of class. My original case had some hardware issues which the team at Sweetwater took care of without question.
Looks good...Poor quality
It just arrived today; very quick for free shipping. I opened the case and immediately noticed a horribly strong glue smell. There were even bits of glue on the outside of the case that. I checked the seems between the inside shell and the plush liner, and sure enough they just come right apart. the case was not hot in any way, so I don't think the glue melted in delivery. I also compared it side by side with a gator case, and the gator fit the contours much better. The bottom lining doesnt even support the back of the guitar because the neck supports are too high. I will be returning it and probably just getting the Gibson case.
Garage bound
My guitar fit this case like a glove. It was put in the garage so the Strong glue smell has a chance to air. (Set it outside on a sunny days) The Bad smell goes all the way through it and has gone away some. I recommend you buy a gator case instead. We have many other cases and have never had this problem. Looking at the other reviews on this, back in march, 2012, this was and is apparently still a big problem. We did notify sweetwater about this in hopes they will work with a different company on it. They did offer to exchange it but I chose to keep it in hopes it will be ok, plus the return policy I read said I have to pay to send it back. All other products we have bought from sweetwater have been excellent, the service great and I recommend this company Highly. I've had this case over a month, and by the way, it's still in my garage, I'll have to take the loss and get a gator case down the line.
Great buy
I got my case just yesterday and am very happy with it. My Special II fits in it like magic. I won't be worried about it anymore when I'm packing up to take it some place. I was also very happy that it locked. I can leave the case out and not worry that the kids will get into it. Great buy for the price.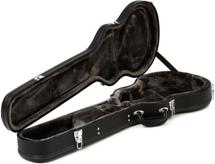 Electric Guitar Case with Plush Lining for "Les Paul"-style Guitars