Sweetwater Advice
This bass is flat out AMAZING! I first saw the low price and of course had some reservations. I now have one and believe me, the tone is thick, cuts through, and records beautifully! As an owner of eight basses, including this Thunderbird IV, it's fast becoming my go-to!! Worth every penny!!
Sort By Date
Sort By Rating
Customer Reviews
Excellent Bass
Excellent bass, 'nuff said.
Amazing Bass
This must be the best bass you can buy on this planet at this price. Always wanted one of these. Saw one in a store (it just looked amazing AND expensive). When I saw Epiphone on the headstock, and the ultra low price I was very skeptical. Shortly after picking it up I was walking out the door with it. (I paid for it :)

The action with a little tweaking is perfect. The neck is one of the best I've ever played on any bass. The sound is huge. Similar to a Rick but slightly darker and with more growl. Put some Rotosounds on it and it's perfect for Prog Rock. Kind of a lead bass sound, but also very versatile. The volume and tone controls work very well together, and give you a very wide range of tones.

The finish is awsome - looks like a piece of expensive living room furniture. I love this bass - it's my number one now. How Epi can make this so good for so cheap is beyond me. They did everything right on it. A classic!
Great bass for a great price
I got this bass after my old beginner bass wasn't cutting it for me, mine was in Arctic White. Pretty much everywhere I went, people were complimenting it, it has looks that can kill. It plays well, I enjoy the tone of it, but it definitely needs new strings. The only problem I have with it is the fact that there's maybe one gigbag for it and one hard case made for it. There are other minor problems like neck-dive, but that's not really a big con.
Not Bad - Just Awkward
I bought this bass as a backup to my '82 Ibanez Roadstar II. Out of the box, the intonation was perfect and it has a smooth, playable neck. It is much heavier than my Ibanez and has a larger and longer neck that will take getting used to. The neck reminds me of a J-bass neck. My first ever bass was a P-bass in 1975. This Thunderbird is just as heavy if not more so than that was. The bass has great low tone when playing through my GK MB115, and great highs as well. My major problems with it are the unbalanced feel that can probably be fixed by different strap placement, which may void the warranty. Also, the beast has very little sustain - I will need to add an EQ or compressor/enhancer to get the sustain I want - experimentation time, it seems. Maybe I should just get the sound man to stop drowning out my bass with the kick drum in the mains..... I would not recommend this bass, but my preference is Ibanez, anyway.
Epiphone Thunderbird IV
Ordered this bass sight unseen, and unplayed. The bass itself is really goodlooking, the finish is awesome, the body itself is made out of a really nice piece of wood, nice craftsmanship, etc. My main comment is going to be on the quality of the manufacturer. The 1/4" jack on the bass was not screwed in right in that the threads were stripped and I was unable to re-tighten. So what I saw when I opened the box was a bass with the 1/4" jack hanging out of the front of the bass. Replacing a jack is an easy fix, but it is not what you want to see when you purchase a brand new instrument.

I think that the Epiphone company should step it up in the Quality department.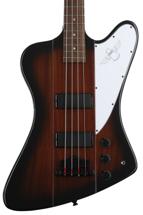 4-string Electric Bass with Alder Body, Maple Neck, Rosewood Fingerboard, and Two Humbucking Pickups - Vintage Sunburst