Sort By Date
Sort By Rating
Customer Reviews
UNREAL FOR $199!
I've been playing for 16 years and have owned every guitar under the sun. I had an old beater acoustic for "around the house" playing, that was on its last leg. I read a few reviews on this one, and pulled the trigger. I got a price match and got it for $180 out the door from Sweetwater. It was at my doorstep 2 DAYS later!. Opened the box and all I can say is WOW! The volume on this baby rocks, and it is so crisp and clean. I keep telling my wife "this thing sounds as good as my Taylor". Unreal deal for the $199, and you may be able to get it for less. This was my first purchase from Sweetwater, and it will not be my last.
Epiphone AJ-220s VS
I needed a new "porch" guitar and decided on trying an Epiphone. I was interested in a "slope shoulder" style so I pulled the trigger on an AJ-220s Vintage Sunburst. This was the only solid top in this price range with the slope style offering I could find. Too be honest I didn't expect too much for 199 bucks but what I got was pretty surprising.

The sound is actually deep and pleasant with really good volume. The slope shoulder design does seem to project a deep lush sound. The action and strings are decent on this one which actually shocked me and it is really easy to play. The guitar's tuning machines are performing very well so I believe they will hold up.

I did not expect the sunburst finish to look much like the finish on a Gibson J-45. I was expecting an orangey or yellowish color but it is more of a vintage brown like what is seen on a J-45 Custom or Vintage model. Maybe the color was a factory fluke but I don't think I am that lucky. I am sure this is the finish color used on the VS version.

Overall I have to give Epiphone credit on this particular model. It actually is much more guitar than I expected. Kudos to Sweetwater as well. Fast shipping and the condition of the guitar when I received it was excellent.
Awesome Vintage Sunburst Acoustic Epiphone Guitar!
I bought this guitar as a gift for boyfriend and he doesn't seem to want to put it down. He loves it! Great price for a good quality sounding instrument.
I had been serviced by your associate Stuart Niven in the past and once again he made sure that I would receive my item intact and in a short period of time.

I look forward to dealing with Sweetwater again in the near future for my next purchases.
Epiphone AJ 220S
Bought this as a 'beginner' guitar for my daughter. When she proudly showed it to me I was really surprised at how nice a guitar it really was. Beautiful coloring and finish, and the action from the factory was pretty much perfect. My friend has been playing an Epiphone 12 string for years, and it's a great guitar, so maybe ALL the Epiphones are a good investment. I play a 12 string, but if I ever make the jump to 6, I'll keep this beauty in mind. This guitar was a suggestion by one of Sweetwater's sales engineers. I've been dealing with these guys for a couple years, and I've never been let down. It's nice to know you can trust someone at the other end of a phone line. Kudos!
what a nice guitar
I have played guitar for 30 years or so. I owned a Martin D28 for 15 years or so. When I saw the AJ220 s on sale, I thought I would try it out and see if the reviews were true. Folks this is a great guitar , for the price you cant beat it. I love this guitar! The quality i s great , the guitar is beautiful. The sound is so close to the Gibson J45 that i played in the store it's hard to believe. Sweetwater was great , tracked the guitar from warehouse to my front door.
More than I expected
I've played drums for 15 years and recently took an interest in guitar. I wanted to buy a decent acoustic guitar and shopped around for about a week. I came across the Epiphone AJ-220S and it immediately caught my eye. It not only looks great but, sounds great as well. I don't know a lot about guitars but I do know good quality and this guitar is just that. For $200 you can't beat it. View some of the videos on youtube and you will see and hear how impressive it is. If you're like me and on a budget but, still want a quality acoustic, I don't believe you can go wrong with this one.
blown away
All I can say is WOW! Bought this guitar from sweetwater excellent service great price superb quality. I've own two other epiphones a DR500 masterbuilt and a old 70's small body acoustic but this one is awesome the quality for the price is out of this world the finish the tone everything about this guitar makes it worth 4 times its price I highly recommend this guitar to anyone who wants something to start out on or for the seasoned player who wants another guitar for a cheap price this guitar is amazing thanks sweetwater
Superb value acoustic tone machine
I was trying to remember the last time that I got so much for so little... I gave up! This guitar is awesome! Rich, throaty tone, excellent playability, beautiful finish and detail. The advanced jumbo shape is just right, without the boxy look and feel of most dreads. It's just a flawless guitar and very inspiring to play! I don't see how they can sell something this nice for this price. Your eyes, ears, and wallet won't believe the deal you just got.
Great Value
I bought this guitar after having trouble with a very low end starter acoustic. The tone of this instrument is excellent, and the action is very low. I have checked every single fret for buzz and not one has even the slightest hint. I am a begginer on the 6 string, however with this guitar both open and bar chords are extremely comfortable and the satin finish on the neck makes single note lines a breeze.The finish is great, it looks even better in person the pictures do not do it justice. I must say that if you are in the market for a low cost, high quality guitar look no further. Very, very well done Epiphone.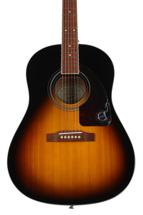 6-string Acoustic Guitar with Solid Sitka Spruce Top, Mahogany Back and Sides, Mahogany Neck, and Rosewood Fingerboard - Vintage Sunburst