Sweetwater Advice
Since I started working with the E6, it has taken over as the premiere vocal mic option for almost every live environment. From speaking to lead vocals, it gives you the discreet nature of a lapel, but the sound quality of a handheld condenser.
Sort By Date
Sort By Rating
Customer Reviews
Quality is unbelievable
No more chasing after a Lapel mic. The quality of sound from the Countryman E6 is so clean and clear. The natural sound of the E6 is as amazing at 100ft as it is at arms length. The size of the E6 is almost invisable at ten ft away. I am so glad we took the plunge into the head-set world.
Clear and effective communication
The Countryman E6 Omni Earset has been a great buy for the church I serve. It's used in an acoustically dulled (carpeting, pew cushions) church sanctuary with several hearing impaired members.This mic replaces a quickly retired Shure lapel mic (ample volume but little clarity, & somehow always awkward to place) and two subsequent wireless handhelds with stands (quirky results due to user habits and positioning around the room, with no hands-on soundboard person). The Countryman E6 Omni Earset, however, has been operating flawlessly from the first minute it was powered on. The sound is clean and clear with no sense of 'loudness', making listening a comfortable experience for those with and without hearing impairment. The wearer (the pastor) is very comfortable using it and looks at ease, putting everyone else at ease. The E6 has eliminated an annoying aural and visual distraction and positively contributed to clear and effective communication in our church.
An effortless mic with remarkable sound
I use E6 mics to record high quality oral history interviews. Even the quiet voices of little sainted grandmas are captured clearly and strongly with the E6. Not only does the E6 capture excellent sound but the wearer quickly becomes oblivious to wearing the mic which helps them relax, contributing to a successful interview.
This mic changes everything
I love this mic. The freedom is excellent. The pick-up is excellent, clean, crisp, clear and true. I have had senior adults using a wireless hearing imparied system turn in their packs because they can hear so clearly with the new mic, they don't need their earplug. It is comfortable and I don't even know it is there. You can not see it and the matte finish does not glare off our television lights.
Great mic...and strong
I love this mic. I read a review here that indicated it was fragile, but I've used more than one of this model mic in multiple applications for several years now and never had to make repairs.
Love the mic...hate the earpiece!
I've worn my countryman now for 2 years. I love the mic...but I hate the earpiece. I have never been able to get it just right. The mic performance can't be beat...but perhaps a new design on the ear piece, just for me.
Countryman E6
I've been using 16 of these mics per show in an outdoor theatre environment for the past 6 years. You really can't beat the sound quality and 'invisibility'. However, their durability isn't the greatest. The biggest culprit is weakness behind the ear - the little pipe breaks way to easily, severing the micro cables running to the mic itself. Secondly, the behind the ear connection is prone popping if the cable gets tugged. To compensate, I've implemented a 'safety loop' of cable taped to the bottom of the earpiece.

If the earpiece can be molded into a generic 'fits one, fits them all' ear shape, the life span of this mic can be extended to about 2 years - for our seasons, that's up to 10 shows with 10 different casts with multiple mic changes during the show. Otherwise, plan on it breaking at about a year old (if you have moderate to heavy action in the performance).

Overall, I recommend this microphone. I've had to adapt and change how we take care of them and wear them to compensate for weak areas, but truly the sound quality cannot be beaten.
Great for TV
Sounds really good for TV especially for women. Almost invisible on camera. However, not good for floor wedges or singing without using in ear monitors since its an omni. I prefer DPA card for that but DPA connectors are not as sturdy as Countryman. Also DPA headset is larger and more visible on camera.
Good sound but be wary of what application you're using it for. Fragile.
This mic does sound great but I've been using these for a year 7 per show, high activity shows, lots of dancing and have had many problems. Have had several cables break and two mics have already gone down through sweat getting in the capsules (been using the protective caps AND the windscreens). We used to use Crowns and while the E6's are much more invisible, I highly doubt they will last us the 10 years that the crowns did. I'm probably going to have to invest in a whole new set soon and it most likely won't be the E6's.

Having said that, if your application is mostly speech or singing with little strenuous movement, this is your mic.
Great mic, but fragile
Let me say first that I really do like this mic. It sounds great, is practically invisible, and it's really easy to work with. I use it with a Shure wireless system and it works really well. However, I'm really disappointed with how fragile it is. I've had to have the cable and connector repaired several times, even though I only use it once a week. Also, one thing you need to know is that this mic should only be adjusted for one performer. If you are constantly adjusting it for different people, eventually you'll wear out the plastic housing and it will snap (as mine did today). So if you are working with different performers or speakers, either buy one of these for each or use a lapel.
This mic is awesome!
My jaw hit the floor when I plugged this mic in! It is the most incredible headset mic I have ever used! I am about to buy 7 more!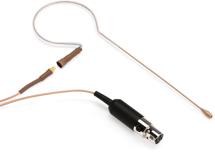 Ultra-Small Wireless Earset Mic with Shure Terminator Plug - E6OW5T1SL