Sort By Date
Sort By Rating
Customer Reviews
Great practice tool
For someone as myself who has just started learning drums, it's affordable, compact, economical on space and the wallet, and most importantly a great way to maximize available practice time. For myself living in an apartment complex doesn't bode well for a full kit, but with these practice pads, I can go to lessons with new found confidence that I am able to study and progress each week without having my own kit.

One minor detail was one of the pads was broken out of the box, but sweetwater and DW worked quickly to provide me with a replacement, great effort guys!

My drum teacher also owns this and we swear by it. Response to ghost notes and roles is exceptional.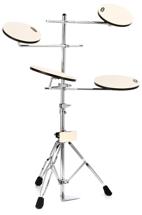 Practice Pad Set with Heavy-duty Adjustable Stand, Two 8" Pads, Two 10" Pads, and One Bass Drum Pad