Sort By Date
Sort By Rating
Customer Reviews
One-trip trap kit
I played a gig with a 5-piece band with two guitars and a sax player using only the DTX-M12 and a Roland KD-9 kick trigger. Results were excellent--the dance floor was movin', people were groovin', and my band mates kept looking around for the trap kit....This is a well-designed, easy to program unit that sounds and plays great. My two complaints are: lack of numerical data entry (to avoid having to scroll through the entire program list to change Kits) and lack of separate audio outputs. I understand both of these were probably omitted to allow the unit to sell at certain price point, and be a certain size, but they would be excellent additions to the design. Fitting my DTX, Roland KD-9, stand and cables in one 61-key keyboard soft case made a difficult load-in a breeze. One trip gigs are something new and wonderful for me.
Very good buy
I recommend buying safely in Sweetwater.

The service is very good and very friendly advisers.

sending my product was quick.

thanks
Finally a USB sample-loading drum pad!
It's everything I dreamed of, audio quality is studio grade, no noise, well built unit, easy to operate. I loaded in batches of my own samples via USB stick in one operation, assigned them to pads and wah-la! I was in heaven! Plays up to 23sec sample loops in perfect midi sync. Main pads are very expressive..drum rolls come out fine, no formidable latency.

My gripes: 1) You can only load in samples at 16bit/44.1kHz, so you have to convert your 24-bit samples to 16/44.1 beforehand. Max sample length is 23 seconds.
2) The rim pads are not as sensitive as the flat ones, you cannot effectively play rolls, you must whack them harder to get anything out. But the flat pads are really expressive. I can make it work for me! Thanks, Yamaha!
Nice unit, confusing documentation & programming
Typical Yamaha build quality (solid) and sound (clean). Good layout of pads so one can use sticks or hands. However there are some not-so-nice things. The increment/decrement buttons lower right do not light up. Yamaha touts this unit as being good on a darkened stage - without these lighting I'm not so sure. USB connectors are only the slower USB 1.1 and loading new kit info this is way is painfully slow. Then there's the typical Yamaha confusing documentation to go with the typical Yamaha implementation of the unit's programming, particularly as regards pad sensitivity & velocity. Not the easiest to work with and there's no computer editor/librarian available. Just like when the original Motif line came out.

As to mounting this thing - you're better off on a flat table or getting the stand Roland uses for the HPD instruments. The Yamaha one isn't that sturdy as it wobbles around when hitting the pads hard and looks like the arm could break easily. And you need to buy two separate pieces which total almost $200 - not cool.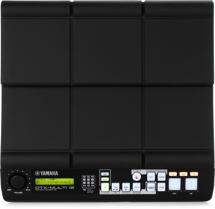 Electronic Percussion Controller with 12 Pads, 1,277 Voices, 5 Trigger Inputs, Kick and Pedal Inputs, USB File Playback, and USB