Sort By Date
Sort By Rating
Customer Reviews
What a joy.
I find myself choosing to mix and track and work with these on rather than my nearfields. Enough said. They are SO comfortable and sound AMAZING. If there is one negative thing to say, and it's small, it's this: don't expect others to be unable to hear what you're doing--sound leaks out a little bit. That is by design, and par for the course with semi-open cans.

In a word: KILLER.
The sound is amazing
As The owner of sennheisers, fostex t20 and t40s, AKGs and KRK KNS 8400 I can confidently say that the Beyerdynamics DT 880 Pro I got recently are great!! When you look at the frequency response and hear it for yourself you will ask why didn't I have these headphones before. The comfort is great. Very comfortable and I use it in conjunction with a focusrite VRM Box to mix. The clarity is mindblowing! What got me was a Take 6 song I listened to on the KRKs always had the lead vocalist sounding overly compressed. With these cans the sound is so natural and I heard no over compression. Just nice open sound. NOthing can hide in these cans. Everything is revealed! Spend the money and get a pair. You'll soon realise like me that you want a backup pair in case of anything. I can't mix without them.
No Joke, so good!
I spent some time researching options for headphones to listen to all day at work (architect) in the office, to replace my Sony MDR-V600s that I've had three pairs of over the last 16 years. These 880s are absolutely incredible--I think the semi-open design is perfect for me--the bass is super tight, but not overpowering like the closed Sonys, and the result is a very clear and balanced spectrum. The most impressive thing is the clarity, and how low they go--I'm listening to some super subby dubstep and hearing all sorts of things I've never heard before--the Sony's either couldn't reproduce it, or the other bass frequencies were drowning it out. These things are flat from bottom to top--loving it!
FOR SERIOUS MIXING
THESE CANS ARE COMFORTABLE AND NEVER CAUSE AND TYPE OF EAR FATIGUE. I OWN KRK ROCKIT MONITORS AND THE KRK SUB, AND I CAN HONESTLY MIX AN ENTIRE SONG WITH JUST THESE. THEY GIVE A REALLY OPEN SOUND LIKE MONITORS BECAUSE THEY'RE NOT CLOSED HEADPHONES. I RECOMMEND THESE FOR SERIOUS MIXING AND MASTERING. VERY FLAT SIGNAL, THEY PUT OUT WHATS GOING IN. THEY'RE ABLE TO PUT OUT THE LOWEST BASS NOTES WITH EASE. I MIX WITH THE KRK MONITORS, BUT I PUT THESE ON WHEN I NEED TO GET DETAILED, INTIMATE, AND VERY DISCERNING WITH THE MIX. I WILL ALWAYS KEEP A PAIR.
Amazing Comfort, Smooth Response, Great Design
After owning the DT 880 Pros for a few months now I feel comfortable enough to give a review.

First, these are the most comfortable cans I have worn bar none. They are amazingly comfortable and devoid of the usual pressure points you feel on most cans. As someone who wears glasses I always feel it at my temples, has never happened with these, padded and plush.

Though comfy they are very sturdy they actually use (gasp) METAL for the supports. No snapping plastic after years of use here. I take good care of mine but I'm sure they would survive the studio well.

The sound is amazingly clear and smooth. The response is great across the entire spectrum with all the intricate detail you would expect spending this kind of money. The bass is present but doesn't overwhelm the rest of the spectrum and they adapt to any form of music from what I perform and record to what is in my maniacal music collection.

They are pushed rather easily without a headphone amp. Keep in mind these aren't closed and these aren't DJ headphones so you may want to look to a headphone amp if you need to push more volume. My Apogee Duet pushes them just fine and I tried them on my iPhone just to see and they did well there as well.

The semi-open design is perfect for what I do - streaming live performance. I don't like closed headphones as a vocalist I think it gives me pitch problems. The AKG K240s have been mainstays in vocal booths for years and they are semi-open, the DT 880s perform the same way and I have had no instances of mic bleed.

Sweetwater recently marked these down, they are a STEAL at their current price. Yes, you are spending a lot more than the K240s but I believe the quality and sound and comfort make up for the price difference. The only half-star missing is for the price, there are some very good cans for less out there, these are more but have clear benefits.
Great Headphones, though I've had a reoccurring problem...
These sound awesome, just as advertised. Great dynamics and frequency response. The problem is I noticed a buzzing, first when the monitoring low frequencies, in the left ear of the headphone. I tried everything, swapping left/right, trying different computers but it turned out to be defective headphones. I got the replacement but those turned out to have the same issue. I researched further and it seemed to go one of two ways. Either you bought a pair of these and they lasted forever, or you got a defective pair that buzzed.

The sales rep from sweetwater has been very patient and helpful. They offered me another replacement or a different, similarly priced headphone, which ended up being Shure's SRH 940 model. I decided to give the shures a go and I received them a few days ago. Right off the bat I can say that for serious mixing, the Shures are a better option. They're brighter, and much clearer at lower volumes than the DT 880s, and their closed design means they block outside noise very well.

The problem however, is in the build quality. The Beyerdynamics are comfy, but also have a rugged build quality to them and are definitely capable to stand the rigors of daily use.

The SRHs however, are not. They are comfortable, but I kind of get the feeling that they put the majority of the money towards the actual cans, and not the headband holding it together, which is a good thing, but the plastic really is crap. Its been three days, and the plastic snapped on me already, making them unusable.

I'm going to contact sweetwater tomorrow and most likely pay the extra 100 bucks to move up the the Shure 1440s. I'm liking the Shure sound too much I'm willing to upgrade for more durability!
great!
These are good cans for mixing music.
DT 880... Great for easy monitor and playback
I purchased these for listening back to raw tracks recorded of a military band. After using them for various recording styles (Big Band with 2 mics, Big Band with 14 mics, Concert Band with 6 mics, and 5.1 surround), I've discovered they have a much wider dynamic range than an average pair of cans. The open back also allows for great low end support, and prevents ear fatigue from occurring as quickly. Definitely worth the purchase if you plan on mixing to send up to a mastering facility.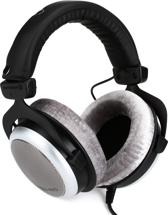 Semi-Open Circumaural Studio Headphones with 5Hz-35kHz Response, and Padded Headband