Sort By Date
Sort By Rating
Customer Reviews
Get it!
For a small to medium sized band mixing sound from the stage this makes life easier and your band sound better. Great sounding preamps, effects and processing. The new 'vintage' processors are especially good! The software interface is intuitive and Mackie keeps improving it with each app release. This little mixer saves me two trips on every load-in compared to my previous rig and setup/sound checks go much faster now. Plus we've finally been able to tame the sound of an unruly resonator guitar that always gave us fits in the past. So happy with this!
Easy and awesome
The money you save on outboard eq gates and compressors alone will pay for this unit. Sounds great. Easy interface. And I can create snapshots of a band so that the next time they play my venue. The monitors and levels are right where they were the last time they played. Cuts sound check down to almost nothing. And when my band plays I can make adjustments from the stage. 24 channels would have been nice but this unit is well worth the price. Get ya one.
Many functions in one box. Roam the room/stage wirelessly!
First - great Mackie sound, plus Efx, Eq, Compressor - this box has it all. Freq response is sub-sonic to over 20K with no distortion or harmonics.

I'm new to i-pad so it took me a while to get the 'feel' of operating the touch controls and not being able to view all the channel settings at once. (If one channel is set incorrectly it may take a while to find it.)

I'm doing stage musicals - if your show has many 'scenes' you can pre - program the scenes and call them from memory during the show. Careful - a light tap in the wrong place can distracting or maybe real trouble.

problems -
1) Mains fader control is very close to main/aux output selector; you have to be attentive when using the touchscreen.
2) Wish it had a mains mute button.
Im VERY pleased!!!!
For all the reasons previously mentioned, this board is Great!!! Im especially interested in getting the new "MYFADER" app installed on my iphone. Ipad minis create wireless mixing stations all over the stage. OR maybe a combo of iphone and ipad mini to make everyone smile. I have a rack configured so that I can simply hand out wireless mikes and IEMs. My setups are quick and trouble free. Happy band, happy gig!!!
Mackie DL1608- Serious bang for buck
Preamps are decent, package size & flexability are ridiculous. My only complaint is the quality of DSP... not very robust. If you're not really careful with your gain staging, the compression/gating on every channel will leave horrible artifacts on some of the more active channels, ie. kick drum, snare, bass, etc. That being said the versatility, for what you pay for it, is bar none the best deal you'll ever find on the market today. I've replaced my entire FOH/monitor rig with this small unit, now I can downsize my trailer and even get better gas mileage in the long run. How's that for auxiliary benefits?!
Gear lust overload!
Very very good sounding preamps, very easy to use format. A little funky getting used to "Touch-Control surface" mixing. DSP is way better than expected and the overall clarity of my sound system is almost too good to be true. The master fader app has froze up a few times but I was able to re-start the software and Wi-Fi connection with no drop outs or noise while the band was playing through it. I'm looking forward to a better app upgrade with much needed stuff such as, shows & snapshots are not highlighted when engaged. You don't rally know which show or snapshot you are working with, kinda stupid don't ya' think! Anyway I don't even want to think of going back to my old analog board.
Exceeded Expectations
My first outing was using this live in a 2,700 seat church venue a week ago as I had run out of channels on a M7 with two outboard submixes already and the client still wanted a 14 piece jazz band on stage for a 4 song set. I set the Dl1608 up onstage with 2 outputs into the house snake for mix and monitor routing, and controlled it all in the sound booth in a balcony about 100 feet away. I'll admit I was nervous but thru 2 sound checks and performances it was absolutely rock solid - highly recommend using Apple Extreme router. The jazz segment was one of the highlights of the evening with many compliments on the sound quality so very transparent in operation. This is so much more useful than SL 16.0.2 and given you don't need a PC, much easier to use wireless. Also Mackie is actively coming out with updates virtually every month - if they add stereo linking and DCA/VCA/Groups this little thing will be off the charts and I'd give it over 5 stars. (they say it's in the works)
Digital Explosion
Great buy, for the price you just can't go wrong.......gr8 pre-amp sound, the effects are also good. Its a gr8 sound desk for small giging bands!!!
Sexy size, i also got the gator water proof case to secure it!
The best 16 channel digital mixer available (as of q3 2012)
This mixer does have its limitations. Only 16 channels, no inserts, blah blah blah.

each channel has HPF, sweepable eq, comp, gate. 6 aux sends + LR (mains). Ability to record to the ipad, and the ability to undock the ipad and walk the room is incredible. Not only that, but multiple ipads can be wirelessly connected to the mixer, which makes mixing monitors a breeze
Great mixer
Just plain a great mixer. I'm an old school sound guy so anytime a digital unit is this easy to switch to I'm all for it. Very easy to learn and setup. The wireless works great. I use this mainly for corporate type gigs and not needing a snake alone is worth it. Compressors, gates and effects all work really well so no more effects rack!! Bottom line, I love this mixer and will be adding another one soon.
DL1608, I like it!
3 things I REALLY like about it:
1. The 4 band EQ on each of the 16 channels. Toggle Shelf or bell on 1 and 4 and full parametric EQ on 2 and 3 and all so easy to visualize what your doing with EQ on the big touch screen of the Ipad. Totally better and more versatile sound for all types of inputs for me than on my analog mixer.

2. 6 aux outs. I never really knew what a difference individual monitor mixes could make both for the better mix for each player and for the better shaping of sound per monitor for the enjoyment of each player. 31 eq on EACH aux and main outs. (try dragging 7 of those babies around along with all the wires and potential bad connections)

3. And of course, being able to walk anywhere in the venue and mix sound/monitors from the wireless connection on the Ipad. No snake needed, no computer needed, just plug your router into the mixer and that's it.
DL1608 Way Cool!
Made the move and WOW! This mixer is a great value and easy to use. When you first get it, plug in your headphones with a microphone, sit back on the couch and take a spin. This mixer is very intuitive for the most part and is a serious mixer. Using the on board pre-sets made it easy to get up and running fast.

Please note that the Ipad channel next to the master fader is pre-fader as explained to me by Mackie and in my unfortunate experience cleaned my ears out when I hit the solo button while monitoring through the headphones. It would be nice to have foot switchable effects. I use the Apple Airport router and have suggested a possible software update that would allow you to use the USB port for that and other functions.

Just get one.
Mackie DM1608 Rocks!!!!
I can't believe how much easier mixing my bands has become. And how much less gear I have to drag along. Using only powered speakers (QSC K10's and K12's), connections are quick, and setup time reduced. With the snapshot function, I can bring up a previous setup, and away we go. The EQ sounds great, but I am still working on using the compressors. The effects work well, and the simplicity of how all of it works together has me appreciating this product over other digital mixers. I think a musician designed it, not an engineer.
In ears !!
Ok I love this mixer, I replaced my Allen and Heath 12M monitor console with this. first the weight and footprint is hands down better. Second ability to have 6 aux mixes controlled remotely by the members of the band totally rocks. Third FX's, no more out board gear! it's great. simply buy a splitter snake and take control of all those house sound guys that make the FOH mix sound great all the while you're back on stage going WTF I can't hear the guitar!!! our sound engineer uses the Presonus rig, and it's great but set up it a bit more complicated that what we need to just in-ears stage side, this is great. We're testing it on FOH next week too.
Better than StudioLive for less $$
I owned a StudioLive before I purchased the DL1608 because it allowed me to mix wirelessly with an ipad. The preamps on the DL1608 sound better & the app is WAY better than SL Remote for wireless mixing. It is much more intuitive and has a better work flow. I also love the fact that I do not need to haul a laptop with a FireWire connection around with me to mix wirelessly. FireWire will be dead soon & thus the StudioLive will have to change. How many computers have you seen lately with FireWire?....even new Macs are getting rid of it. This product from Mackie sounds wonderful, is super easy to use, and has a great price. Best thing I've bought in years!
Wow.....about sums it up
Tried this mixer this past weekend for the first time, and I can say I'll be keeping it. The whole band was blown away with the crisp, clear sound, and the funny thing was I bought it for the ease of use....lol
Get rid of the snake!!!
I don't know how much time I have wasted in the past running a large snake out to the FOH mixer. If you are lucky, the bar or venue you are playing at has actually thought about a band needing a place for a FOH mixer but most of the time they have not. Also, trying to run the snake to the FOH mixer can be a challenge: does it need to be taped down so no one trips over it, are you wearing yourself out before the show, etc. Well, my days of running a snake are over. After getting this mixer my setup time has gone down dramatically. The board goes on the stage so all of the mic runs are short and that is it. No plugging the mics in then running out to the FOH to plug all of that in too. I don't notice any latency between the iPad and the board and now our engineer can anywhere he wants to control the mix. Also, we now have complete control of our monitor mixes. Easy to use and worth every penny.
2012 Gear of the Year...
This mixer from Mackie is awesome. Easy to set up and use and the software is idiot proof. We are using it solely as a monitor mixer for the monitor rack. All 4 band members are on IEM's. Two guitar cabs, Bass DI, 6 drum mic's and 2 vocal mic's go through a rack splitter. Directs go to the Mackie and split to the FOH snake. Each individual can control and EQ his own band mix in the IEM's and make changes on the fly. This thing is so easy and simple to integrate into the system. You will need to get you a small WIFI hub to keep all your ipads near the band members or just use an ipad in the Mackie. You download the app from itunes to your ipad. All settings are stored and synched from the Mackie. The Onyx pre's are great.
Great Addition
Room to grow but a pretty neat product for $999. and really has made set up a breeze. Hopefully Mackie really builds on it and allow others to sell effects at the App Store.
Amazing hardware, software needs some work
First off the hardware is top notch, it has a solid feel to it and sounds fantastic. The Onyx preamps are what you have come to expect from Mackie, top quality. Reverbs, delays, compression, gating all works great.

My only complaint (and 4.5 start rating) is that there could have been a little more thought put into the software but I'm sure this will change with future updates. There are a few bugs such as scrolling from the parametric EQ page, no ability to copy/paste tracks, no sub-groups, and a whole host of other small annoying things, much of which that can be fixed in future updates.

I've done a few band practices and everyone was delighted with the sound. This board is simple to use, yet can go deep with the flexible routing and processing features.

Buy this thing...you will love it!
A Home Run!
I haven't figured out the wireless setup enough to set it up without fumbling, but that's probably me. I'm also a little baffled by the presets, but I'm figuring things out. So much capability and so many options add up to a lot of new tricks for this old dog to learn. The interface and workflow are very intuitive, so I will get there. In the end, live sound is about SOUND. The sound of this thing is impressive. The compressors are absolutely first rate. The EQ is excellent. The mic pres are quiet and clean (not brittle-clean, buttery-clean.,
Great mixer
The DL1609 replaced a whole 12 space rack full of equipment and it sounds better. I have used just about every mixer on the planet and for me nothing is better. I now have: the DL1608, two amps, two speakers, and four monitors. That's it. I don't have to have all the cabling I had before either. I couldn't be happier. You will not go wrong if you buy this.
Buy this
Great price and produces a great mix! It's super easy to work with the iPad and the built-in effects are top knotch.

For the price, you can't beat what this bad boy can produce!
Finally got it!
Just got the DL1608 yesterday and I'm blown away. I have only tried it out in a practice setting, but the whole band was blown away. We are upgrading from an old mackie vlz pro. I've been running sound for my band for about 3 years now.

First, the interface is amazing. It's very intuitive and simple to use. The defaults for the various instruments are an excellent starting point. I dialed in the sound on my bass in about 3 seconds and it sounded great.

The processing power on this thing is incredible. There are compressors and gates on every channel. It's so easy to make everything sit in the mix with the extensive EQ on each channel.

The onyx mic pre's def. sound better than the old VLZs two.

We even recorded one of our songs and the stereo recording sounded pretty good.
the dream
i have a blues trio .
this is the little best mixer in market: i want it!
inSync Review
Mitch Gallagher
12-07-2012
In my previous iOS update, I talk about using your iPad, iPhone, or iPod touch as a remote control or control surface for your music equipment and software. It's a great concept that has a lot of benefits, both live and in the studio. has taken that concept to a new level with their digital mixer -- an iPad isn't just a remote control for the mixer; it's the user interface for the mixer. It's a brand-new paradigm that brings huge pluses to the equation.
The DL1608 unit provides the required hardware and mixing muscle. There are 16 channels, each with one of Mackie's acclaimed Onyx preamps, a 4-band EQ, a compressor, and six aux sends. The master stereo outputs have a compressor/limiter and a 31-band graphic EQ. Reverb and delay effects are built in. In other words, everything you need for creating mixes for your band is onboard.

The only other thing you need is an iPad loaded with Mackie's free Master Fader app. Slide the iPad into the dock on the DL1608, and it becomes the mixer's front panel, with the virtual faders, buttons, and knobs you need to control everything. But here's the cool thing: you can actually slide your iPad out of the DL1608 and still control all the functions via Wi-Fi. Now you can roam around the venue, making sure the sound is perfect everywhere. In fact, up to 10 iPads can connect wirelessly to a single DL1608, so each band member can control his or her own monitor mix!

The bonuses don't stop there. You can play music from your iPad's library through the DL1608. You can also record the mixer's outputs to your iPad -- for capturing gigs, rehearsals, and writing sessions -- and then send the files to your computer.

We used the DL1608 for a live gig with two guitars, vocals, keyboards, and drum/bass backing tracks, with multiple monitor mixes. It performed flawlessly. It's small and light, easy to set up, simple to operate, and sounds great.

If you've been using an analog rig, the DL1608replaces not only your old mixer but also a bunch of outboard gear, and you can take control from anywhere in the room. It's a game changer!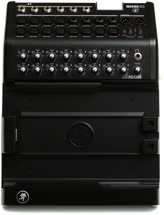 Digital Mixer with 16 Onyx Preamps, 24-bit AD/DA Converters, DSP Effects, with Support for Up To 10 Wireless iPad Connections