Sort By Date
Sort By Rating
Customer Reviews
What I was looking for!
The DD-7 was the missing piece to my guitar rig! It has so many bells and whistles but at the same time it's still just a stomp box. You can experiment with all of the tones or you can also just tap in the tempo and go with the flow! I would recommend this pedal to everyone! It's a great buy!
This Boss rocks!
When I buy gear,one of the aspects I search for is durability.Well,this pedal really stands out in that category.I also like the fact that you can tap the tempo of the song and the classic analog sound from boss.Thank you boss,you made another guitarist happy!
Gotta Love the Boss DD-7
I just got mine in today and I think this pedal is worth every penny that I paid for it. I already have a DD-6 that I use with a chorus pedal for chord work, but I can now use one pedal to get the job done. The looper is a great practice tool also. The analog setting sounds good. I thought that the DD-6 was the ultimate delay in a stompbox size, but the DD-7 is exactly what I need in a delay pedal. Just simply awesome!!!
Best jam packed delay in a compact format.
This is by far the best delay in the compact pedal format that's come out of Boss for years. It is jam packed with features, is truly stereo, and even has an analog emulation mode! There are so many different features included, that Boss supplies quick reminders that you can stick to the side of the pedal on how to get access to them.

No product is ever perfect however. And the surprisingly low frequency response, when compared to other company's similar products, is a little of a let down. But you won't notice it with a guitar. Only with a high harmonics content, like the one from a synthesizer. Also the expression pedal that you can plug in to control delay time doesn't produce a smooth action on the delay, nor does the delay knob on the pedal.

But these little quirks aside, it's really good.
Versatile Delay Pedal
This is a great little pedal. The analog sounds are very good, the 40 second looper is great for practicing, the tap tempo is useful, and the footprint is small. Those are the key features i was looking for in a digital pedal. I also own a maxon ad999, which i love. but i wanted a digital pedal for longer delay times, tap tempo options, and the looper for practicing. the dd-7 delivers on all counts. and to be honest, the dd-7's analog sound comes close to the maxon. a great swiss army knife delay.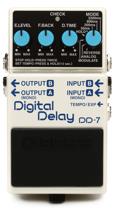 Compact Digital Delay Pedal with 6.4 Seconds of Delay Time, Stereo Output, and Multiple Operational Modes