Sort By Date
Sort By Rating
Customer Reviews
Can't Program a Drum Machine?
Love this. I was able to manually drum an entire 4 min song and save it in 5 minutes! Some things you need to know: it comes with wooden sticks and two pedals. It needs its own special pwr supply – order that here. You will need a snare stand – 3 hols in the bottom are recessed for that. But that here too (40 – 70 bucks on up). It has amazing songs with musical backing tracks. Play them, get in the groove, then turn off the drums and play along yourself. Select a piece of a song and loop that. The two pedals are assignable to any sound. There are LOTS of sounds and features.
I went through 3 drum machines searching for a way to play a pattern, save it, and use it to practice with. This is the one! LOVE it. It's a best kept secret in the drum machine world.
I've started relying on Sweetwater – better salesmen (that care); excellent stock; excellent packaging of materials so everything always arrives without damage. This is now my "go to" music supply house.
Bang for your buck
Yamaha DD-65 Just connect to a power sound system it's great sound.easy to hook up .has real time feel.you can play at small gigs or a big gig.Every Drummers dream.
Mini Digital Drums -- Fantastic
The Yamaha DD65 is perfect for what I use it for. As a hobby, I use looping software to create songs that I drum to and record for my own amusement. I have a small house and had been using similar - sized digital drum sets for a long time for space/volume reasons. The ones I had for the past fifteen years finally died (it was a pad-set that needed an external sound module) and I wanted something that had sounds in it. This way, I could minimize the amount of programming I had to do. I tried several models similar to this that were under $500.00, but the DD65 matched up the best in terms of features and price. It was the closest to a traditional set, but still had lots of "digital only" features as well. It is intuitively easy to work with -- as soon as I plugged this in, I was off and running. I was able to create three of my own custom kits and record into my computer. The pad set up is pretty natural for a drummer and the pads themselves have a bounce similar to a practice pad. The biggest issue is the pedals that come with it are really buttons and difficult to use, but i am sure I could have adjusted to them if I needed to. Luckily, I had traditional electronic pedals from my old digital drum set that I used instead. If I hadn't, I would have upgraded at some point. The built in speakers are useless as they are not loud enough to cover the "tapping" of the sticks on the pads, so I don't use them. I have a small pair of powered studio speakers and headphones, both of which provide plenty of volume to show off the surprisingly good sound quality found inside the unit. I highly recommend it.
This one made my son smile!
Perfect for aspiring drummer or drummer that just doesn't have room to set up a full sized kit. Spectacular for parents of a teenager who ratta tap taps from sunrise to sundown. The quality is impressive too. Three ways to listen - built in speakers, headphones, or hookup to your computer sound or sound system. We even hooked ours up to our church's sound system and no one could tell the difference between the DD-65 and our Roland V-Drum. Oh yes, given time, someone would have figured it out ... but the DD-65 sounds great! One comment, buy a better set of drum sticks. The one's shipped are not very durable.
World's smallest drum kit
The only reason this doesn't get 5 stars, I had to get some real-feeling pedals. It's really hard to keep the beat with the little buttons they include. (Ended up with Alesis RealHat and KickTrigger...an additional expense of around $150, since I bought the RealHat pedal used).
Aside from that, plug this into a powerful 15" keyboard amp, or a PA, and you've basically got a real-sounding kit. Or about a hundred real-sounding kits. The way the pads are set up, you can even play the snare rim in a natural position (with the stick laying across the two front pads). Plus you can configure them yourself.
Great solution for gigs where space is a problem. The pads have a pretty good feel to them...I get the best result playing with nylon-tipped sticks. There's also a finger/hand setting that adjusts the sensitivity so you can play it just like a djembe or a conga.
It's midi, so you can use it as a controller to play all your samples (like from EZDrummer). I use it in combination with EZDrummer when I'm recording...to add that wild lick in my head that I can't find in their groove files.
If you're the drummer in a garage band, practice no longer has to be at your house. Throw this in a bag and go. Save your real kit for the gig. Or use it with the built-in amplification (which is half-decent) for quite acoustic gigs. There's a whole menu of percussion sounds.
You will find a use for this for the rest of your life...in the studio, practice, small-space gigs. A good investment.
Yamaha DD-65
It works well and our grandson really enjoys it.
Perfect for practice and portability
Overall, this is a nice drum machine and key benefits are small size and portability. I use this more as a custom rhythm machine or glorified metronome for guitar practice. Obvious benefits for a drummer are that it is very portable and with headphones can be quiet for practice without disturbing others. We plug it into a 400watt PA system at practice and the sound is impressive (window rattling) and realistic. Our drummer likes the fact that it is so portable and he doesn't have to tote is entire drum set for impromptu jam sessions. The touch sensitive pads work quite well. I'm not a drummer by any stretch, but I prefer not using sticks with this unit, but that's solely because I don't know proper drumming technique and I like the tactile feel using my fingers/hands when creating custom tempos. It appears to be quite programmable and has limitless combos of sounds. Construction seems solid. I would recommend that you get a snare stand (unit has sockets on bottom to receive snare stand) that allows you to angle the unit at about a 45 to 60 degree angle, otherwise there is a tendency for sticks to hit the rims of the pads when laying flat on a table which sounds horrible. Yamaha makes a complete kit (DK-65) that has snare stand, throne, pro kick pedal & high hat pedal and gig bag that retails for ~$300, but if you're going to invest over $500 for everything here, you may be better off getting a 'real' entry level electric drum kit like the Alesis DM6 found here for $499 if portability and space are not an issue for you. The included pedals (bass is touch sens) are not great, in fact I think they are horrible, but they do come with it and are better than nothing and you can always plug in nicer kick pedal/high hat. Also, a cheap pair of wood tipped sticks come with the kit. I recommend getting nylon tipped sticks which Sweetwater has for ~$7 to prolong the life of the pads (wood is very abrasive). Most importantly, this unit does NOT come with a power supply. You can get the Yamaha survival kit (found here for $35) or you will need an available power supply that outputs 12VDC @ 1.5A...or you can use batteries, 6 C size. All in all, this is a great machine if portability and space are important. Sounds as good as any entry level electric drum kit should but again, I'm not a drummer so you should try one out if the sound is very important to you. The nicest aspect of this unit that I found over others is the number of pads (8) and the overall natural layout. And lastly, Yamaha is well known for their quality of digital sound reproduction.
Really not much!
Purchased for son, who needed a practice pad set.

Highhat and bass drum pedals are cheap and you can not set individual volume foreach pedal or pad.

Other than that it's midi capable and on that aspect it works
A MAJOR DISAPPOINTMENT
I am in Australia, but because Yamaha here doesn't offer the dd65 I had my daughter (Flight attendant V Australia) pick one up from Sam Ash in Westminster LA. I have a dd55 but wanted to upgrade and was looking forward to getting the 8 pads rather than 7 and other advances that I assumed would be incorporated in a newer model. If I could bring this back and get a refund I would. The DD55 has the ability to adjust individual pad volume and this is absolutely critical to balancing the sound of a kit from place to place. For some insane reason they've dropped this feature on the DD65. That's just crazy and in my opinion makes them unusable for live performance. Also the sounds aren't as good as the DD55, particularly the hi hat. Also there is a problem with the hi hat control when using the midi function and a sound module. The pedal doesn't work!!
Regardless of the 8 pads and improved position of the hi hat pad there is nothing that will compensate for the lunacy of deleting the individual pad volume control.
inSync Review
Kayte Revitte
8-23-2007
Since I'm not a drummer, I was a bit apprehensive about using the DD-65. But I got it out of the box, set it on my desk, hooked in the hi-hat and kick pedals, and was able to get started right away. Whether hitting the large round pads with my hands or using the included sticks, the very natural response made me want to keep playing.

The DD-65 provides a great way to learn or practice drums at a low volume (with headphones or the built-in speakers) in a compact space - perfect for apartment dwellers like me. What I'm really excited about is using the DD-65 as a MIDI controller for my software drums. I can't wait to actually play my sampled drums rather than just programming them or tapping them out on a keyboard or trigger pads. The DD-65 is a great value!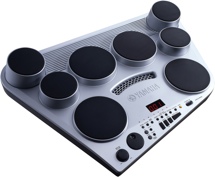 8-pad Digital Drum Module with Two Foot Pedal Inputs, Ported Speakers, and MIDI Connectivity