Sort By Date
Sort By Rating
Customer Reviews
A classic, great product
I've had a pair of CM-30s for several years now. I just got motivated to write a review because after all this time I have to say the CM-30s are one of the best musical purchases I've made of any type. They are just incredibly versatile, I've used them at various times as mini PA, acoustic guitar and keyboard amps and stage monitors, personal vocal monitor, extra mixer, and if the setup is simple enough they can be both the speaker and mixer so I can leave my external mixer at home. In every application they sound fabulous - I've used them as PA for small combo even at outdoor gigs and been complimented on the sound quality of the mix. A great bargain and a true classic at this point - I hope Roland makes them forever!
INCREDIBLE SMALL PA...BIG SOUND
This Cube was so awesome in the restaurant I play at holding 75 people, that I've since bought a 2nd one to use at a larger restaurant I play...Since I get alot of dancers at my retirement golf & country clubs, I've just purchased a Nady 8" powered subwoofer (60 watts), and I can't wait to hear what this added bottom end will add. The Roland is so clean and clear, and the speakers sit on each side of me (in front) not behind me, and I hear them so much better than I do thru my Bose L1 System. If the subwoofer gives me the punch I believe it will, this will become my permanent set-up and the Bose will remain in reserve for venues of over 200 people. ROLAND has made the perfect Scaled Down, lightweight, powerhouse system!
Thank You!!!!!
Roland CM-30 Cube Monitor
This unit is exactly what I was looking for!! It may be a little overkill for my use but really does a nice job. Unit is really quality all the way.
Sales engineer was very informative after asking him a few questions and he recommended this unit for my applications.
THANKS to all!!!
Ulimate Monitor
This little amp is a shocker. I've owned a Roland KC-300 for years and it was a great investment. Playing keys with a band I needed a monitor light weight and portable for gigs and practice. This unit is GREAT! With a Yamaha mixer, I run 2 Korgs, a Roland AX, Akai EWI 4000s, two sound modules and a MP3 player. Truly driving this amp I found it to be great for on stage monitoring enabling me to hear each system through it clearly with great bass response along with superb highs and lows. Great unit for small intimate gigs of 40 people or less. GREAT INVESTMENT.
A great little piece of equipment
I bought this Roland cube monitor to use at a nursing home. I jack in my mini cd player and it works great. I bought it because of the name because I know Roland is quality for the price. I could believe how the sound was. Even others mentioned how much sound quality came out of that little box.
Roland CM-30 CUBE Monitor
Great Product. We purchased 2 for on stage monitors. They were way better than we expected. Very clear sound that didn't have to be loud. Very versatile as well: I used one Cube with my computer and filled a 1000sq' room with quality sound for about 40 people. Nice job, Roland!
[now, if you could just improve your owners manuals and customer service...]
Great monitor !
I bought this monitor for use at jams so that I did not have to bring my full rig. It worked very well. I could easily hear myself and the other band members had no problem hearing me, too, in a moderately loud jam session. I really appreciated the light weight when I packed up at the end of the session!
great product at the right price,delivered in record time
I'm a Karaoke Host,do most of the singing myself.Always had a tough time hearing the music,especially at a low volume venue.
I ordered this monitor and received it in 2 days,just in time for my gig that evening.Took it on the job ,connected it,and what a vast difference it made! At last, I could hear myself without cranking the mains up.
I would recommend this product to anyone who needs a monitor
I wish I'd had this product when I played in my band 40 years ago!
Impressive!
I got this to capture the elusive sound of the Ashbory Bass and nothing I've tried before does the job so well. The tone is cristal clear and the EQ is incredibly flexible. It's also amazingly powerful for such a small package.
Finally, a note about Sweetwater's outstanding service. Been their client for years and again I'm convinced no other delivers like them.
We love it!
The guys at Sweetwater recommended this for our keyboard player and it has a great sound with plenty of high and low frequencies for a small hotspot monitor. It also will be versitale with a couple of options for inputs for other applications. Thanks Sweetwater!
Just get it already!
Looked at the reviews on Sweetwater and took a little risk and bought it. I'm a picky audiophile/professional musician. This thing ROCKS! Great for a mini-substitute for a powered monitor costing 800 dollars. I'll be getting another one soon. Super for vocals monitor in a rock band at practice and gigs. (25 years in the music business)
Quality and Versatile Monitor
I love this monitor! I have bought six for school and one for home. I use them as vocal monitors, both single and parallel; studio monitors; as a PA, as speakers for my show choir, as bass and keyboard amps; and I run my iPod through it for choreography rehearsals. It is super portable and strong and delivers a great quality sound. I like the multiple input types, three channels and the EQ. I highly recommend!
Get Two And Do Lots More
I bought two. I added a 100-watt 12-in. powered sub, plus a small 6-channel mixer with on-board effects and have a GREAT small venue stereo PA system. I also use them as individual "hotspot" stage monitors (on a standard tripod mike stand), as a stereo keyboard amp, as home stereo (w/sub)...endless uses. A great product, and bulletproof.
a versatile alternative to a special-purpose amp/PA/monitor
I've got three needs: a keyboard amp to make my Roland louder during practice, something to play my AdrenaLinn III through besides headphones, and occasionally a PA for my son's band playing for a small audience.

I looked at a lot of different products, but nearfield monitors seemed too delicate, PA systems too high-powered, keyboard amps too specialized. And then I found the CM-30, which covers all three needs and sounds great (MUCH better than a low-end keyboard amp I tried). I like the option to add a second cube, for stereo output, if needed. Perfect all around!
I wanted something that could accompany my trumpet in nursing homes.
I just wanted something that I could plug my laptop into to accompany my trumpet stuff in nursing homes .

This is just what I was looking for!

I was thinking of borrowing a keyboard amp from church, but it was heavy and big with 15 inch speaker. Kind of glad the choir director did not want me to take it out of the church.

My knees are bad and I did not want to make multiple trips with a bunch of equipment.

30 watts is PLENTY loud in this venue.

A 300 W system doesn't push more than 20-30 W most of the time anyway. The extra power is for the peaks.

Remember, to achieve just a noticeable (3db) difference in sound would take twice the power (60 W). Twice as loud would take 10X the power or 300W. Unless you go digital, more power means more weight. And then you need a speaker with a heavier magnet to handle the load, and a bigger speaker for the bass, perhaps a horn for the mid range.

I have a friend who sings in nursing homes with pre-recorded background tracks using a Fender Passport, which is really nice, but he still complains about the space in his trunk and the weight.

This little thing is amazing. Easy to carry. Lots of mix features. Solidly built.

I can be in and out in a jiffy without needing a truck.

In my house, I could only stand to turn it up half way.
Roland CM-30 Cube Monitor
Purchased one for our Church keyboardest who is very picky (and we're talking picky - you know the type) about his feedback sound mix in summer 2006. This unit blew him away instantly and continues to do so. Simple to set up (a keyboarest can do it) and now three people us eit for their feedback as well (one on the single CUBE speaker use two sharing the headset plugs. Best stage investment I ever made - made three musician happy at same time on feedback sound (and that ain't easy my friends).

Oh yeah - don't let the 30 watts fool you either - this baby cranks out nicely for background keyboard sound when mains are down low for a nice stage effect. Sound is decent quality for a small cabinet and travel type speak system. Need a spot feecback speaker for the stage - give this one a serious try. You won't regret it.
Roland CM-30 Cube Rocks!!
I use a Roland CM-30 Cube as my personal keyboard monitor within my multiple keyboard rig. The clarity and proximity of the monitor allows me to better hear my keyboard mix, the volume of each keyboard relative to the others, which helps me provide perfectly layered sounds. It's lightweight, compact. and easy to carry around. It's one of the best investments I've made!
Great item
I am using two CM 30 for my electronic accordion. They fit onto a regular mic stand. You can also hook up a mic for announcements. I love the price too.
The Mighty Mini
I needed a small, highly portable and versatile practice amp for a wide range of uses including informal jams, practice sessions without full equipment and as a second stage monitor. This powerful little beauty also includes three inputs which allows me to keep my keyboard, a guitar and a microphone plugged in simultaneously. While it doesn't have much in the way of sound shaping or altering (the only thing keeping it from a full 5 star rating), it's way more powerful than expected for its size and cost. And it's built to last.
Really love my cube monitor
Just what I was looking for....I use a head-set w/mic to teach jazzercise classses....this little box works great, great sound, small enough to carry around, and if I need, it can play my ipod at the same time....Sweetwater made it easy...delivery was fast & they helped me thorugh the whole purchase....should have found this a year ago!
It works - well !
I have only used this as a personal monitor while singing in practice with a rock band - PERFECT ! No more need to stick my damn finger in my ear to hear or ask them to raise PA lvls for me - I have this little bastard set about 3 feet from my left ear, I can raise/lower volume, even mid song, and get the level I need. VERY happy with this thing!
Very nice stage monitor for acoustic shows
I mount this on my Atlas MS25E (a super heavy duty mic stand) about shoulder height and a bit off to the side so my cardioid mic doesn't pick it up. Very good sound, nice and clear, plenty loud. Three separate inputs make it flexible, and its engineering/layout/form-factor make it a pleasure to grab and go.
This one is a keeper!
The first thing that I plugged into the Cube Monitor 30 was my Strat copy through a PODxt. It was lacking some low end that I was used to having from using a larger keyboard amp with a 12" speaker. However, after a little bit of tweaking the bass control it started to sound good to me. It has a clean, neutral response, uncolored tone, and plenty of power for a small to medium-sized room. Note that this unit is not well-suited to be the cornerstone of a rock guitar rig. It was probably not intended or designed to be an electric guitar monitor.

Then, I plugged in a SM-58 mic and my acoustic-electric guitar. This is where the Cube Monitor 30 shines. It sounds fantastic, even without effects! If you're at a band rehearsal, the vocal and acoustic guitar should cut through.

It has plenty of inputs and outputs to route an outboard effects loop. Built-in reverb would have been nice. For what it is, I recommend it!
very happy!
I bought it for my home studio, to amp up my sound with my 16 track DAW, and it sounds fantastic. I use it for a PA and recording monitor. Very clear sound, even the bass rings through well for the little 6.5 inch speaker. I am thoroughly satisfied with this potent little speaker.
Rugged, Economical, Musical
20+ years ago, Roland cubes were small, relatively light-weight, powerful for their size, and flattering to acoustic guitars and electronic keyboards. This model is smaller, more rugged and just as powerful and flattering. The array of input options makes this a versatile tool for all sorts of non-distorted amplification applications. You could use this to monitor vocals, keyboard, and clean acoustic or electric guitar, to provide a small, portable PA, or to re-record dry recorded tracks in a live room. This model performed admirably on DX7 Rhodes sounds, sampled grand piano, and sampled Hammond, with a surprising amount of bottom. In fact, the sound was better balanced than my much more expensive big rig. The sound of Cubes is a bit hyped, but sweet and inoffensive. If you're looking for an inobtrusive keyboard or acoustic guitar amp the size of a lunch box for a great price, give this a try.
NICE!
Have had mine for over a year now. Use it as a personal stage monitor for my acoustic gigs...and have also used it as a stand-alone mini-PA for smaller gigs...The CM-30 has plenty of volume, and lots of inputs...at the smaller gigs, I plug in my acoustic, my cd player, and a mic...sounds great, (except could use an internal reverb to sweeten up the mix)...talked a friend of mine in Missouri into 2 of 'em...he uses his for stereo keyboards!
good deal for the $$, user friendly, plenty of power...NICE!
Cool to Deal..!
This is the correct unit which I was looking to work with my acoustic guitar, Microphone & my KORG PA80 Light weight, portable and identicle Roland output. More than worth for sweet water price.

Great Job Roland..!
I'll be getting another one!
Thanks SW - prompt delivery in good condition.

This unit versatile, just the right size, and sounds really good. I'll be using it onstage as a hotspot monitor, as a practice amp for the acoustic guitar, and - adding the second one and a small mixer - a mini PA for living rooms and coffee shops. Good Job Roland!
Sounds great, very versatile, excellent value!
I was surprised that the 6.5" speaker sounded so good - it can really move some air! I plugged in a dynamic mic, a CD player, and a Line 6 PODxt. Everything sounded great and it wasn't difficult to balance the volume of each input (the only way to adjust the level of each AUX in is via the connected device itself). It can be mounted on a mic stand (built in mount on bottom) to raise it off the floor. Nice!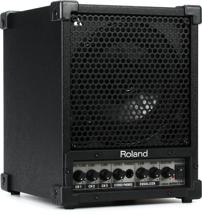 Travel-Ready Monitor with 30-Watt Amp, 6.5" Two-Way Speaker and 3-Channel Mixer