Sort By Date
Sort By Rating
Customer Reviews
Dunlop Cry Baby 535Q Multi-Wah is the Real Deal
When I ordered the Dunlop Cry Baby 535Q Multi-Wah I expected a wah wah which was a little better than the standard wah wah. Was I surprized. This unit has more depth to get that deep rich sound like you hear on many major recordings.
Love it!!!!!
This is the best wah I have ever used!! I had a high watt with the knobs on the side. High watt is now the 2nd best wah Ive ever used!! Ive used many brands, rare street brands even, and this sounds great, but the controls are what sells it. I love the options on this wah, subtle to long sweeps, paired with some visual sound delay and vox tube tone and BUTTER to my ears!! Just using this wah has made me a better player!! I recommend everyone owning this wah, wear a helmet so when your mind is blown its easy clean up!
I am not crying
My wife bought me a tuner I asked for a wah pedal...... I called Sweetwater and spoke with Mark. This guy is no schmoe.... Very articulate. He was able to talk about not just Dunlop pedals but a variety....detailing the pros and cons of each unit...I then had enough information about deciding what was best for me.... He wasn't trying to sell me up.... He wanted me to get the product I wanted....very cool.
total versatility
If you are into cover playing.. this is it! the adjustable frequency range is amazingly wide, you can cover very sutil wah movements and very pronounced sweeps with a quick knob movement... Sturdy construction (as a rule of thumb for crybabies) perfect for on the road gigs.. the boost feature though.. for me a little complicated to kick in during shows, bottom line if you're looking for versatility.. the few extra bucks totally worth it!
Won't cry using this pedal.
This Cry Baby allows you to vary the frequency range and the center of it. It is very smooth to use, built like a rock for those who may play hard. I really like the volume adjustment and extra boost in volume. Thanks to all at Seewtwater and especially Keith.
great pedal
This is my favorite wha. The Crybaby fantastic, you can adjust it to their specific needs and change it to make it sound different. Perfect even for large and magnificent solos. wha joe satriani used this for many years.
Review The Crybaby 535Q Multi-Wah
The Amp should go on last......
1 Plugin guitar after you wired up your whole rig...
2, Turn everything but the amp on.... check it's all running....
3, Amp on (standby) warming up......
4, Turn down master volume and switch amp full on (off standby)
No clicks, no damage....no worries....
;-)
What I hoped For
Thanks to youtube Wah comparisons and reading several website testimonials I chose the 535Q. My band likes the sound and I apreciate the features. I had the old school Dunlop Wah and did not like the signal loss when I switched it on. The 535Q takes care of that issue and provides selectable Wha sounds, very simple to use.
I'm a fan!
I've owned one for over eight years and it's still going strong. I love the sounds you can make with this thing. I just purchased another one for my roommate who's new to guitar and I'm sure he'll love it when he's ready to spice up his playing. I've also used it with my theremin and that makes for some insanely human-like 'oww' 'wow' & 'waaah' sounds! I highly recommend it if you own a theremin and want to take it to an even farther planet than the instrument already provides. Of course it's also fantastic for guitar. I've never owned a different brand or model of this type of pedal so I have nothing to compare it to but it gives you so many options that you can get whatever you desire from it without being overloaded with adjustments. I play at home about every other day and I don't beat it up too much but I use it almost every session and it's been faithfully functional since it was new. I probably would've rated this 5 stars if I had something to compare it to. Definitely pick one up if you want one that can be dialed in to get what you want!
Great Wah.
I've messed around with all of the settings to get the tone I want just right. And when I found that tone, I fell in love with this pedal. This pedal can make any "Wah" sound under the sun. From Alice In Chains' "Man In The Box" , all the way to Kirk Hammett's tone of "Wah."
Awesome.
Like I said awesome. Everything you could want out of a wah, because it can be set to be just about any wah you could want. The only reason I give it less than 5 is that if engaged (Wah ON) it will pop or crack if switching either the boost or the wah range. Though I wish I could change these settings while the wah is on, at least I can change them. I couldn't imagine having a wah I couldn't manipulate to make different sounds like this one. AWESOME!
Product works like a charm
The Crybaby works great you can set it to your specific needs and change it up to make it sound different it missed out on 5 stars because when you turn on your amp and turn it on for the first time (stops after the first time though) it makes a loud click noise and i dont think its good for the amp...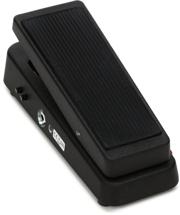 Guitar Wah Pedal with Adjustable Frequency Center, Adjustable Frequency Range, and Switchable and Adjustable Boost