Sort By Date
Sort By Rating
Customer Reviews
Odd-Ball use -- Translator Booth
Had a need for a transportable simultaneous translator booth for two side-by-side translators.

As always, went to my problem solvers at Sweetwater.

Fully enclosed would be too hot. This with a C5 bag and the ceiling baffles worked very well. The translators were over-joyed (a rare occurence) and I could fit it in an SUV.

Use is 4-6 times per year. Stores well in the cases.
Setup takes 2 people due to bulk and weight (100 lbs).
Hinges, etc. are replaceable (Crap happens)!

Shipping was SUPERFAST. Sweetwater is the best! And they obviously have great relationships with their vendors.
Customer/Rep service is superb! Calls at every stage from order to arrival. In 13 years, I have never been disappointed.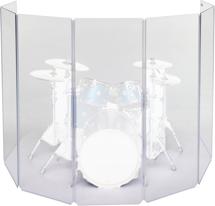 Set of 7 Clear Acrylic Acoustic Isolation Panels with Built-in Hinges and Cable Cutouts