Sort By Date
Sort By Rating
Customer Reviews
Thought I was buying a specialty mic; instead got a workhorse!
I have been very surprised with Avantone products. People tend to take them less seriously because they're not all that expensive; but the proof is in the mix. I had been wanting to experiment with ribbon mics for a while, thinking they pretty much had special applications involving guitar cabinets and drums. But I have been blown away by how GOOD these babies sound on just about everything. Trumpet, cornet, trombone, saxes... the whole gamut of horns, have a very natural sound you can't get with a condenser. Vocals (especially male) have great warmth and character. Mic'ing a piano with a pair of CR-14s was a total surprise as well. And of course, the same old boring applications for guitar cabinets and drum overheads yield stellar results. This is my new favorite mic.
great surprise
Great mic for percussion! A good friend who has been a percussionist and studio engineer for many years recommended ribbon technology as I was not happy with my sound. I could not afford the pricier models so got two of these and I am shocked how good the sound is for congas and djembes !
Simply Amazing and Versitle
Don't let the low price point fool you. The gear heads at Avantone knocked it out of the park with this Ribbon. In the 2 months I've owned it, it has shined on guitars, kick drums, vocals, and a hand saw. (yes a hand saw.) Anyone wanting a ribbon on a budget...or just a ribbon period....should not hesitate to own this mic!
excellent affordable ribbon mic
This mic has a rich warm tone as you would expect from a ribbon. It has a pretty low noise floor for a ribbon too. You won't find a better sounding ribbon in this price range.
Great mic for the money
This was my first ribbon mic. l am using a VMP _2 peavey preamp. The has a smooth natural sound.
An excellent ribbon mic!
This is an excellent mic and, yes, it has the characteristic 'smooth/dark' sound of a ribbon mic and, as such, very adequately adds that tonal/textural quality to you mic'ing repertoire. Very solidly and beautifully designed and constructed: the retro thing is pretty hip. The shockmount is maybe a bit 'clunky'(heavy), but it does the job well enough--only wish it had an attachment for a pop screen. The mic sounds very good on vocals though I'm leaning away from it on percussion. It shines on acoustic guitar too. That is all I've used it for so far. It's preformance exceeds it's price range, but I dont particularly think it competes with the $700 large diaphram tube mic I own, in terms of depth/soundstage/frequency response. I personally wouldnt but this ribbon mic over an good LDC, but it serves very well as an alternative texture that a ribbon mic is meant for.
An excellent mic and value
I have recorded a number of demos and clips with this mic, and it sounds extremely good. The tone is warm and, to my ears, natural sounding. It sounds particularly good when paired with a mic that has a sharper top end. This is a no-lose purchase.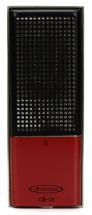 Ribbon Microphone with Dual Ribbon Element, Shockmount, Wooden Box, and Metal Case