Behringer C-2
Item ID: C2m
Small-diaphragm Matched Pair Cardioid Condenser Microphones
It's Arriving Soon!
We've confirmed with Behringer that more of this item should arrive within a few weeks. Place your pre-order now to reserve yours, and your order will ship in the order it was received.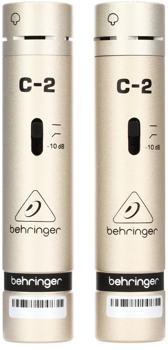 Click to enlarge
Free Shipping
Price Drop
A Matched Pair for the Price of a Song
The Behringer C-2 mics are perfect for stereo recording of a piano recital, choir performance, or any acoustic sound source. Small-diaphragm condenser mics are ideal for capturing the quick transients of stringed instruments and percussion. Try one on acoustic guitar - or use the pair on drum overheads. Whatever the source, you get beautiful, lifelike sound. Factory-matched, the C-2s perform admirably in the studio and onstage. A matched pair of small-diaphragm condensers is standard equipment for every studio's mic locker. It's awesome that you can get the Behringer C-2 for the price of a song.
Behringer C-2 Studio Condenser Mic Matched Pair Features at a Glance:
2 matched condenser microphones for stereo studio recording and live applications

Ideal as main and support microphones for studio and live applications

Cardioid pickup pattern for effective feedback elimination

Low-mass diaphragm for ultra-wide frequency response and ultimate sound reproduction

Switchable low-frequency roll-off and input attenuation

Ultra low-noise transformerless FET input eliminates low-frequency distortion

Rugged construction with metal die-cast body

Gold-plated 3-pin XLR connector for highest signal integrity
The Behringer C-2 Studio Condenser Mic Matched Pair is a tremendous value!
| | |
| --- | --- |
| Specification | Detail |
| Microphone Type | Condenser |
| Mono/Stereo | Stereo Pair |
| Polar Pattern | Cardioid |
| Diaphragm Size | .63" (16mm) |
| Frequency Response | 20Hz-20kHz |
| Max SPL | 140dB SPL |
| Output Impedance | 75 ohms |
| Signal to Noise Ratio | 75dB |
| Self Noise | 19dB (A weighted) |
| Low Cut Filter | No Filter |
| Pads | -10dB |
| Color | Silver |
| Connector | XLR |
| Weight | .2 lb. |
| Included Accessories | Stand mounts, Stereo bar, Windscreens, Carry case |
| Manufacturer Part Number | C-2 |
Can We Help?
Sweetwater's friendly and knowledgeable Sales Engineers are regarded as the most experienced and educated professionals in the music industry, with extensive music backgrounds and intense training on the latest products and technologies. As your personal contact here at Sweetwater, they are available to provide personalized advice any time you need it.
Call toll-free

(800) 222-4700

or E-mail us
Great for recording classical guitar
by from Miami, FL
February 10, 2013
Music Background: Jazz guitarist / Arranger / Producer
Excellent mic to record classical guitar.
behringer c-2
by mike whitehead from Thomaston maine.
March 28, 2012
Music Background: Performer and home studio.
An amazing mic at any price! Well consrtucted, easy to use. If you don't
like them it means you got a faulty pair. Great anywhere you need a small
diaphragm condenser.
The biggest bang for buck you'll ever get
by Alan Ramirez from Chicago
January 31, 2013
Music Background: Recording engineer, live sound engineer, musician, composer
I needed an extra pair of small diaphragm mics and I picked these for the price because they were recommended by a teacher who knew budget was tight. I've used these on live application and for live r
... read more [+]
ecording. They are crisp, clean, and true. I haven't noticed any noise only because I'm not trying to record bossa nova or acapella. I've used these for drum overheads, Hammond organ (top end), and sax. Trust me you will not be disappointed, and your wallet will be happy. close [-]
Nice at this price point
by Accidental SoundMan from Stockton, CA
October 4, 2012
Music Background: Live Sound,Musician
Nice set of condensor mics, I've yet to try them with my set up, but a friend who has been doing sound for 20 years or so did a Park concert series had a set.very handy,So I have seen them used quite
... read more [+]
a bit and looking forward to useing them with my own band and set up.

He used them from hi-hat to,ride cymbals to micing a group of barbershop quartets,Might be fine as overheads, or an acoustic instrument or two.
like I said at this price point its a nice package and good to have for variouse situations.

Only draw back I know of is getting ahold of Mic clips might be difficult, so dont lose them. close [-]
Mic Madness You Say?
by Tony Kosinec from Toronto
March 15, 2012
Music Background: Broadcast & film sound specialist
A few months ago I started researching, trying to see if in fact there were ANY cheap entry level interior dialogue mics that could serve the film school student and unemployed :-) indie film maker.
... read more [+]


I see tons of questions on pro sound forums about cheap mics that might get the basic job done. The stock answer from many pros is ďforget about it. It's not a Schoeps. Save up and buy the industry standard or rentĒ
I donít see how that helps.

I had heard some good things in music recording circles about the second edition of an instrument mic called the C-2 which was designed by Behringer and built in China at the 797 mic company.

OK guys Iíll give you moment or two to swear your distain for all things BehringerÖ done?

Well out of curiosity I ordered a set of these online and determined to test the C-2 against my Schoeps CMC. Madness you say? Actually it's a subjective evaluation based on experience and professional preference. There was no serious contest but definite surprises.

Test One
First I connected both to a pristine John Hardy solid state mic pre amp and recorded some close up voice into Pro Tools through an Apogee converter in order to get an idea of the C-2 as a vocal reproducer, something it wasn't designed for.

I'd been using the Schoeps with the MK41 capsule that way lately to record a talking book and chose it over any of my large diaphragm condensers or shotguns because of its natural warmth and rendition of midrange minus the hype and bite. An audio book is nothing but voice, and a listener needs to be able to hear comfortably for hours. The reader should sound rich but still the effect must be transparent; letting the listener focus on the author's art, rather than the narrator's instrument.

Aftrer recording I did some critical listening. To my ears the Schoeps has 4 distinct qualities in the midrange, the Behringer has two and something else. What the C-2 did capture of the mids,while less detailed, sounded quite acceptable and unlike most Chinese built mics the high end was smooth! - not really accurate but definitely not a problem, actually pleasing: seeming to add a little something to the definition of upper mids. Its proximity effect rounded out the bottom but not much. The pickup pattern rejected far more ambient sound and the self-noise is so low that the voice to room ratio was considerably better than the CMC. This is understandable considering that the C-2 doesn't have near the sensitivity of the Schoeps, but the almost non existent self-noise really helps what it does capture seem to jump forward.

Test Two
But thatís not the important test. Whatís more relevant is how they compare on a boom under conditions closer to a student film production. So I set them up in a small boinky sounding room at the same distance overhead with similar input levels and recorded speech onto an H4n using itís built in mic preamps. One thing I noticed right away is the Behringer and Schoeps have the same low handling noise characteristics. When I brought the tracks into Pro Tools there was another surprise.

Of course both come across noisier and less sensitive due to the mic pres. The Schoeps was still rich, detailed and well balanced giving me a sense of the room and the person in it without the boink. In an edit I might apply a very small amount of NR to take back noise introduced by the H4n depending on the context of the scene. With the C-2 the voice was less detailed though well enough defined while lacking a natural bottom. It was more affected by the recorderís noise because of its weaker reach but still produced a good voice to room relationship and it too cut the boink. It managed to capture some sense of place and surprisingly the frequency response did not sound uneven or that radically different from the CMC Ė it sounded, how shall I sayÖ similar but less than, whereas an AKG Blueline has more detail but sounds very different. After adding a small amount of EQ and NR the C-2 dialogue made it into the acceptable category. Iíve heard worse from top notch equipment.

Conclusion: The C-2 is dead cheap (almost free) and gets the job done.

Schoeps CMC6 & MK41 capsule $2000.00
Behringer C-2 hypercardioid $32.00 close [-]
Read more reviews
" I was very pleased with the shipping speed and the way the stand was packed. I was especially surprised to see candy thrown in the box as well, thank you. It was very relevant to your name "sweet" water. Your "Thank You" inserts provided an insight into your service to your customers - and it really shows how you really appreciate your customers. Your customer service is excellent and I would not hesitate to buy from you again ... in fact, you will be the first company that will come to mind for my next purchase because I know what I will expect. Excellent Customer Service! "

Cheryll, Lott, TX
See Also: Condenser Mics , Behringer , Behringer Condenser Microphones