Sweetwater Advice
My AKG C214 mics are the go-to microphones in my mic locker! I've used them on everything from drum overheads to vocals, and the results have been nothing short of phenomenal. I can capture the smallest nuances in crystal-clear clarity from a vocal cut, then turn around and put a pair of them over the drums and capture the high SPL I need. These mics will be in my aresenal for years to come!
Finally! The C214 is the solution for many of my clients that could not afford the 414 model and only needed the cardiod pattern anyway. Sweet mic!
Sort By Date
Sort By Rating
Customer Reviews
AKG C 214
For an affordable mic.... it's amazing. Serves it's purpose and exceeded our expectations.
great sounding mic
This mic is everything everyone says it is. The rave reviews are accurate. I like it every bit as well as my C414. They compliment each other perfectly for mid side recording. Highly recommended
Best Guitar Amp Microphone I Have Found
As a FOH engineer I have struggled with getting perfect and consistent sound when miking guitar amps. I used the old standard SM57 for the longest time and I was constantly moving the mic around the amp looking for the sweet spot. One day I decided to try out the 214 after reading that it was capable of handling high SPLs (up to 156). Now I am getting great sound from every guitar rig I come across and I rarely have to move it once I set it. I even use the old loop-the-XLR-cable-around-the-handle-of-the-amp trick with excellent results being that it is side-address.
Pros and Enthusiasts Alike
I bought this mic as my first large diaphragm condenser, for mainly usage on vocals, and sometimes as hihat/overhead mic on drums.
I've used it only on three preamps: a cheap Art pre, an Alesis MultiMix 4, and now on my Focusrite Saffire Pro 40. All of them made this mic sound great, and for two of those three, that's really saying something.
The frequency response on it is quite bright, somewhat like a less exaggerated C12, but not too bright.
If you're looking at the Blue Bluebird, like I was, I'm glad I went with this, because it definitely has more character. Go look at some frequency response grafts, and see how perfect it is!
The only thing I'd change, is possibly have more patterns, and of course maybe a tube version!
YOU CAN'T GO WRONG!
awesome
pretty simple i bought a new 414 and a 214 the same day because i was really curious about how the 214 stood up to the 414. In the channel i used an la2a and an eddie kramer vocal plugin. I recorded the with both and picked the 214. Seem to have a little more air to it. Now I'm gonna buy another one to have.
Good Deal on a Good Mic
For the price this mic has definitely delivered. It really lets my voice stand well in the mix even without any EQ. Has a nice crispy sound, a bit bright but Id say very well balanced. It also has done pretty well recording my guitar amp. The shock-mount and case that it comes with are also very nice. I was especially impressed with the shock-mount compared to other mounts cheap mounts I've used. Overall I'd say this mic is the bomb. Definitely money well spent.
WOW!
I received the AKG C214 at 4:30 pm today! By 7:30 pm I am loving it! I am not a tech guy so the numbers in the specs mean nothing to me but I do know a good sound when I hear it. The 214 has a warmth and clarity that I have not been able to get with my AT 2020's which are decent mic's but are blown away by the AKG C 214. I recently purchased a Tascam 2488neo and was not fully satisfied with the results of the AT's but with the AKG I am liking the 2488 better as well. No eq required to get a full yet clear un-muddied sound! Great mic! Get one!
No, it's not a C414
... and thank goodness! I've performed and recorded using various 414s. Sure, they're great $1000 mics. This little beauty captures every nuance of the saxophones I've mic'd with it - accurate, well-defined and warm. I don't miss the other polar patters at all.
A Beauty!!
This is definately one amazing mic people!
So impressed with it that i will be looking to invest in the C414 to my mic arsenal also!
These mics C214/C414 are a must have in your studio!
No doubt!!
Exactly as advertised! Great mic!
Buy it.
C214 is the NEW KING of AKG!
This was the first real microphone i purchased back in early 2009. I had done some research on microphones and had a singer who raved about the 414 and its frequency response. I purchased this mich based on my budget (the joys of being a poor musician!) We started recording with it immediately and were incredibly impressed with the overall sound and the consistency of sound. I went on in the year to purchase a C414B XLII and compare the two microphones back and forth. There is something about the C214 that sounds a little bit more natural a little bit more up close and personal. I find the C414 B XLII handles high pressure singing better but how often are we all blasting our lungs out! I plan on purchasing a few more of the C214 microphones for overheads and eventually for a grand piano mic set up. If you are contemplating any microphones below $1000 i encourage you to purchase a C214. You will be pleasantly surprised! Id even say its going to give the 414 a run for its money!
Great..Wonderfull..Awsesome...
Just got this thing in a few days ago, and I know I will be using this over and over again. I Normally chose between MA-200, SM7, or Rode NT-2A for vocals, but this will definitely get used just as much if not more. This thing just sounds very natural and THICK THICK THICK.
Do your self a big favor and get it!

wow! what can I say
mic'd Mesa Temoverb and Dr Z MAZ18. What can I say, this mic will blow away anything in it's price range and modeling want a beeeez. If you want to capture the real deal of your sound you better check this one out!
Look out for this one!
Receaved my new akg c214 today. Sounds very huge and open on my male voice, with a zing of fizz thats not harsh, but very detailed and natural! Tomorrow I'll mic my Mesa Tremoverb and Dr.Z MAZ 18. and see if it will do what I want it to be.
fantastic sounding mic love it on vocals one of my best choices thus far your moneys worth.
probably the best mic I ever used its perfect for vocals and you don't need to eq much, this is a perfect mic for any home studio go pick it up you will not be dissapointed.
A solid, PROFESSIONAL mic!
I wasn't getting the results I wanted from my Rode mic so I decided to give this microphone a try. The result was some of the best vocal takes I've ever
recorded. This is not some cheap Chinese version of the acclaimed C414, this is the real deal...designed
and built in Austria, this microphone has that distinct sound that can only be described as
"professional." It is open sounding and crystal clear with a distinct presence that is lacking in most other lower-cost microphones. The included shock mount and flight case round out this wonderful
package!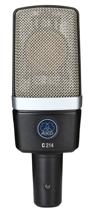 Large-diaphragm Cardioid Condenser Microphone with 143dB Dynamic Range, Switchable 20dB Attenuation, And Low Cut Filter