Sweetwater Advice
I love this mic and own two personally. I love how the mic sounds. It's very full but yet nice and open without breaking up the highs. It's hard to believe that they can do that for $299.99
Sort By Date
Sort By Rating
Customer Reviews
Dope mic
This mic gives clean, clear, and just amazing sound for vocals! Defiantly worth the price and a great addition to the studio!
Love the mic, so-so accessories
I told my Sweetwater rep my budget and that I wanted a large diaphragm condenser primarily for vocals and acoustic guitar. We discussed several options and he recommended the Bluebird. He has been spot on in the past so I ordered it. I got it today and have spent several hours with it recording vocals and guitar. On vocals it does a nice job. The tonal differences between the Bluebird and the inexpensive mic I have been using are subtle, but exactly what I was looking for - nice mid range response and smooth high end. I suspect this will even get better as I gain more experience. The effects on recording acoustic guitar made my day. I have a custom built guitar that produces a lot of overtones and a balanced sound that I really like live, but have been unable to capture. I immediately noticed how much closer this mic comes. Again, I expect this will get even better as I experiment with placement and environment, but I would be happy with what I achieved today. Also, it is a sensitive and quiet microphone.

Two issues with the accessories. First, this is a relatively heavy mic, which is good as it feels substantial. Unfortunately, the small thumb screw on the shock mount for locking it into position doesn't allow for enough torque to easily tighten it sufficiently to stay in place. This, however, is not a problem unique to Blue. It's just that I hate to have to use a 'torque enhancer' to get it tight enough. Second, the pop filter mounting studs were a little bent right out of the box, but that was easily fixed. The mounting system for the pop filter is a bit funky.
Vocal Microphone
For the price you can't go wrong with the Bluebird. I used it recently for a few different female vocalists and I really enjoyed the sharpness in the microphone. It is known for its 2-4k bump and I really enjoy how it takes a vocal and puts it in the front of the mix. It is not the end all of vocal microphones but it is a nice thing to have in your collection. If you are looking for a very full microphone I would not recommend the bluebird but if you are looking for that high end sharp tone...don't hesitate, buy the Bluebird!
Great Sound
This microphone will bring your vocals out in the mix. I record many rap/hip-hop artists as well as female vocalists and can not deny the crisp sound. Pair this with a good pre-amp and you will be ready to put out professional quality music in no time. Great for artists on a budget.
Great Mic for the Money
I brought this mic because i wanted a new one to upgrade from my MXL 4000. It is a great mic and has really amazing sound quality! The only thing i do not like about the mic, does not even deal with the microphone itself. Personally i didn't like the pop filter that came with it, It does not get the job done and it is a pain to get on. The other thing i do not like about this mic is the shockmount that comes with it. It's fine if you leave it in one place, but if you're moving your mic around, expect the shockmount to loosen and fall.
A good mic for the money
Works really good on fiddle and banjo. Acoustic guitar was a little tougher to deal with SPL but I finally found the sweet spot. A nice mic for the money. I intend to purchase another one and a mic pre for each of the Bluebirds. The mic pre will help with recording the acoustic guitar.
Ok, but high's are brittle
I got this as part of a package including the focusrite ISA one. The mic sounds good as a solo mic if it's just a guitar and singer, but when you use it as part of a mix and on multiple sources it starts to fall apart even with a high quality preamp (Neve). In my opinion the highs are a bit brittle and harsh sounding. You'd be better off saving up a few more dollars and purchase a Neumann TLM102. As a side note I have heard that you can replace the capsule on the Bluebird with a KM47 capsule ($100-$200) and it's supposed to make the mic sound much better - but for that price and risk of damaging the original mic, you might as well save up and buy a neumann. So in summary - you get what you pay for -- average cost, average mic.
bluebird
i cant believe the price of this mic i have mics that cost 5 times the money that arent this good thnx for your recommendation Matt
Excellent mic
I've owned this mic for 3 years now, and initially thought it was good sounding. Very quiet and clean, with a huge output, which took a little getting used to when recording vocals, as I tend to be quite dynamic. However, I soon sorted that out with my vocal chain, (and to be honest, I've always had to be very careful taming my input signal in general).
What took this from good to very good was a simple mod I learned from Mike Joly. Turning the head basket 180 degrees and removing the fine inner mesh, leaving the outer one, did absolute wonders. Not only did the sound tone improve noticeably, the proximity effect was greatly reduced, making things much easier vocally. It took me less than an hour, going at a careful and slow pace to do this, and it was well worth it!
Because it is such a quiet mic, I use it a lot for layering backing vocals, without worrying about noise build up.
So now the mic gets used even more, and I rate it 4.5 stars. For the money it is a bargain IMO.
Buy one, do the simple mod and enjoy it!
Great all around condenser mic for the price
This is a great all around condenser mic for the price. Pair it up with a quality preamp and for plenty of applications, and you're all set. It's a tad 'forward' in the upper-mids, but that's turned out to be a good thing for me. All in all, it's hard to believe quality gear like this is being offered at such a price.
Blue
Great mic, i love it!
great mics, great price
I bought 1 bluebird and 2 spark mics for my studio where I record acoustic players and the results are fantastic. one very picky client that plays an expensive martin guitar was blown away by the quality of his recordings i did. i run the mics thru presonus channel strips which really kick up the sound and have the eq and compression, the only thing you have to watch out for is these mics are very heavy and WILL tip over if not balanced correctly! use good stands and check the balance before you walk away from them, also use another pop filter if you use them for vocals the supplied ones are quite small.
This is a Steal! Best for the Money.
I needed to find a studio recording mic that was quality but cheap. I spent a week searching and reading reviews and researching and eventually chose this mic, the Bluebird. The first thing I recorded was me playing an acoustic guitar into it. I've had a bit of experience with recording acoustic guitar and I wanted to see how this mic stands up against others I've used before. Without mastering or any alterations at all, I listened to my recording and it sounded absolutely fantastic. In comparison to a professional recording of the song I played, my recording needed a bit of compression and that's about it. I've spent a few months using this mic now and it has been better than I've ever dreamed of. I've raved about it to fellow sound engineers and showed off it's recordings with responses of Oohs and Ahhs and "HOW MUCH DID THAT COST!?!?!?!"
I'll be using this mic for many years. Even when my budget rises and I'm able to afford top of the line mics, I'll keep this in the shelf with the best of the best because that's exactly what it is. I use it for voiceovers, occasional foley, acoustic guitar, and singing. I'm sure I'll get many more uses out of it in the years to come.
This thing costs how much?!
this is a fantastic microphone! its super cheap, and it sounds fantastic! it sounds great on acoustic, electric guitar, drum overheads, and rooms mics. Whenever I have the money, i will pick up another one of these. the only thing that sucks is the pop filter. it only keeps spit of the mic. So i bought a good pop filter and this thing is ready to rock n roll!
nice one
This mic rocks with presonus firepod and a ua solo 610
best rnb rap sound quality.
need to get it
nice one
This mic rocks with presonus firepod and a ua solo 610
best rnb rap sound quality.
need to get it
Love it, nice natural sound.
Had this mic a few days and love it, love it. It looks awesome, sounds awesome and the price is great. It adds just enough warmth to my voice. These are hand built, and hey - the inspection certificate that came with mine was dated on my birthday... must be fate!
I would rather sing at a real BlueBird
It has some crackle and scratch-ness to the sound. My Audio Technica t2020 sounded better. Came with some stains out of the box and 2 light scratches on the blue exterior. Do not invest in "Blue", im waiting for this new brand called "Brown" that will be the next big thing.
All-Around Performer
I added this mic to my collection because I didn't have any Blue microphones and I heard great things about them; I wasn't disappointed. The tone of this mic is beautiful. Vocals sit very nicely in the mix without having to add tons of EQ. I have also mic'ed bass guitar which also sounds nice & warm. Add this mic to your locker and you'll probably never put it away!
A Really Good Mic
A mic with amazing performance at amazing price. An investment that worth more than my expectation. This bird comes with a pretty solid nest so that you won't have to worry about it flying away.
Perfect for Vocals
This was my first real mic and it went above and beyond my expectations!! It was a very nice presence peak on vocals. It is very warm sounding and complements acoustic guitars very well. I would feel comfortable putting it on just about everything!!!
To be or Not to be?
I was a bit skeptical at buy the Bluebird because I view it as a entry level mic, but I did based on the good name of Blue. So, one day I decided to give this mic a test run on some lead and backing vocals and I wasn't too impressed. So, I gave it a rest. Then I decided to give it a second test run on the vocals to another song and it sounded good. I thought to myself maybe there is hope for this mic. I learned that the Bluebird does have potential, but it can never be a go to mic for me. I have this hate it and love it relationship with this mic. I hate the way it sound on some vocals recording of my songs and love the way it sounds at times on some of my songs.
Great All Around Mic
I ussually don't write these reviews but this mic competes with any $1000 mic I have used. I have been in this crazy music industry for 30 years and have played tons of sessions using the great mics, this BLUE Bluebird is one of the greats.

Great on VOX and my resonators and guitar amps. Buy it before they raise the price to where it should be.. >$1000
Very nice sound
I was looking to get the matched pair of Rode mics; since they were out of stock, Luke recommended this. I own a Baby Bottle, so I decided to try this one. Got a pair. Really like to sound of this mic going into my Focusrite Pre. Very clean sound. Very rich sound!
Awesome Mic, Awesome Price
We used this mic in my recording class, because the school recently got five of them (lucky bastards) and the sound incredibly warm when we used them for vocals. The group recording its song actually were hard pressed about which take to use on their song, the other takes were done using a U 87. I swear i'm not kidding you, this thing is definitely underpriced. You get MORE BANG THAN CRIPS AND BLOODS FOR YOUR MONEY. Get one I know i will using the 3 payment plan. Peace
Great mic! bad accessories!
This mic is amazing for the price, unfortunately the pop filter is comes with is pretty much useless other than preventing the mic form getting hit with spit, im not to sure about the shock mount because i have the special edition one that works well, but i haven't heard the best things about the other one. Other tha not having a bass roll off switch (that can easily be fixed with some eq) this mic is stunning!
Amazing mic for the price
This mic for the price is one of the best I have heard. It seems to shine on anything I put it on. From lead vocals to acoustic guitar. Put it through a nice tube pre-amp and you will have a killer sound.
Very nice for vocals
I run this mic through a Presonus Eureka pre-amp and get great results on vocals. It's okay at mic'ing my acoustic but I have a Rode that I prefer for that. The Bluebird isn't bad on mic'ing the acoustic, the Rode is just better. But for vocals this is a great mic.
Very nice additional to anyone's mic locker.
The Bluebird is a nice addition to my mic collection. It complements my AT4033 very nicely, in that, if my AT4033 is a little too dark for the source, the Bluebird is usually just right. And vice versa. If the Bluebird is a little too brittle for the source, the AT4033 usually is perfect. I find the Bluebird to be pretty true, and almost boring in sound, but that's a good thing. As much as the EQ curve is a smiley face, the results I get are relatively flat and unhyped. There is however, a little sparkle that gets added that's very nice. The built quality is a teensy bit suspect though, especially the accessory bundle. The shockmount doesn't quite hold the shaft of the mic tightly enough, it slips down. I usually put it over the metal plate at the bottom of the shaft, and the little screws on that plate are usually enough to hold in in place. Another problem with the thumbscrew is that it doesn't hold tight enough. You need to be very careful or the screw tension will slip and you mic will swing down and that's never a good thing. The pop filter is pretty silly and I just have it on my desk as decoration. But all in all the mic looks very sharp and sounds very good. Great on acoustic guitars, and good on some vocals, depending on the voice.
Love the sound of this Mic
A friend of mine that had a number one hit on the radio suggested that i get a Blue Mic because I would not go wrong. I researched a lot before i bought
this Mic. I basicly had a budget in mind. It was between the Baby Bottle and the BlueBird I chose the BlueBird because of reviews on the vocals. I looked at every mic from $500 and under. All the Specs included. I owned in the past a Rode NTK, and a Behringer B1. The best recordings i done was on that Damn Behringer B1 (tweaked A LOT) . I used a Neumann U87 in the studio and always wanted that In your face sound. Well I finally got the sound I was looking for. Here is my setup: Logic 8, BlueBird Mic, and Art TubeMP Studio USB. I bet your asking how I got a good sound out of the Art Tube Pre. Well I changed The Tube to a GE New Old Stock. I also use a Tung Sol Re-Issue for a Different sound. If your looking for an awesome vocal Mic the BlueBird is the way to go.
Still undecided.
I have always been a fan of Blue. I have owned the mouse for a few years and use it mainly for male vocals. I like the mouse so much I sold my Pearlman TM1 as I never got what I wanted from that mic even though it's a great mic for a lot of folks. But the mouse is just awesome! So I decided to buy the bluebird and check it out as a back up vocal mic. First off, I noticed how dark the color is. So much so I have to eq the heck out of it to tame what I consider a muddy low end and I have put this through a few different decent pres and came up with the same result. It's very prown to plosives as well and the pop filter it came with is absolutely useless. I'm a bit surprised as blue has such a good reputation but then again I'm very hard to please. As far as cheap mics go, my favorite is the Karma K35 fet and K55 tube. For $169.00 for the K35 it blows away the bluebird and competes with the mouse. I get stunning takes every time I use either of these mics and like I said, I'm very hard to please. The funny thing though while I'm singing into the bluebird it feels amazing under the headphones but when I play back on monitors, it's fuzzy dark and a bit cloudy. Sorry for such a long rant but I had to speak my piece.
My HONEST opinion, about this mic....
This mic is very under priced for the sound that you get from it. A friend of mine has the Blue Bird, running it through a Presonus TUBEPre Preamp, and an M-Audio 1010LT PCI Interface.

I had to track out their session, and transfer it into Pro Tools HD. Using Mackie HR Monitors, i was amazed by how the raw recording sounded, just sounded a little flat and dull for my taste, but hey, thats what EQ is for.

For the set up that he was running, with the cheap Pre that he had, i was amazed, if he had a better Pre and better mic isolation and placement, this mic would compete with the Neumann TLM103.

For the price, this mic cannot be beat, same for the Baby Bottle. If you are on a budget, and want a great sounding mic that will compete with the higher end Neumann's and AKG's, then the Blue Bird and or Baby Bottle is for you. Just pair them with a nice Preamp, and your good to go. Weather you are recording vocals, or acoustic guitar, this mic WILL get the job done and exceed all expectations.
great mic
bought the mic acouple weeks ago and im happy with itz performance i have it running through a presonus eureka and it sounds great highly recommended for home studios
Excellent Mic for Acoustics and Vocals
This microphone truly sings. It gives truly excellent accuracy in vocal recording on both the highs and lows. It really stands out, however, when you mic an acoustic guitar. Position the mic about 8 inches away from the highest point on the fretboard and you'll be amazed at how it sounds. Just play with it a little bit and you will be blown away.

Bottom line: An excellent quality mic for an amazing deal! How can you pass this up?
Clean Microphone for Less!
I have found the Bluebird is especially great on guitar amps for clean tone recording. It is also very great for vocals, they really pop out of the mix, and holds its own against other higher-priced mics in my locker. I have used it for many things and find that I can't go without it anymore because clients (and myself) love the sound and want to use it again and again. Great mic!
Very Good Condenser for my setup
Being just a teenager I bought this mic to go along with my Mbox 2 Mini (Pro Tools). WOW, this mic is great for only 300$. It has the frequency response that a 700$ mic would have! It records every vocal crystal clear and i use it on acoustic guitars also!. This mic is the best mic i ever purchased. I will definatly be ordering more from Blue. I always have friends recording at my house, and when we play the final track in school everyone things we recording in a million dollar studio. But its just the Bluebird at its best.
Nice...
This is a good mic with added color to it ...

ie."it has been optimised for fairly close placement — the contribution of the proximity effect is required to reproduce an accurate bass response."

the key words here being "proximity effect" ..."closer up" for the newbs. the SM57 train if you will ...choo choo ...puff puff

It may not give you the "room" mic type of effect that is easily achieved with a TLM-103 or a NT1A.

Just a heads up ..it a great mic, but its purpose may differ from what you are looking for.
Clean and clear.
I record mainly indy/pop rock vocals, and this is perfect for getting a good clean sound, with just a slight exaggeration of proportion to the sound. I like to go back in later on the computer and ad coloration, so this allows a lot of flexibility. I've also used this on acoustic with excellent results, as well as djembe.
Very good mic! Love blue!
Honest Review
I just recently bought this mic for my personal studio. I was previously relying on my Rode NT-1A, which is a great mic in itself. Having said that, I prefer the Bluebird for almost everything I'm recording now, hands down. Usually I'm a fan of transparency in my mics, but the way the Bluebird brings your lows and mids up front, especially on vocal tracks, is such a subtle improvement. The only drawback is that your "S's" will come out very harsh if you're not careful. Bottom line, this is a great, affordable mic that will warm whatever you're recording without compromising it's clarity.
Not Too bad
I bought a bluebird a few weeks ago. Took a while to get used too. My other mic I was useing was a Groove tubes gt55. The Gt55 is a very transparent mic, what you put in is what you get out. The bluebird is a very colorfull mic. mids are up front. Will give your voice a edgy raspy sound easily. Not good if your voice aleady had that tone!!!!!!!! Im running it into a Universal audio la-610. Im not soo sure about this mic yet. Certainly not a bad mic for 3 bills
BLUE THERE IS NO OTHER..well for the price.
Had a Behringer B2 pro when it came it. It was 200 for the kit when it came out. This is 350 for its kit. 10x better. Vocals stand out and clarity is superior to the B2. Add the Blueberry Mic cable and its a winning combo for hobby studios and mobile recordings. I subtracted a 1/2 a point due to the filter, could be alot nicer. Oh well.
SUPER FOR LEAD VOCALS
I am from the caribbean, and i record reggae and soca music, and the power of this mic is sweet, gives u a nice clear sound, i think i will be sticking to blue mics, next i am gonna try the dragon. it's a good buy, and it was the first mic i ever bought.
Blown Away
I recently bought the Bluebird and when I first tried it out, I was amazed at the sound that I got. Even running through the 002 Rack pres, the sound it produced was silky smooth. Clear highs and powerful lows brough out both the male and female voice perfectly. I tried it out recording my classical guitar and it brought out the full sound of the body while also captureing the "ping" of my fingers against the strings. Overall, this was a great buy and a worth mic to have in any professional studio.
What an Awesome mic.
I had my doubts and wanted the Baby blue bottle. Then I was told that this new mic came out w/ the bundle. I also heard this is a promo price- it will increase in price. If you want a mic that has round lows, Crisp Mids and Clean Highs- this is it. Not only does it produce but also has a larger diaphragm than the Baby bottle. The only thing I like better about the Baby bottle, is it is made for Vocals. Anything else plus similar treatment of vocals, the bluebird can create. If you are wondering about shure - dont get it unless you go for the KSM 44. The MXL mics are also very nice.
Nasty
I've had the chance to compare both the bluebird & the baby bottle. I was mad comtemplating on which one to get. To break it down simply bluebird gives you that powerful voice when you record. Otherwise, the baby bottle didn't really expose my deep voice. But damn the sounds of the baby bottle & bluebird, you can't deny. If you a rapper looking to make your voice sound powerful and complete, go for the bluebird. If you a high-tone vocalist looking for clean smooth sound, go for the baby bottle. Personally I got the bluebird.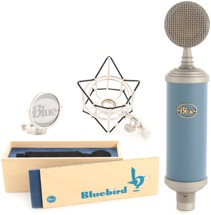 Large-diaphragm Cardioid Condenser Microphone with Class A Discrete Circuitry, Hand-built Capsule, Pop Filter, and Shockmount