Sort By Date
Sort By Rating
Customer Reviews
AMAZING!!!!
I've owned this bad boy for almost 6 months now and it still wows me today. The TONE WICKER is amazing! you can go from a nice mellow distortion to a metal sound like nothing, great sounding its a must in any pedalboard!
Best Big Muff Currently in Production
I spent months comparing Muffs before settling on the Tone Wicker version. I compared all of the EHX models in production now as well as a number of boutique "clones", and for the money, this is the best Muff you can buy, hands down.

With the tone "on" and the Wicker "off", you get the traditional Muff tone, but it is just that much sweeter than the standard muff or the Little Big Muff (those are also great, but this one just edges them out). Switching the Wicker "on" gives a very slight, but noticeable, treble boost which adds just a bit more clarity and bite, while still remaining smooth. If you really want variety, you can set the Tone switch to "off" and bypass the tone circuit altogether. This also yields a significant volume boost.

All in all, if you want the best value in a Muff, stop here and get this one. This has quickly earned a permanent place on my board.
AMAZING! A MUST HAVE!
This is an AMAZING distortion pedal! It gives a great distortion tone. The tone and wicker switch are also really neat and work well with finding a good tone! The pedal is built very sturdily, too. It's very good quality for a price that low! I highly recommend this pedal as you can get so many great distortion tones out of this pedal!
Great distortion!
This may be the only distortion pedal I will ever need. It gives a wide range of tones. It is the further evolved Big Muff. With the tone switch on I get the classic tone. Turn the tone switch off and I have a destructive blast that will break walls. Wicker adds more high-end and gives the fuzz a more razor blade edge. A great pedal for any rocker looking to add a little bit of noise to their sound.
Great Fuzz
Great array of different tones that can be had. I highly recommned this pedal to anyone looking for a versatile fuzz pedal.
You can't go wrong with this pedal, it sounds so nice!
I own the standard Big Muff Pi without Tone Wicker, as well as the Big Muff Pi with Tone Wicker. I can honestly say that the Big Muff Pi with tone wicker is one of the most versatile Fuzz/Distortion pedals that I have ever used in my entire life. I love the pedal so much because I can get so many different types of tones. The Wicker switch allows me to get rich and crisp harmonics. The wicker switch used in conjunction with the Tone Bypass switch is also creates an incredible sound. It doesn't take up as much space on my pedal board as the regular sized Big Muff. If this pedal were stolen, I would honestly plan on purchasing another one as soon as possible. When the Tone Switch is on and the tone wicker is off, it sounds just like a Big Muff Pi. When you throw the wicker switch on, the difference really stands out in a positive way. When the wicker switch is off and the tone switch is off, the tone circuit is bypassed and allows you to tap into a whole world of tones that was previously inaccessible until now. Buy this pedal, you will not regret it. Thank you SweetWater for yet another unforgettable pedal purchase!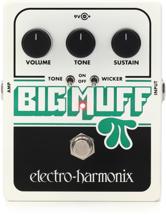 Classic Fuzz Distortion Pedal with Bypassable Tone Circuit and High-frequency Boost