Sweetwater Advice
Two words: Fuzz Bass!! The Big Muff Pi is one of my favorite pedals for getting a thick, monstrous fuzz bass tone.
When you see "electro-harmonix" on a pedal, you know what you're getting - classic tone that's been tested for decades onstage and on countless records, and a sound that nobody else has been able to copy. The Big Muff is no exception, and what's more, it's American made. If you're a serious guitarist or bassist and want a classic fuzz distortion in your arsenal, stop shopping around and check this one out.
I put this pedal in front of a Fender Hot Rod Deluxe on the clean channel, and PRESTO - instant tonal gratification. The Big Muff Pi is a simple yet effective pedal that allows you to dial in just a little bit of grit, all the way through complete '70s fuzz! It's a classic pedal that you have most likely heard on recordings without even realizing it. It's also built like a tank - no need to worry about pampering this pedal.
Sort By Date
Sort By Rating
Customer Reviews
tip
THIS PEDAL + IBANEZ TUBE SCREAMER= GOD'S TONE........
I am now a rock god....
Three knobs, huge sound - you can't emulate this pedal digitally. It's got the same circuit as the original from the sixties. And it says "Made in NYC, USA" on the front - it doesn't get cooler than that.

This is the real thing. You need it now.
Great fuzz pedal!
This really is a great sounding pedal. You can get lots of different sounds out of it, including a ton of sustain. I couldn't believe how long my Les Paul's notes would ring out. It's defiantly a keeper that will get lots of use. I can see why so many big name players have used one.
Exactly what I was looking for
I've tried every pedal that I could get my hands on and this one is DEAD ON what I've been looking for. The combination of the distortion and the sustain is superb. I love it.
Great Bass Drive
Really warm, fat, and saturated drive that sounds great in front of a bass. Put a compressor after it on your chain and it'll give you that nice punchy rock tone you've heard countless times. Couldn't be happier.
Great pedal
It's a great sounding, adjustable pedal, a must-have for any pop/rock guitarist's arsenal. It couldn't be simpler to use. And it's priced right.

Although it's called a distortion pedal, I'd characterize it tonally as having a more fuzz-sustain timbre, but with a richness uncommon for many fuzz devices. As such, it excels on unison guitar lines.
Fat Tone, Killer edge
The very first instance I heared the Big Muff, I thought to my self what have i bought? As i played around with it, I answered my question with this, a very historical, insightful pedal. The big muff has been used by David Gilmour all the way to
John Frusciante.
It can give off a very fat sounding lightly distorted tone, or you can very the pot's and make it give off a very harsh distorted sound. The versitility off the pedal is very wide. I would recommend the Big Muff very highly.
Electro Harmonix in its self is a highly repectable commpany as well.
Great for Bass
It's huge in sound and size! Tried most of the fuzz pedals available...Boss ODB-3, EHX Double Muff, MXR El Grande, Dunlop Fuzz Face, MXR-108, EHX Bass Big Muff, Boss FZ-5, but none get it done like the original. If you want the Mel Schacher fuzz bass sound, this is the one to get.
Great Distortion
This distortion pedal has worked well for me for a while now. It has great sustain and awesome distortion. I would reccomend this pedal for anyone who enjoys classic rock. I love paying Pink Floyd and many other classic rock songs, this box is perfect for that type of music. It sounds great with my Fender Strat.

Only one downside, there is no port for an AC adapter.
One trick pony that does one fabulous trick: super-fuzz
If super-fuzz is what you're after, this is the pedal for you. If versatility is your thing, keep looking. The Big Muff does one thing really well: wall-of-sound distortion. In terms of this one trick, it's untouchable; if you want a light-touch distortion sound, it's touchable.

As a bass player, I like it (especially when used in conjunction with a phaser), but I can't help but wish I could do more with it.
sweet THICK fuzzzzzz
I have the dark green Russian-made version of the EH Big Muff Pi pedal, and it's very cool! PERFECT for doom/stoner rock - if you dig stuff like Grand Magus, Electric Wizard, The Sword, Orange Goblin, etc., then you'll totally dig this fuzz box. Works awesome on bass too!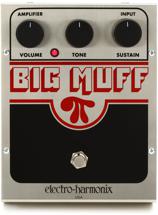 Distortion/Fuzz Pedal with Volume, Sustain , and Tone Controls