Sort By Date
Sort By Rating
Customer Reviews
91A Kicks!
I love using this mic inside a kick drum. Attack and punch when you needed it by itself or combine with other mics for a paired kick sound.
Shure Beta 91
I'm very happy with my Beta 91! If you're looking for a lot of bottom end with a lot of punch this is the best kick Mic for the job. And AJ, is the best guy to go to for any drum gear questions.
Instant Kick sound!
pretty much a instant good kick sound! I've heard and tried a lot of "Kick drum mic's" but this is the 1st that really did the trick! I should of gotten one sooner! even with out any EQ or Compression the kick drum sounds tight, with some good top end slap and deep fat bottom end.. perfect! Just make sure the bottom of the bass drum is padded with a towel or a kick pad. 5/5 GET IT! worth every penny!
Worked great on harp!
I have used this mic many times on kick drum and it never lets me down.

As well as handling high volume low freq sources, this mic is also a very effective condenser for more subtle material.

Recently, I was asked to provide audio services for an outside wedding. A harp was to provide all accompaniment music. I had to make sure that about 150 people outside could hear the harp during the service.
I never did sound for a real harp before. I decided use a beta91a. I attached it to the top of a piece of 1" closed cell foam, and carefully placed that down inside the bottom of the sound board of the harp connected it Into a smallmixer and then to pair of powered speakers on sticks. It worked perfectly, picked up plucks and tone, lows and highs, with no wind noise and hardly any footpedal noise. It was super easy, hardly any eq needed.
Great mic for live sound
I would definitely recommend this mic for live kick drum applications. It's performance is excellent. The bass is tight & clearly defined. I used it on a Pearl Reference kick drum with Camco Vortex-6 amps & Nexo S2 subwoofers.
nice mic easy to use
I'm using it live right now. Good crisp sound that can get the bass drum out there even without subs. Eliminated a stand that players had a tendency to trip over on tight stages.
Letīs have kick!
This mic really surprised me! I put it inside the kick drum and itīs amazing how well it captured the kick! I like bass drums with more lows and thatīs why I use another mic outside the drum. I combine them, so I have the low end of one mic and the kick and defiinion of the Beta 91 A, excelent! I use it flat, but it also has a low-cut switch. The internal pre-amp is great! Regular XLR cable are much easier to get. And it resists nicely under high SPL, no distortion at all!
A must have
Just had to buy this upgraded b91. Sold my old one and got this with standard xlr and eq switch. Everyone needs this. Period.
Versitile
This is a great Mic if your a sound guy or just doing your own drum mix.Put it in the bass drum and there's little to any tweaking.Bigger show I put a 2nd mic on the front cover.Unreal bass sound.
Great idea but....
Love the old 91 more. integrated pre-amp on 91A is a great idea but a lot of touring guys say that it craps out after a while. Better to have the old 91 with the inline (easily replaceable ) pre.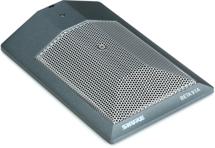 Condenser Boundary Microphone with Contour Switch for Miking Kick Drums and Low-frequency Instruments