Sort By Date
Sort By Rating
Customer Reviews
Keyboard Bench
Very stable and sturdy bench. Adjustable and easy to assemble with no tools required. In addition to the good product value, excellent customer service.
On-Stage Deluxe Keyboard Bench
I am amazed at the Keyboard Bench I ordered from Sweetwater! For the price I paid, I got far more than I imagined! It's a beautiful bench!!! It was easy to put together, and the padding makes it comfortable to sit on. I highly recommend THIS bench to everyone who is looking to purchase a keyboard bench!!!
quality keyboard
This keyboard is both practical for teaching lessons and fun to play. The grand piano sound is great and the weighted keys have a wonderful response.
great piano bench
excellent built, sturdy and collapsable.
very happy with this bench!
Comfortable and easy to pack up
Extremely comfortable. I can sit on this bench for over 3+ hours with out my bottom hurting. I've taken it around with me to play and it folds up very nicely and quickly. The adjustments are easy to change with one hand. It might be better if it had a rail to guide the stand when adjusting, but it doesn't really cause any issues.

The quality of the seat itself is very nice. It doesn't look cheap at all and it is sturdy. I would not recommend putting the chair at it's maximum height though. The reason for this is because it can tip if you lean too far on either side of the bench due to the narrow base it sits on at that height. Any other position is fine.

I would recommend this bench to anyone for home use or live performances.
Very comfortable and solid
Speaking as a big man! I love to play for, sometimes three hours at a time - no butt numbness anymore. Love it!
Keyboard Bench
Love the keyboard bench is is comfortable and sturdy and easy to adjust. Great buy. Thanks Brian for suggesting this bench it's perfect for my use.
Deluxe Keyboard Bench
I needed it and they delivered. Saved my butt. Good service and quick
delivery.
Good for many hours at the keyboard
The 3 inch cushion is supremely comfortable, and the chair can be adjusted to within a 5 inch range. I replaced the cheaper bench with the thinner cusion with this chair and can now play for easily a couple hours, whereas the old bench could only be tolerated for abou 30 minutes.
piano church
thanks sweetwater teen you are the best
On-Stage Bench
comfortable, sturdy, easy to move. I'm playing 3 hours on it tonight for Valentines party.
Top Notch
Very strong bench. Surprisingly wide and deep. Very comfortable. Only negative comment is that the legs do not remain attached when the bench is stored/flat.
Great bench
The bench is very comfortable and height adjustable.
Wonderful Keyboard Bench!
There are several keyboard benches out there and I must admit that most of them are a bit skimpy on the seating. This one is very well padded. Well worth the price!
Respect your butt
For the price, this seat is perfect. The seat is extremely comfortable and well padded. The body is very sturdy and I never feel like its gonna fold up under me. The adjustments are sturdy and will not accidently release if you have to quickly life and scoot the seat back or forward during a show. This is a real good buy and I'm very happy with it.
Best seat in the house
I am a keyboard player who used a Ludwig drum throne for years, but as I have gotten older, I have needed something a little more comfortable. This bench is just the thing. Not only is it way more comfortable, it is easier to transport. Plus, I am no lightweight, and I can place all of my bulk on the bench quite securely.
Wonderful
Easily adjustable and very comfortable.
Comfortable, portable
This bench is comfortable for long periods of playing, easy to transport, and generally a good product at a good price. One aspect of the description is wrong, though--while the bench height is adjustable, 20" is not the middle height, but the minimum. It will go higher, but not lower than 20".
Deluxe X-Style Bench
Perfect for our needs; durable; sets up in a snap; an very affordable! Has made in huge difference in our children's piano practice time. Before, just sitting in a folding chair, they couldn't quite reach or had to stretch way to long. Now, flip, adjust and tickle the ivories. Thanks
Glad I bought this!!
Geat size and well made. Very easy to adjust. Excellent price.
Great quality at a great price
Very high quality and is probably a 5 star bench. Since being tall cannot adjust as high as I thought I should. But then my previous bench was a stool! So I could have been just used to sitting higher.
Rugged and plush. A+++++
A SPLENDID CHAIR
After my gig chair died, an old war horse that followed me everywhere, I needed a comparable seat quick ! This sturdy throne has everything my old throne did. Good cushion. Tough build. I can stand on it and not worry about anything other than if I look cool or stupid.

I gave it 4 1/2 stars for one reason only:it needs one more slot to make it a wee bit higher. But, don't let that stop ya!

Sweetwater got it here fast. They get Five Stars.
On-Stage Keyboard Bench
Bench is well made, looks good and is easy to adjust for height. Folds and adjusts. easily and is a one hand carry. Wish there was a method to hold legs against bench in the folded condition. Good buy for the money.
Deluxe keyboard bench is great!
I love my new keyboard bench-the versatile heights and comfortable pad are exactly what I needed. Only complaint is the giant, oversized packing box/packing stuff it came in- seems the bench box itself should weather shipping fine. Not very green, I'm afraid!
Sit on it
A standard chair was just not the right height for me as well as uncomfortable. The Deluxe Keyboard Bench was perfect adjustment to fit my height and very comfortable as well as stylish. It was also more stable than I thought it would be. Very good investment.
Seems just fine
Just as listed. Happy.
LOVE IT
Great Bench. The ones by Pro-line are all made of the memory-foam, which gives too much and ends up making you work harder. This bench has a good, firm cushion in it (that you can't seem to find anywhere in the Pro-line benches). Sturdy metal frame. The only con we have found with this product is that the pleather covering seems to tear (slightly) at the seams, pretty easily. But (so far) it hasn't actually broken through the underside of the cover, so it remains intact. (Which is why we're giving it 4 stars instead of 5.) Regardless of this, tight bench. Well worth the money (especially at Sweetwater!).
On-Stage Keyboard Bench
The keyboard bench was exactly what I needed. It is easy to work with and easy to break down and store. I would recommend it to anyone.
Good Value
Sturdy and comfortable. Good value and gets the job done. Minor issue with rubber feet constantly coming off. There is no glue to these in place and the fit is not that tight. I will glue them myself.
Heavier than Expected
I should have looked at the weight when I purchased this, so I admit that this is my fault. I looked at it and assumed that this would be conducive to teardown and set up and moving and storing, but not really. Its okay but not what it was designed to do. A good/sturdy comfortable bench to leave set up though.
360Lbs. is a dream
I am on my 3rd or 4th one. Although they are comfortable and fairly sturdy. Be careful if you weigh250lbs. or more. I weigh in at 225-250 Lbs. and without fail, or with it I guess :) the weld at round tube to the square riser always fails. To be fair I use the bench alot at home and my computer and keyboard are a little bit a of a reach to get to everything so when reaching be careful not to tip up (front to back that is) on the bench or it will fail...eventually. I don't abuse it. The piano bench at my Parents in 50 years old or more and it doesn't have any problem with me or my heavier Brother. However it is wood and was " built back in the day" as they say. I do not however think that there is a better collapsable stand on the market, especially for this price. Sweetwater has always sent me a replacement when it breaks. Then I buy the next one as then it is about 2 years anyway. Just a warning to be careful about tilting front to back with it if you are over 200 Lbs.
Won't hold 360 Lbs. for long
OK - First of all I weigh 270-280 Lbs. at 6'3" and have gone through 2 of these benches. The welds at the junction of the bottom crossbars and the X bars tends to eventually break. It may be due toi the fact that I klive in an old house that doesn't have the most even floor so the bench rocks ever so slightly, but I don't weigh any where near 380 lbs. I am probably going to order another one as they are inexpensive and extremely comfortable, while they last. I can hear the replies now about me needing to loose weight and yes I havelost 90 Lbs. and plan to loose 80 Lbs. more to get under 200 Lbs. Thenthe problem should resolve itself. However for those fo you who do weigh in at 300 Lbs. plus, be aware that the bench might break. The price point and the comfort is what makes me willing to buy anther one and eventually I will be down under 200 Lbs. and should not have any more problems. I only write this as a heads up to my fellow BIG Brothers who play the keys. I also have it set to a fairly tall height which effects it's stability. So, yes it is a good deal all in all but I give it 2 stars as it should NOT be advertised to hold 380Lbs. On-Stage could solve to issur by changing how the X and the Round foot bars are joined, like welding them by olacing them through a squre opening and having the down bars rest on the bottom of the round crossmembers instead of welding them to the top of the cross members. I cam weld but have no equipment so I do understand what I am talking about. That way the weight would rest on the floor directly and not the top of the round cross member. I am also lookin at a Roland Metal Bench in a more traditional style, not too thrill with the Bronze color, but color can be changed, both od metal and vinyl. The padding however looks to be much thinner therefore less comfortable. Ah well....what to do? In the end though it is a GREAT bench for most people. Easy to colapse, stable, comfortable, just not up to the rated weight.(The vinyly/naugahyde is a bit thin as well) If it held the advertized weight I would give it 4 - 4 1/2 stars due to the thin vinyl. The price, however is hard to beat. Good playing...
Peace,
Brian Burke Jr.
[I use a KORG M3 all options except firewire. A Novation ReMOTE 61 SL. MOTU 24 i/o+6408 MKIII with a PCI-e card, MOTU Express 128, Pc with 16 cores at 2 ghx(soon to be 32 and much faster)16 GB Registered PC 1333 Ram(soon to be 128-256 GB PC 1600) 8 TB of 6Gb/s striped raid , ssd for the OS(Windows 7 ultimate x64) + 2 TB extra storage and Keepit Online backup GT249 Video Card soon to be ATI/AMD 7900 series, 2x 26" lcd screens, looking for a 12"-15" touch screen for software synth control, Blue Ray and DVD Burners. Eats up MAC's!, SONAR Producer, Ableton Live 6, Propellarhead Reason 5, Waves-ALL, Soft Tube, Izotope, Etc. Etc.)
NOT for wood floors!
10 years ago I bought a very similar cheap bench by Quicklok.
The problem:
The 4 plastic caps go away resulting in a bench literally sanding really hard your floor. I tried everything including crazy glue and nothing worked. The caps just WANT to leave!
I always left an apartment with a crazy sanded area where the bench was.
Well, it is simple: I used this one for 1 month and it already stats to do the same thing. I can't believe nobody though about that...
So my advice:
If you care for your floor, invest in something less cheap or you'll pay a lot more trying to restore the wood.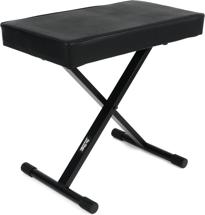 Deluxe X-style Keyboard Bench with Folding Legs and 3" Foam Cushion