Sort By Date
Sort By Rating
Customer Reviews
Next level pedeal
Excellent versatility and simple to use. Opens up an entire new world of opportunities for my bass playing.
Missing for all these years
I have been aware of these bass pre-amps that Tech 21 makes for at least 15 years, but never thought I needed one. My hartke bass amplifier seemed to have all the doo-hickeys I needed to shape my tone but I have recently been dissatisfied with what I have been hearing, mostly in the bottom end. My guitar player recommended I get one of these because in their words "it makes a bass sound like a bass". They weren't kidding. I love this thing.
Perfect Fit
I play in a Christian Rock band on Sunday morning. The space on stage does not allow for amps and other gear so I was asked to plug directly into the DI box. My 1995 Fender Jazz Bass sounded terrible. I did some research and found the Tech 21 SansAmp and it totally changed the sound of my bass. Plugged directly into the church sound board through the SansAmp my bass sounds better than using my bass amp.
Everyone in the band was impressed by the new sound. I have two preprogrammed patches, a deep fat and clear tube sound and a very nice distortion. I am working on a third sound but quite frankly I haven't needed it yet. I will probably dial in a nice funk sound.
The reason for the half star short of wow is because you have to play around a bit to get rid of the single coil buzz, but my two current settings are very quiet.
Small foot print and big sound make the SansAmp a perfect fit for me.
Awesome
I'm a upright bass player that uses a piezo pickup. This unit makes my bass sounds tight, full, and rich. It lacks these qualities with out this unit. It has fully ajustable EQ, and a mix between the samsamp and pure instrument signal. I program one channel for pizzicato and the other for my bow. The last one I save for my j bass. I don't plug my bass in with out the samsamp tech 21.
Its the best gear ive ever bought
I own the Deluxe version... its the best piece of gear i ever bought..
I now, only use the signal of the sansamp, i don't mind if there is a poor bass amp, or doesn't have any ... all my sound its stored there ... its amazing
Passive or Active, this is AMAZING
There's only so much you can do with on-board electronics. This box gives you everything you need to get your choice of just about any sound you could want without effects processing.

I was very encouraged by the amazing reviews that the standard Bass Driver DI received. But for $10 more, WHY NOT GET THE PROGRAMMABLE?!!! It turned out to be the answer to my problems!

I play in a musical theater that performs almost every style of music available. Getting crisp, high-end sounds from most electric bases today is not a problem. But when you're looking for the ultra-phat, thick and smooth, deep and low tones, you're almost limited to finding the specific bass needed for that tone.

Enter the SansAmp Bass Driver DI. The factory setting #1 for a Fat, tube-amp emulation did the trick! I used the same setting with a slightly increased output level for my palmed-string, upright bass sound and received numerous questions and comments about how I was able to get that sound.

While it produces a slough of sounds, I only needed a couple and the sound techs program the rest with the house system.

Additionally, I own a Fender P-bass Deluxe with both active and passive electronics. The T21 DI really does an awesome job on the passive electronics! So, I can rehearse 3 times a week, and do 4 to 6 shows a week, and NEVER have to worry about the batteries (there's 2 in the P-bass deluxe) in my active electronics! Well, not 'never'. But I'm certainly not changing them out every two weeks!

Three channels for $10 more than the base model was a win-win for me! Several other professional bassists and even technicians have heard this box and immediately decided they needed one for themselves or their church equipment.

If you're looking for the HUGE, PHAT sound that bassists all over the forums are asking about, it's right here.
Best piece of gear I've ever bought.
---------The sound-----------
This thing really is extremely versatile. The +/- 12dB three band EQ allows for a massive range of tone tweaking. The drive control can ad some of the richest overdrive I've heard from any stompbox for bass. From woolly Crossroads warmth with the highs rolled back, to brain damaging metal thrash with the presence boosted. That Presence control is a really nice one. Controlling the upper mids; increasing definition for punchy funk, or softening; for styles like reggae, in a way that compliments the bass and treble controls very musically. If you want a mid boost just roll back bass and treble and boost the level control.
---------Why four stars?---------------
I haven't brought an amp to a gig since I got this thing! Just plug it straight into the mixer, or the effects return of any bass amp and your three banked channels will kick out the tones you want. A great set up that this pedal allows is XLR out to the house PA and jack out to onstage amp for monitoring. It works a treat in recording situations too. Maybe if I had thousands to spend on all tube heads, and roadies and a truck to carry my gear I wouldn't need this. But for the price, the sound a features are unmatched in my opinion. To me this thing is a no brainer!
---------Why not 5 stars?--------------
I have a few small issues. The way the digital recall works; is that when you select a channel, the physical knobs do nothing. But when you move them, the value jumps to whatever the moved knob is set to. When this happens, the channel LED blinks. The faster it blinks, the closer the value is to the value saved on that channel. So you can manually reset the knobs to see what all of the saved values were. Great! ...BUT! When you do this, there is audible interference from the blinking LED to the audio signal. This only happens when the knobs are moved. If you save the new settings or recall the old ones, the interference disappears. This means that it will never really cause a problem if you have your presets saved before the gig. Another small problem I have is one of the channel switches has become very sticky, but I busk in terrible Irish weather, so this may be inevitable!
Not For Everyone
If you have a good bass amp and always use your amp, you do not need this Sans Amp. It is intended for connecting between your bass guitar and a mixer, PA or recording equipment, so that you have more control over your sound. I purchased it and I do not need it because I always use my amp. I will keep it because I know that one day I will play somewhere and just plug into the available equipment; this DI (Direct Box) should come in handy then. By the way, it is very easy to program and it comes in a sturdy medal casing.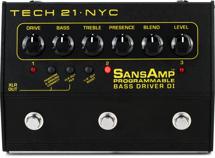 3-channel Programmable Bass DI Box with Drive, Bass, Treble, Presence, Blend and Level Controls