Sweetwater Advice
I use a few elaborate rackmount compressors in my studio to record my bass and searched for a way to bring that same great sound to the stage. When I found the MXR M87 Bass Compressor, my search ended. You get all the control and quality of a rackmount unit in compact pedal form!
Sort By Date
Sort By Rating
Customer Reviews
Great Piece!!
Now im compressed!!! ... and its awesome!!
Its amazing having all the control of the attack and release times!! im really amazed with the results.
I have 3 different bass guitars with different gains and i found useful to me, getting the signal matched with the rest of my gear
Amazingly Good
Even though many reviewers have said this is not exactly like a classic
rack mount compressor (1176? dbx?) in a pedal, I'd say it is amazingly
close. With a moderate threshold (input) slow attack and fast release
and a 4:1 ratio it provides incredibly musical compression. I personally
don't use much compression and while I have played around with the
higher ratios (limiter) settings to put the device through it's paces, and
it seems like it handles it well. The meter is very good, very visible and
the unit is built like a tank. Well worth the price.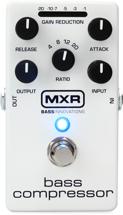 Bass Compressor Pedal with Attack, Release, Ratio, Input, and Output Controls and Constant Headroom Technology