Sort By Date
Sort By Rating
Customer Reviews
Excellent Instrument
Fully integrated and flexible, with good quality sound
Excellent device!
The BR 80 is excellent. It is packed with features. Effects, built in drum machine, 8 track multitracker, stereo recorder, mastering effects. You can create some very convincing demos on this thing. Is it perfect?...well, it is very close. It can even be handy as just an effect. I had a gig on bass ( I am normally a guitarist) took the BR 80 and my bass. Pluged into the PA and used the bass guitar efx in the br 80....worked great. This is the swiss army knife of portable multi trackers. It has more bang for the buck than any of the rest in this size/ price range. Sweetwater has tip top service, as always. Thanks.
Great Trainer and Idea Capture Device
I'm a guitarist with a modest home studio but, since my daughters birth I haven't been able to spend as much time in the "Man Cave" as I would like. Not that I'm complaining I just needed to retool to something portable so that I could practice while keeping an eye on my daughter. I first tried the 4 trk Micro BR and really enjoyed it but, it was lacking in odd meter metronome functions and the ability to import midi files. So I returned it and ordered the BR-80.

It is well laid out for such a small interface. If you are expecting a lot of versatility in workflow this is not your machine. It really is designed as a practice aid and idea capture device. You could with some effort produce a fairly good song with this device but, it really shines when used in conjunction with a computer running a software suite like Sonar, Garage Band or Pro Tools.

My current workflow involves using Sonar X1 or Guitar Pro 6 to create a backing track and then load it on to the BR-80. I can then either jam with it as an eBand song or record my guitar part in the multi-track mode.

The rhythm functions really are only good as a glorified metronome. The SMF(midi) import function works well if you need to load in irregular beat progressions or entire midi drum tracks. The sound of the kits is pretty primitive but more than antiquate for tracking along with.

So, for my situation this really fits the bill. I can export the audio from Sonar to the BR-80 and then record additional tracks. I then can upload the track to my computer and integrate it back into the Sonar project.
Better but not perfect
This is an excellent tool for any guitarist to have and I highly recommend getting one. As there are lots of ads describing great functions of this devise I am going to concentrate on shortcomings only.
1. If you have finally figured how to use the previous model BR-4 and want to upgrade it to BR-8 all the time and effort spent on learning BR-4 is now a waste of time. BR-8 is an absolutely different devise that must be studied all over again. Even worse, when you try to apply BR-4 logic to the same function you get frustrated each time pushing the wrong button.
2. On BR-4 you could record a song and during the mastering convert it to MP3 which made lots of sense to me. BR-8 does not give you that option. Your song will end up being either WAV or AIFF that take lots of memory and cannot be emailed to your friend. You will have to import them to your computer and covert them to MP3 on your own.
3. BR-4 could be used as a MP3 player, BR-8 is not designed for that. Though you can copy MP3s to its memory under eBand folder for Mastering or even Live and use them from there that is something for you to figure out as it is not in the manual. If, say, you copy them under User, that would make more sense than Mastering, you won't see them.
4. There are a few software applications that are saved on the memory card. You will have to open, unzip and install them from there. Why couldn't they come on a CD? If you accidentally delete one of them, it's too bad.
5. eBand being a great idea otherwise does not fit into this devise in terms of the reason you buy this recorder for. I would rather not have it as it takes up memory and has all kinds of functions that are unnecessary. And if you have not backed up your memory card and accidentally deleted some files while figuring how to use it then too bad again. Your eBans turns into a dead feature.
6. If you created some songs and you want to back them up on your computer you will have to figure where in the vast majority of existing folders they are hidden. This is where I miss BR-4 most.
7. For backup operation you will have to copy the WHOLE memory card to your computer. If in the meantime you created a nice song and suddenly your memory card shows a problem in order to restore the functionality of BR-8 you will have to copy back the WHOLE content back to your card. That automatically deletes your songs that you just recorded. Really?
If you are a computer programmer that wants to learn playing a guitar you will like it a lot. If you are a guitar player that tries to figure how this thing works you will not be thrilled. However, by no means I am trying to discourage readers from purchasing BR-8. The service you can eventually get from it will overpass any of the above.
Boss MICRO BR-80
Just received my unit yesterday and have been playing with it for several hours ever since.

This unit really has a wonderful number of attributes, all of which compelled me to sell my Tascam GT-R1 and purchase this unit as a replacement. I won't bother trying to rehash all of the features; one can easily read about those on the Roland site. In short, the ability to record via the built in mics, leverage the built-in 8-track recorder and/or jam with your favorite tunes, while slowing them down if necessary, with a single, compact & portable product is remarkable.

That said, of all the great features that this unit has, one of the most compelling for me is eBand. In fact, I about a year or so ago, I purchased the eBand JS-8, but since it doesn't work on batteries and I usually have a battery powered amp available, I returned it and simply leveraged the aforementioned Tascam unit for most of my play along needs.

Of course, the BR-80 is actually three units in one, which includes the JS-8 less the speakers. So together with its size and portability, it is definitely a keeper.

However, I am a little disappointed in one aspect that you may want to understand before purchasing too. It is the reason that I am only giving a rating of 3.5 stars…nonetheless the unit is still a keeper.

The issue that I have is twofold:

1) You have to use the Boss Song Editor application to import songs into unit's database and hence have access to the song through the eBand interface on the unit. That is, you cannot simply drag & drop files to the unit and expect to see them in the menu;

2) It would appear to me that you are restricted to the limited folders provided. That is, if I want to add a bunch of music to the SD card and maintain a folder for each artist and perhaps each album, it won't see the music – it appears that all the MP3/AIff files have to go in one of a couple of folders. I have placed a call into support just to double check, but I think my understanding is correct...

This unit is great for everything that it was intended to do, but the silly DB/folder hierarchy that it uses prevents it from also being an "organized", general MP3 player. That's not to say that you can't put your favorite songs on the unit and jam with them while having the ability to slow them down, for example. But, the means by which the unit was designed to support your pre-recorded files is clumsy and one quickly realizes that it is less than an organized as one fills up a 32GB SD card with MP3 files, for example…

If I find that my understanding is incorrect, I will post here, but this is also how files are handled with the JS-8, which supports my understanding for this unit…

The unit is not meant to be a general MP3 player, so I can live with the DB/folder hierarchy. The MTR and Live Rec functions work flawlessly.
If you want all of this power in the palm of your hand, buy it and you won't be disappointed.
Botched "upgrade" that drops key features
Botched "upgrade" of original Micro BR removes 2 useful features: (1) You can no longer set auto punch-in/punch-out points on the fly, by tapping the A/B button. Instead, you must navigate menus, then key in specific time points or measure numbers -- insane. (2) No more onboard track export or mixdown to MP3. You can only mix down to .WAV -- also crazy.

Many people will find the original Micro BR (which is now discounted) more usable. It's a good multi-track recorder, and an outstanding practice tool for guitar (etc.) Also consider the Zoom H4n: Similar onboard amp models and guitar/bass effects, but with higher sampling rates, better specs across the board, better onboard mics, and XLR inputs.

This BR-80 adds several new features/models that the original Micro BR lacked, but they don't offset the removed features. Odd anachronisms and limitations remain: No 96 kHz/24-bit recording or modeling. Only two delay models, each limited to 1 sec. New auto-tune and auto harmonizer can't be chained to amp models or guitar effects.

What's new? You get 8-track mixing and 64 tracks per project, instead of 4 and 32. Stereo onboard mics, instead of mono mic. Support for SD cards up to 32 GB, instead of 1 GB. Limiter and 4-band EQ are now chainable to the guitar amp/FX bank. Several new amp models for guitar and bass -- but they aren't that well-differentiated, and their 44.1 kHz sampling leaves them sounding a generation behind Zoom's 96 kHz models. Several new FX models: distortion boxes, Uni-Vibe phaser, rotary speaker, octaver, guitar-to-bass (fun), and "acoustic simulator" (poorly rendered). MP3 playback no longer locks out reverb bank. Meh.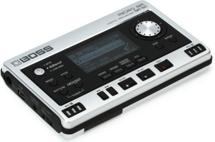 8-track Digital Recorder/Audio Interface with 2-track Simultaneous Recording, 8-track Playback, 64 Virtual Tracks, and COSM Effects