Sort By Date
Sort By Rating
Customer Reviews
Great speaker and value!
Terrific speaker. Very small, light and loud. Can grab to at a time, easy to put on stand alone...they are great!!! Less expensive than Mackie, sound the same.
Great Speaker, Great Price
As a cocktail player, this Speaker meets all my needs !
Clear, Light Weight, Powerful, Great Price !
Behringer Eurolive B212D Monitor Speaker
I used this as a stage monitor at an outdoor concerts event and side by side with unpowered monitors the B212D was far superior. The lead vocalst was very pleased with the sound, clarity and performance. The Sound tech at the mixer was very happy with the speaker.
Behringer b212d
Met the best price. Prompt delvy. Speaker all that i expected.
Great Little Speakers
I was really impressed with these little things, I was expecting a normal sized monitor, but when I got the box and saw what size they were I was shocked.Then when I plugged them in and heard how amazing they were I was truly blown away, these are a great buy.
B212D: Serious Bang for a Few Bucks
I had no idea Behringer was making gear of this quality. I shopped around for quite some time and ended up buying two of these due to the extremely low price. I was completely blown away by the caliber of these speakers. The high end is crystal clear and the low end is punchy and super clean. These leave absolutely nothing to be desired. If you are on the fence, just buy them. You'll be very glad you did.
Church 104
This product is amazing! We love it...
sounds good
I use this for practice and it's more than enough for vocals. Loud and crisp, but a little hiss but not too bad. I will buy another one soon.
Berhinger B212D
Everything as advertized. Big sound, light weight, reasonable price but no paper work of any kind. Five vocals taxes the head room, but so far so good, clean if we stay off the mikes. Great for the price and better than the alternative.
Great product
Second one I bought, use them as monitors or mains. Very light and loud and clear. can't ask for more for the $$$.
Great!
These are great little speakers! By little, I mean they are not too heavy. They are big in sound. For the price you cannot beat them. I have three of these. I use two for mains and one as a monitor. I have used them a few times out and about, and they really are good. They don't sound as good as the 15" mackie's, but these are $229. I have played rooms that seat 250 people and outdoor events and these put out plenty. A little bit of eq tweaking is needed in certain applications, but if you are just starting out or are on a tight musicians budget, don't think twice. When you upgrade your mains just put these on the floor! They make great wedges.
Gets the job done.
I play in an alternative metal band, we got this amp mainly as a back up PA system until we got all the gear we needed. Considering the price, it's an alright deal. Nothing spectacular about the specs, but you get what you pay for. Very lightweight and not awkward to move around. The biggest downside to this is that it really can't sustain a very high volume without peaking (Even with a mixer managing the levels).
Great While Working, NO SUPPORT WHEN NOT!!!!!
These speakers are fine for the price. As long as they work the will do the job. When the fail and they will due to poor power supply/amp design. You will not be able to get them repaired. Currently Behringer say it will be months to get parts to repair them. I have 4 of the speakers and 3 have failed. The power supply has died, just after warranty expired. Behringer will not do anything to help.
I was told by Behringer repair centers that they should replace them for free since they could not get parts to reapir them. Behringer only offered to sell me 3 more at full cost.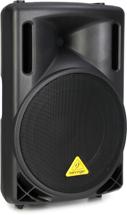 12" Powered PA Loudspeaker with 550W (Peak) Class D Amplifier, Built-in HF and LF Protection, and Integrated Pole Mount