Sort By Date
Sort By Rating
Customer Reviews
Cool! Less is more though.
Great tool. I find that it works best with an aux. bus. Less is definitely more with this plug in. It can really add that sometimes elusive crispness to a track.
Very unique!
I got this tool to brighten my mixes in Ableton, as I found them somewhat muddy on average, and wound up really pleased with my purchase.

Waves & Sweetwater describe this accurately, stating that it brightens the mix, but it's not an equalizer, and they definitely got that right. It's got a real unique treatment about it. I've sort of grown to think of this as doing to HIs what Subharmonic Synthesizers do to LOs.

Since there are only five of the real units out there, I can't say how close it comes to the real deal, but it's got a unique vibe to any other plugin out there that I've heard.

I'd recommend using this on a bus, not individual/master channels, as it can be quite harsh. It seems like a one trick deal, but it's been a super addition to my mixing experience.

- Rated a 4.0 for it's unique but limited use.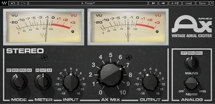 Aural Exciter Plug-in with Insert and Send Configurations and Mono/Stereo Operation; RTAS, Audio Suite, VST, AU - Mac/PC