Sort By Date
Sort By Rating
Customer Reviews
Very good deal!
There are great amp stands and inexpensive amp stands, but the two do not often go together. This one does. A great value.
Great Stand!!
Super top quality!! I'm very impressed!!!!!
The perfect stand
Takes up very little room in transport. Extremely easy carry in and set up. Perfect for my particular amp. It will safely support a lot more weight than I will probably ever need. Love it. Good price, too.
Excellent!!!!!
I gotta say, for the money, I could not have found a better deal on this amp stand. I research like products on line. Read reviews about other stands and compared quality. This amp stand by far is the best deal out there. And yes, it is tough and well built. It will hold a massive amount of wait due to its construction and engineering. Great buy at Sweetwater.
Make a great amp better
If your amp doesn't have "tilt back" legs then you should consider purchasing this stand
It gets the amp off the floor and to the proper height and angle to propel your sound correctly throughout the room.
It is constructed extremely well and incorporates steel safety pins which will give you confidence that your amp will stay safely in place.
After seeing how well it holds my Blues JR3 amp and the way it makes my great amp look I decided to buy a second one for my Vox AD30VT

Oh...and one more thing. The only thing cheap about this stand is the price!
Nice Product
Stand is very sturdy and fits my blues jr. perfetcly. I will probably order another one soon.
Bargain easily....
Even if you put the stand on wrong you get two different heights!
Very cool... 150lbs holding which covers even my large combo's.
Solid welding. Put together in seconds and portable in 2 pieces.
Just a great system. What else do you want? A++++++++
Awesome amp stand
Great product. Easy to tear down and transport. Height adjustment is a big plus. I bought two of these for my amps after using one of my friend's at a gig. On-Stage makes great products and this is just another example of their quality.
"ALAN SAY'S BUY IT !"
I Bought 6 of these little amp stands for my recording studio. I use to use straight chairs. Not only do they look kinda lame in a recording studio, but they don't have the tilt back capability, nor can you raise or lower the hight. If you don't own one of these, you have done yourself a great injustice whenit comes to play live or in a studio. Thank's again Guy's. Joel Gragg my sales engineer alway's treats me right!!!!!!!!!!! Ya'll have done it again!
Stands Tall Thru It All
At it's tallest setting it is the perfect height for the 1x12 Laney tube combo I have sitting on it. Also, the angle is perfect for monitoring. If I ever need another Amp Stand it will definitely be another RS7000. Thank you Sweetwater, You Are The Very Best In The Business!
Love it
love it worked just the way I had hoped, got the lead guitar's to be able to hear how lond he was so I could mic it, run it threw the mixer and make it just right the the crowd. before when his amp set on the floor he would have it so lond it would over power every one else in the band
Nice Stand
The RS 7000 breaks down and sets up fast. The ad has an error. It states, "Added support arms fold down for quick and easy storage" should read "backrest folds flat to base".

The rubber feet come off if you try to re-position amp with a heavy amplifier sitting on it. Stand was on concrete at the time. Feet have been reattached with construction glue. Other than that, I highly recommend this product.
Great Amplifier Stand
Great stand. Holds/Supports my 47 pound Genz-Benz Shenandoah 100 Acoustic Guitar amp nicely. And it folds up nicely when you're ready to break down from the gig. Might have to buy another one soon for another acoustic amp I am looking at. They are great for in home recording studio use too.
GREAT STAND!!!!
works well, solid, looks good! what else can you ask for!!!!
Scored!
Got it at something like $25. Are You Kidding Me? Very sturdy. easy break dwon for transport. Get on you woun't be dissappointed !!!
Sturdy
Fully adjustable stand. I use it for a Princeton Reverb, but would hold a larger amp as well. Small footprint.
Works as expected
Works exactly as expected. Good value for the money.
On-Stage Stands Tiltback Amp Stand
Great design overall, but foam cushioning on L-brackets that hold amp is not attached very well. I expect that after repeated use it will probably deteriorate and need to be replaced. But it's a minor problem that doesn't compromise the sturdy structural integrity.
Looks cheaply made
Bought this because a friend has one and I liked the quality. But when I received it the stand it looks like they scrimped on the material. He has the exact model number I have but there is definitely a difference in quality. It still does the job but the company seems to lower the standard and charge the same price.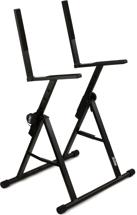 All-steel Tilting Combo Amp Stand with 5-position Height Adjustment and 152 lb Capacity - Black