Sort By Date
Sort By Rating
Customer Reviews
Great Strings
Strings perform as advertised and feel a bit smoother with reduced noise and noticeably less squeak. Tone and volume are great, no complaints there- wouldn't be able to tell the difference based on what/how I play.

This was my first try at using coated acoustic strings (normally play Martin 80/20s) and after reading some postings on other sites I worried that they might be hard to get a grip on and bend, but that's not the case at all.

Great if you've got 'acid hands' like mine and run through strings - if not then you might not get the extra mileage out of them.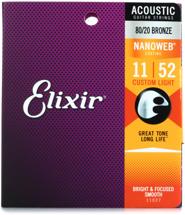 .011-.052 Nanoweb Custom Light Gauge Acoustic Guitar Strings