Sweetwater Advice
The Alan Parsons Art & Science of Sound Recording DVD set is outstanding to say the least. From the beginning, I was impressed with the depth of concepts provided, and Alan's ability to keep things light. Smartly, one of the first chapters is on acoustics, which many budding engineers overlook. I strongly recommend this pack.
Sort By Date
Sort By Rating
Customer Reviews
Alan Parsons - GREAT reference DVD
Every step of the recording chain... hardware and techniques are reviewed in a thoughtful, clear manner. I could not be happier with my purchase and will be reviewing this dvd over and over again.
Tired of looking back to your volunteer soundman pastors?
well, here is a instructional dvd for your churches sound/video ministries volunteers. You won't regret this investment plus will absolutely save you "some" $$$$$$$. That's right, small to mega churches, your analog and digital boards will thank you for this. If these mixing boards could speak, they would rather slap that arrogant wanna be sound engineers volunteer on your sound ministry. Just kidding, well true for me but anyways.
I learned even much more with this and will definitely show it to our volunteers in our video and sound ministry. your main sound engineer will absolutely love it and will save them time for crash courses.
Plus, you can always go back and review a certain/specific subject such as graphic and parametric EQ, compression/limiters, filters, noise gates, attacks, Ratios, release, saturations, This instructional dvd is absolutely the best. Nice video work who ever edit this dvd. awesome!
Great gift for a musician
Gave this to The Boyfriend for his birthday and he wouldn't stop talking about it! Was a great gift and definitely worth the money to see his excitement. I watched a segment of the first disc with him and I have to admit it was very interesting and a well-made instructional video. My only worry is that I ruined any future gifts – they won't be near as good!
Indispensable bank of knowledge for beginners to pros!
Excellently produced, in-depth program put together by Alan Parsons, with some narration by Billy Bob Thornton. These dvds discuss in pretty fair detail all that is listed in the product description; nothing is really just 'touched on'. It's well-paced with interviews, examples, Alan's own discussion, and animations. Alan and all who are interviewed have a lot of knowledge to share here, and I enjoyed watching the whole thing and learned a lot more than I thought I would.


Think of it this way; would you pay 150.00 to go spend several hours with Alan Parsons as he talks with you and works with you on all these aspects of recording? It's worth every penny, and I feel any musician or engineer/producer down to home hobbyists can glean some great info from this set. Recommended all the way.
Always good to refresh!!
The best part of this video is that Parsons builds a new studio to work in, so you get to see all the work that goes into designing a studio. I wish there was more of this and much less salivating over old gear I will never get my hands on. Overall, especially the latter section on EQ and compression, are a great visual on what you read in all the studio manuals.
Overview of a recording from start to finish.
I own this set and have viewed it several times. I'm a long time fan of Alan's, particularly his mid-70's APP albums such as Pyramid and I Robot, both recorded at Abbey Road with fantastic production and orchestration. The included song / production and creative approach in this dvd set is far too predictable and un-dramatic for my tastes, but it does make for enjoyable and clearly informitive reference.

There are some flaws with the set here, first the packaging...
3 dvds and a flimsy brochure in a large box too bulky and highly impractical for repeatedly accessing the discs. At this price a small book with a glossary, diagrams and other info should have been included as well as a more practical, compact case for the discs.

The program material itself rarely digs into the cracks or touches on the esoteric or the real "magic" if you will of a standout / stellar recording. But we are given a colorful, easy to understand, chronological look into the recording of a new song from the beginning upto the final mix. Even before a note is played we get a very good history of sound and recording as well as showing a basis for building a studio from the ground up.
The whole program progresses in a logical order.
Analog and digital gear is spoken of, seen and heard throughout though analog tape is never actualy used.
Best of all, I gained, was from the industry pro interviews that are relevently included throughout the chapters such as Jack Joseph Puig, Ed Ainsley, Micheal McDonald and even Carol Kaye talking about playing bass on an old Sonny and Cher session ! My bassist friend loved it when I showed it to him. Even Billy Bob Thorton's narration throughout is suprisingly well suited.
I wish there had been more, or anything, about recording with instrumentation besides only the standard guitar, bass, drum, keys and vocals layout, oh well.

This set is well served for the engineer or producer who still seeks that complete, overall perspective. Well seasoned pros may or may not learn something new here.
All in all a great, if even at 8 hours too brief, of what the package title suggests.
Experience in a Box
Here is one place is captured years of experience making music. Including tips on how to mic and record an electric and acoustic guitar, drums, keyboards, organs, vocals, and other sources.

Alan interviews various luminaries and has them describe their tricks and tips, and then describes how he likes to do it, but then often gives license to do it differently by having opposing views from respected experts, one saying he likes digital mixing, and another saying he likes analog mixing for example.

Alan takes a song from start to finish and uses it as an example for each step in the recording and mixing process. I found this very helpful in tying the many parts of the DVD into a comprehensive whole.

I have watched, and listened to these 3 DVD's several times and learned something from them each time.

One person commented on the packaging, and I agree. The packaging is perhaps appropriate for a gift, but is not really useful for someone who plans to keep the DVDs in the original package for quick reference. Its OK though for me. I am keeping my DVDs in my DVD magazine for instant access!

I saw Alan at the 2011 Gear Fest, and was inspired by him. These DVDs are a good follow up to that event. Thank you Alan for sharing your years of experience unselfishly.
Interesting, entertaining, but more for beginners.
This series has an interesting balance of beginner info and pro tips. Strongly recommended for beginners, suggested for more advanced recordists - if nothing else just to see how Alan works!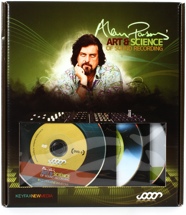 Recording Tutorial 3-DVD Set Featuring Alan Parsons