Sort By Date
Sort By Rating
Customer Reviews
Vox AC30C2 (Black)
One of the best Tube Amps I have ever owned! That is a lot.
Great for Classic Rock from the 60's and 70's
Other useful tones ala REM, Tom Petty are easily obtained and sounds great with D.I.Y. Pedals I have built myself from GuitarPCB to further enhance my sound scape. Reverb is lush, warm and real. Tremolo is equally stunning. A true winner and worth every penny not to mention the great Customer Service and Warranty from Sweetwater.
Vintage Tone with a Modern Amp
I have several Vox vintage amps, but I really don't like taking them to gigs because of their fragility. So I'm doing the next best thing by bringing my new Vox AC30C2 amp! It's a great plug and play amp and with a few pedals routed through the effects loop and onboard reverb and temolo I've got all the sounds I need with plenty of power to spare! Also I link the Normal and Boost channels to get a monster sound! Greenbacks are also my favorite speakers. Special thanks to Brendan Murphy, my sales rep at Sweetwater!
Vox Rocks!
I have not played through a tube amp before but a friend suggested that I get a Vox and expand my sound. I am so glad I did. Does not matter what I play, Strat, Tele or Les Paul my VOX AC302C2 delivers the best tones. Weather I want more grit for my country rock songs or I want a fat, rosey tone while playing the blues I get it all with VOX.
Great amp for the price...
So far so good...Definitely has the Vox chime...I'm no purist, so I can't comment on how much like the originals it sounds, but it's one of the best, if not the best for what it costs. (not for metal) I had the Custom Classic before this and traded it off. It sounded good too, but not sure that I was a fan of the Wharfdales, when they switched to Greenbacks I was sold. I definitily think they are an improvement. Never played one with the blues, but to pay 50% more just for that option doesn't seem to make sense. It's labled as the most versatile yet, but it seemed like the CC2 had more features..but simplicity is great here. Definitely glad to have an AC30 back in my collection. Sounds great with Tele's especially if you want a Paisley ish tone. note...doesn't come with a footswitch and yes it's made in China. But I appreciate Vox not jacking up their prices 20-30% each year like Gibson/Fender...Give Brian Cravens a call at Sweetwater and he'll hook you up!
Truely Cool
This is awesome. I played everything and the ac30 won out. My ears prefer the el84's. it breaks up really well and just sounds soooo very vintage cool. Love it!!
I love the AC30
The sound is amazing. Very vintage. I have never heard another reverb quite like it. I prefer the el 84 sound over the fender 6l6/6v6's. The I wish this had two completely different switchable channels. via foot-switch. It is what it is. Great value also.
ac30 c2
I've had mine for less than three months and it sounds truly terrible cranked all the way up now. At first it sounded great and i loved it but progressively got worse. I thought maybe it was my cord or even the tubes (even though they were "brand new") but no it just sounds so muddy and the speakers have a weird metalic buzz sound that drives me crazy. I'm no professional with tons of tone experience and i can still tell somethings just not right!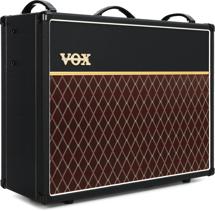 30-watt, 2x12" Combo Guitar Amplifier with 2 Channels, Footswitchable Reverb and Tremolo Effects, Effects Loop, and Celestion G12M Greenback Speakers