Sweetwater Advice
The Universal Audio 710 Twin-Finity is one great-sounding preamp! I recently did a shootout with it against several other high-end pres, and it stood out as being the most versatile in this price range. If you're looking for your first high-end preamp (or just want to add another great, multifaceted pre to your sonic arsenal), then you should definitely consider the UA 710. To Twin-Finity and beyond!
Sort By Date
Sort By Rating
Customer Reviews
Smooth as Blue Bonnet
If you farted into this unit it would come out the other end smelling like roses. Tons of headroom and just simply amazing.
It Sounds Amazing!
I've owned this pre for a month now and i would like to start by saying this unit has a great overall warm sound to it wether you are 100% SS or 100% Tube. I like the construction of this unit as well, everything just feels good. The SS side of this unit is ultra clear with a classic UA warmth to it. Now it may not have the biggest tube sound but thats a slight compromise for the blend-ability between SS and Tube. Now as far as being able to get that sweet harmonic distortion from your tube side its all there. Just play with the blend, input and output knobs and YOU WILL find that sweet spot you're looking for. To sum it up this in awesome mic pre with a ton of tonal variety and you wont be disappointed.
A great Choice
I own one of these little pre's and it is well worth the UA name and history. i have also owned the UA SOLO 610 as well that seemed to be a little dark sometimes....ne way, I basically second everything the people have said prior to my review about the 710. You have the ability to dial in the exact color your are looking for between classic UA FET and Tube. If you can afford it, buy it.
Awesome Affordable Pre!!!
This thing is great. It will breathe new life into your recordings. The tube side has that nice smooth tubey sizzle, and sounds great when pushed into an overdriven sound. The solid state side is clean and pristine, and tends to have deeper lows than the tube side. My magic spot is about 1:00 on the blend knob. It gives me the fullness of the solid state side and just the right amount of tube goodness for my taste. I record vocals and acoustic with an AT4047, and every other mic I put through this thing sounds great too. I also use it for line in guitar and bass. It excels at every task I throw at it. Get one, you won't be disappointed.
Absolutely AMAZING!!
If I had the money, I'd build a house out of 710 Twin-Finity's. Absolutely sounds amazing on anything you use it with. I have an Avalon U5 and it doesn't compare to the Twin-Finity.
Night and day
I recieved my 710 from Sweetwater yesterday, and tried it last night. After reading many positive reviews of this thing, all I can say is WOW - no noise, clarity to the extremes, and the only words I can use to describe it is - the 710 brought a "silky smooth" tone that I had not heard from other preamps, and I've tried a bunch - I'm always going for "that sound" - it's a neverending obsession! Great price, great value, great tone, and best of all, it brought out wonders in not only the vocals, but also the guitar and bass tracks. I would recommend this little powerhouse to anyone - no studio should be without one!!! Kudos to Reuben at Sweetwater too for the great service! Thanks!
Superb quality and unique flexibility
To use my Beyerdynamic M160 mic for recording a flugelhorn, I needed a preamp with a great deal of gain. I had tried a Studio Projects VTB-1 which gave me the gain and a mix of tube and solid state, but at the expense of added noise. The new UA 710 gives me the warmest and cleanest sound on the flugelhorn I have ever heard from any recording setup, including an old RCA ribbon mic through an Avalon pre. I am just beginning to experiment with the combination of sounds by dialing in varying amounts of tube warmth, but just from my initial success so far, I am delighted with this unit.
One Pristine Pre
This preamp is incredible. It is bright and clear, even on the tube setting. Don't get me wrong, you can really drive this thing with the input gain set correctly. The best way to describe it is "Accurate and Versatile." It's got that signature UA color both for Solid State and tube. For me, its crystal clear quality and pristine sound really make it a winner. Super versatile. Very useful for ALL sorts of applications. I use it on everything now!
A Winner
I am not a full blown audio engineer so I cannot get down to the nitty gritty as far as specs go, etc.

As a Professional Voice Actor what I must have is confidence in my equipment to deliver the sound that I want for any particular job I am working on be it a commercial, an audition or a recording a book. The Twin Finity fits the bill perfectly without having to jump through too many hoops. It has made my life easier and more importantly better.

In my world the Twin Finity is a winner.
Universal Audio 710 Twin-Infinity
I was looking for a preamp to record trumpet with my Royer R121 microphone. I was having difficulty capturing a warm, full spectral sound. I spoke with Brian at Sweetwater and he suggested this preamp. It has done wonders for the recording of a high sound pressure instrument. The tube section allows a warmth without overloading the preampand allows me to come closer to that professional sound like Chris Botti.
Amazing pre!!! LOVE it.
The reason I bought this was to have a high end signal pushing the vocal recordings in my studio. I've been using a Presonus Studiochannel for the past 2 years and that thing is, surprisingly, really really good for vocals. So, when I did my first vocal recording on the 710 it did not turn out well. I guess I've been used to the compressor on my Presonus to control the levels. BUT, the overall sound that I did get from the 710 was just amazing. big, smooth, etc. The levels were out of control but this thing isn't meant to fix that. I just need to get a compressor. No big deal. The 710's sound was obviously "high-end". With bass, it's rediculously smooth sounding. I love this thing. I'm gonna build my own channel strip by adding a 500 series compressor coming directly out of the 710. Then there will be no doubt that our vocals will be perfect. I gave it 4.5 because I still don't use it exclusively for vocals until I pair it with a comp. This is the best investment I've made so far. Plus you get the UAD-2 for free so why not spend $800???
Excellent sound
There's only one preamp I've used that sounds better than this, the Requisite PAL Plus, and that's 7 times the price. Preamp "sound" is extremely subjective, and most nuances beyond a base level of fullness is only detectable by an engineer or very seasoned producer.

I've been recording and editing voice over for 10 years, and while I don't consider myself an audiophile, I think my listening is in a "sweet spot" between a die hard gear junkie and a straight up consumer. This keeps me objective, and the 710 fits that spot perfectly, which makes it great for my recordings. These days if Imogen Heap can get a TEC award / Grammy for her recordings and there are plosives and sibilants, the days of utter pristine (and less realistic for that matter) quality are over. Save yourself the trouble of an Avalon unless that's your comfort zone, and grab one of these puppies.
So great, that I'm buying another one!!!
This is my fist professional mic pre and I love it. I use it on vocals,drums,and bass lines. The ability to blend the tones was a true selling point for me I'm going to buy a second on so I could have a stereo pair.
very good pre
........picked up two from sweetwater and love them. Have and will become the front end to my toft atb 32. Is punchy like the toft stock pres, but a ton more open and sparkly when compared to. Added a very pleasant shimmer to top end on my overheads and retains the lows of toms well, in comparison to own two ears in front of toms. Minus 1/2 star due to, as some have commented the knobs being made of plastic, having to center the knobs so both gain and level zero with the labels. But with little patience and focus, is not a big deal. Quality of sound far precedes the negatives of the knobs......
....sound source is like you hear it with your own ears, but with sparkles!
A big thanks goes out to sweetwater rep Monty Montgomery for all the help and advice this years. Thanks for being part of this journey!

Twin Finity ROCKS!
Following is a quick sampling of just using it as an instrument DI:
12 string acoustic: Fully Solid state was super clear crank up the blend to about one or two o'clock and it has this smooth full warmth without much grit....
Fretless bass: being a bass player I have generally tended toward Solid State although - one of my go to's has always been the venerable ADA MB-1 - you can blend solid and tube on that pre- this does exactly the same - hit a compressor after and the thing punches you in the face! You can go from Trace Elliott to Ampeg with the turn of the blend knob....
Very well
I love this . Has a nice feel to it , but there is better ( Avalon ) Other than that Nice for its price !
Sounds good, feels plastic
My first impression of this unity wasn't very good because os the plastic feeling of the knobs. For U$800 and a brand like UA, I expected more.

When I pluged my bass and mics, the sound was pretty good, with great flexibility through the blend knob.

This unit tends to add lots of coloration, but the FET side can still deliver transparent sounds.
I expect more for my money
Let me start off by saying that this thing sound very very good. My problem is that with an $800 price tag it sure feels very cheap. The knobs and pots especially. It should only cost about four to five hundred dollars at the very most. I highly recommend the 610 or daking for this price range.
Infinity is a big word... that this does not live up to...
It sounds ok, but I hear no difference at all between the trans and tube sections when turning the blender knob. I'm not sure if mine is not functioning properly or if this is how they are supposed to be, but I'm not impressed.

The build quality seems quite cheap. The front panel Hi Z input jack has no nut to secure it to the panel, does not inspire confidence that it will last without breaking loose from the pc board after you plug an input jack in and out several times.

It wastes space in my studio, being 2 space 1/2 rack, it would be better in a single space full size rack mount. There's really not much inside anyway... There's nothing else I can put in that hole to the right of it in my rack.

It contains only one tube. Just enough to legally be called a tube pre, but not enough to be sonically effective.

Seems to be more of a gimmick piece than a real contender in the pro tube pre market. Maybe an attempt to compete with Presonus and Behringer? Just not something you want taking up space in a pro studio.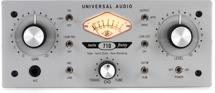 Tube/FET Preamp and DI with Tone-blending Knob, Dual Gain Stage Settings, and Discrete JFET DI Input