Fulltone '69 mkII
Item ID: 69mkII
Yes, It's In Stock!
This item is available for immediate delivery. You'll enjoy the fastest delivery time in the industry with our centrally-located warehouse and latest shipping cut-off times.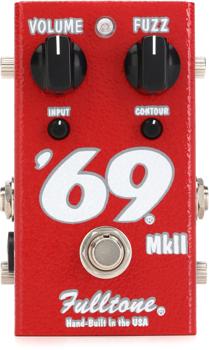 Click to enlarge
Free Shipping
Price Drop
A Reintroduction of a Classic Fulltone Pedal
Now that Fulltone founder Mike Fuller can get matched pairs of germanium transistors again, he was finally able to reintroduce his first pedal (the '69 fuzz pedal) as the '69 mkII fuzz pedal. The '69 mkII is everything you're looking for in a fuzz pedal - vintage vibe, flexible tone, solid construction, and a great feel. That's probably why the '69 is a favorite of Eric Johnson, Robin Trower, The Black Crowes, and many other notable artists. Four knobs give you all the control you need - input level lets you find the sweet spot, and fuzz dials in the right amount of funk. Use the contour control to perfect the midrange, harmonics, and sustain of the effect, then adjust the volume to hit your amp just right. And if you're a tweaker, there's an internal control to adjust the clipping symmetry, harmonics, and tracking, for a completely customized feel and tone! Don't settle for just any fuzz pedal. Get the Fulltone '69 mkII.
Fulltone '69 mkII Features at a Glance:
Internal bias trimmer gives you unprecedented control over your tone

True bypass for sonic purity when not engaged

Ultra-rugged design will take a licking and keep on rocking

Contour control can smooth out your sound, or make it cut right through the mix

Matched germanium transistors give you a true vintage vibe
The Fulltone '69 mkII is a fuzz-blast from the past!
| | |
| --- | --- |
| Specification | Detail |
| Type | Fuzz |
| Inputs | 1 x Instrument |
| Outputs | 1 x 1/4" |
| Power Supply Included | No |
| Batteries | 1 x 9V |
| Height | 2.1" |
| Depth | 4.5" |
| Width | 2.5" |
| Weight | 1 lbs. |
| Manufacturer Part Number | '69mkII |
Can We Help?
Sweetwater's friendly and knowledgeable Sales Engineers are regarded as the most experienced and educated professionals in the music industry, with extensive music backgrounds and intense training on the latest products and technologies. As your personal contact here at Sweetwater, they are available to provide personalized advice any time you need it.
Call toll-free

(800) 222-4700

or E-mail us
" Top notch on all you do. When I needed help with my Pro Tools rig, you were there with me all the way. Bless you all at Sweetwater!! "

Henry, Marion, IL
Amazing
by Billy from Seattle, WA
November 18, 2012
Music Background: Musician
This pedal sounds amazing. It really nails the Hendrix sound with single coils and it can do a lot more too. I've been getting great live Zeppelin-esque sounds out of it too, more like the classic Les
... read more [+]
Paul/ Marshall kind of sound, it really blurs the line between fuzz and harmonic tube amp distortion. Per Fuller's suggestion on the literature included in the box, I leave the fuzz knob cranked all the way up, and control the amount of fuzz using the guitar's volume knob, or a volume pedal placed before the fuzz. At slightly lower levels this does a great really rich and aggressive harmonic tube-like distortion that makes me very happy. Turned all the way up it sings with creamy and thick fuzz. On the low strings it really has that fat and gnarly fuzz sound I'm always looking for, that isn't always predictable but always sounds awesome. Great pedal. close [-]
The best Fuzzface I've heard in person
by John Barry from United States
August 13, 2012
Music Background: Pro Musician 33 years+ playing
This is an amazing fuzzface with real Germanium. Looks military NOS Russian to me, but I cannot verify that. Sounds like Hendrix. There are actually 6 knobs and a true bypass switch. The internal trim
... read more [+]
, the 4 you see on the front and rolling your guitar back from 10-8 will dynamically change your tone. Only germanium does this. You will NEED to use Carbon Zinc batteries in your fuzz pedal to make this work correctly. Don't worry -- they're the regular old ones. Cheap and easy to find. Don't use Alkaline. Also, your batteries will last a very long time so long as you remember to unplug it after you play. You can get a large variety of classic tones from this pedal but primarily think Hendrix. This pedal is a future classic of a reissued classic. close [-]
Fulltone 69 Simply a great pedal
by William from North Carolina
July 6, 2012
Music Background: Hobbyist
Golly Gee wictikers yall, I love this pedal. I have been wondering what has been missing to my sound. I have to admit I like the Jimmy Page sound, and with research found he uses a JMI Tonebender pro
... read more [+]
Mark II. This pedal is very well made and is a close clone to that pedal, I think. Need some dirt in that clean amp? This pedal will give you distortion, slight fuzz (not overdone), and great sustain. You can controll the gain of the effect with the volume on your guitar. I would highly recomend this pedal. I am very pleased with it. close [-]
Nothin! Else Will Do.
by T.Tehan from Grand Lake Co
March 5, 2012
Music Background: Hobbyist
There is always a one and only. Ful
Ltones 69' is it. I can' believe I own one
Germanium. Enough said.
by Bryan C. from New Orleans, LA.
February 21, 2012
Music Background: Bedroom musician
I was in the market for a fuzz pedal after trying to craft my own sound. I watched It Might Get Loud and marveled when Jack White used his Electro Harmonix Big Muff Pi and thought that was the sound I
... read more [+]
was looking for. Well, after reading reviews, listening to lots of fuzz samples, going back and listening to the music I've heard a thousand times, and heeding some good advice from a long-time guitar-playing co-worker about Germanium parts, I decided to give the '69 mkII a try.

You can add a little grit or go to full-on fuzz glory with this unit. Comparing this unit to the Big Muff, it's just a lot smoother, not so out of control but with lots and lots of fuzz. I believe this smoothness is where the Germanium transistors come into play, but I may be wrong. Tone is such a subjective thing after all.

Twist all the knobs to ten and use your guitar's volume control to get where you need to be. I like to use the '69 by itself, with my Boss Octave pedal and then in conjunction with my Radial TriMode and MXR 10 Band EQ.

I can't comment on the '69 mk II through a solid state amp but through a tube amp? Aural ecstasy.

Once you have a good quality fuzz pedal on your board, you'll wonder why you didn't do it a long time ago. The '69 mk II is a great pedal and well worth the price. Pay a little more for Germanium parts. You won't regret it. close [-]
Read more reviews
See Also: Overdrive Pedals , Fulltone , Fulltone Distortion/Overdrive Pedals