Sort By Date
Sort By Rating
Customer Reviews
WOW. GREAT PRODUCT...
Great product.. Works extremely well.. No complaints here..no more having put a power source to each pedal. ..does everything I need..could not ask for more than that!!!!!!!!!
Great component for pedalboard!
Does what is expected at a great price. Can't go wrong!
Very good
Does what's advertised, cant' complain a bit.
Excellent
Just what you need to power pedals; love it.
Perfect!
I was putting together a little pedal board for my Bass rig and I was searching for a power supply for it. After looking at all the available supplies out there I was frustrated because they were twice the size of my pedals and cost at least $150.00. Then I happened upon the One Spot. It was exactly what I was looking for. 1 plug, a daisy chain of outlets and a variety of different tips for different pedcals. I use a Pedal Train and so it all wires in from underneath and stores right there in the bag on top of the board. PERFECT! Get this before you buy Voodoo Labs or something else.
problem solved!
no question giving this adapter a 5 star rating. thanks to my sweetwater rep for advising me to get this. i was about to purchase 2 adapters for the price of this one spot! this guy lights up 7 pedals with no issues. do yourself, your power outlet, and your pedals all a favor!
Road ready quality construction, don't pass this up. saw this in my local music shop for $45! +TAX!! thanks again sweetwater, you guys rock!
It works really well
The product works great. It powers all the pedals with one plug.
WORTH TWICE THE MONEY
I looked high and low at many power supplies for a pedal board I finally decided to build. Some of the supplies cost more than my most expensive pedal. When I read about the One Spot it sounded too good to be true. No big box to attach to the board, wires coming out of everywhere and so on. I even called Visual Sound and spoke with Dana and he was very helpful. Bottom line, it works great and my effects are whisper quiet. It's so basic I wish I had thought of it. Comes with anything you could need! Just be sure that your pedals are 9v and you should be fine!
Visual Sound 1 SPOT Combo Pack
This is a great product. I recently moved across the country and lost the one I had. I now have another. I also give Sweetwater thumbs up. Thanks Brandon.
Thanks to my sales rep!
I called Jorge Fernandez (ext. 1341) and ordered a pedal train and a new pedal, and then asked for the best way to power all my pedals cheaply. As always Jorge knew exactly what i was looking for. He also told me of all the other options, pointed out the benefits of each, and let me comfortably choose what would work best. In the future I think I will get a stronger power supply ($ permitting), but for now this does a great job for me. The assorted connector options made it possible to power every pedal I own, and does not add any buzz or fuzz. Thanks again to Jorge for always KNOWING, and not just selling me, exactly what I need.
Visual Sound 1 SPOT Combo Pack
I needed a power supply to use for my peddle-board I use for smaller venues we play and this does the job with ease. The 1 spot does not take allot of room and it has got up to 1700mA to handle allot of peddles with ease, I highly recommend! It is also Compatible with Boss PSA, Boss ACA, DOD PS-200R, Morley 9V, Danelectro DA-1, Dunlop ECB-03, Ibanez AC109, Zoom AD-0006 adapters
Nice package
Nice package for my daughter's very first pedal board.
Very nice
I have used the 1 Spot with four different brands of pedals, and have had only one issue; on the first day, I got feedback if I connected certain pedals together. It was no big deal since Day 1 was only testing, and I don't generally use all my pedals at once, anyway. I figured that was the consequence of buying a lower-priced unit (can't justify a Voodoo Labs right now), and I would just have to deal with minor issues for the convenience of having a single power source.
However, from the second day onward I have had not one feedback issue. I guess there was a break-in period for the power converter, or something. I have used cheap, older Ibanez pedals and expensive Line6 modellers with no further problems. The 1 Spot is a great product; I'd buy another one in a heartbeat.
Get this Pack!
I would highly recommend the 1 Spot Combo Pk.

Gives you everything you need to power most pedals. The 9V DC power adapter handles up to 1700mA witch is a big deal when you are days -chaining many pedals. Most older pedal do not take up too many milla amps but any newer pedals that use DSP chips suck the life out of 9v batteries.
Yes and no
I recently put together a pedal board with the following components: a Pitchblack tuner, a Fishman Platinum PRO EQ/DI, and a Boomerang III. Unfortunately, the Boomerang III is functional but creates an audible hum when powered by the 1 SPOT. For now I'll use the looper's wall wart, but I think I'll eventually upgrade to a Voodoo Lab AC power supply.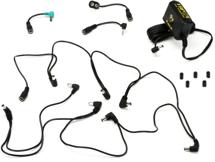 Multi-pedal Power Adapter with Multi-plug Cable and Adapter for Specific Pedal-type Connectors