Sweetwater Advice
A guitar rig can change over time, but the cabinet you play out of doesn't always need to. That statement couldn't be more true with a Marshall 1960 cab. If you're playing rhythm it's going to give you a full and deep sound. If you're playing a lead it's capable of giving you that special growl that jumps out in a mix. My rig has changed over the years countless times, but the 1960A will always be a part of it.
Sort By Date
Sort By Rating
Customer Reviews
sweetwater does it again !!
My band had a large fire that totaled our jam hall--tear---we lost everything--life happens !!! so I had to ordered me a new Marshall 1960A cab---hey it's a Marshall so I knew it would be out of this world--and it is !!! but what got me was sweetwater and my main dude there Mark Stein had it on my doorstep in two days !!! free shipping !!! wow !! You guys rock !!! Sweetwater gets all my buiz...thanks
1960A: Elite class cabinet from Marshall.. The best of the best
I have owned several Marshall cabs, 1960A, B, and 1922 2x12", and have helped friends puchase Marshall cabs. In my experience, they are the toughest, best constructed, best sounding on the market. Matched with Celestion (the best rock speaker maker), these cabs are superlative. Made with excellence.

My 1960A dates back to 1991, and has taken 22 years of abuse pretty well.. still looks great; my 1960B dates back to 1999, and still looks new. One interesting side note: many elite class audiophile speakers use HDF (high density fiberboard) or its equivalent, birch plywood for cabinetwork, to get that strong audio delivery, similarly, Marshall uses 15mm birch ply to get its harmonic brilliance and excellent sonic projection. Many drivers costing 5-10 thousand dollars a speaker have this in common.

Fortunately rock aficianados dont have to shell out that kind of cash to get our quality audio. Marshall means quality; top quality. Nothing less than the best.
Perfect Cab
This rugged cabinet is everything I expected, tough, well contructed and sounds great.
Great tone with a brighter edge.
See my detailed review on the 1960B cabinet page. The 1960 cabinets are the best there is in my opinion. No question about it. I've played through many cabs over many years. My favorite cab is the 1960B model, which has a deeper tone to it, but if you want things a little brighter, this is the best. The 1960A also has a nice crunch to it when you want to deliver that gutsy rock power and it really enhances the 1960B sound. They were made to work well together and they definitely do. You see these an many major tours for a reason.
A killer
This is easily one of the best cabs out there.Nothing comes close when its a Marshall!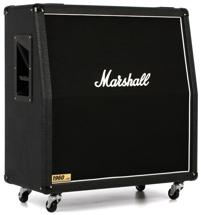 300-watt 4x12" Angled Extension Cabinet with Celestion G12T-75 Speakers